Tesla Motors is in a growing battle for electric car supremacy—now Audi, BMW, GM, VW, Aston Martin, and perhaps Jaguar are creating new electrics. But a parallel race is under way as well—a battle among chemists for which battery will be king.
The dual races are converging on a gigantic smashup in 2018 or thereabouts, a stretch of years that are shaping up as a proving ground not only for the companies, but for whether electric cars come of age. Right now, electrics are decidedly niche, bought mainly by rich people wanting to look cool and green, and the less-rich just wishing to be green.
The winner will be those who can provide distance—200 miles or greater on a single charge—at a price that the mass buying public is willing to pay. If you can charge up that car relatively fast, all the better.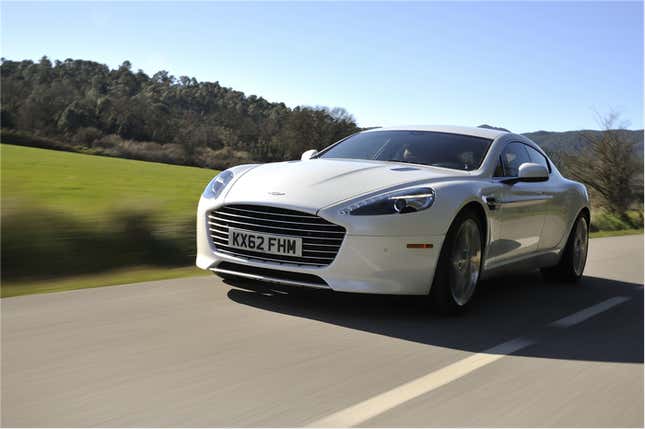 In terms of the battery race, the betting is that Tesla's partner—Japan's Panasonic—will be the walkaway winner. Already, Panasonic sells 39% of the lithium-ion batteries on the planet, according to Lux, a Boston-based high-tech research firm. And that market share is expected to rise, thanks to Panasonic's partnership with Tesla CEO Elon Musk in the "Gigafactory," a $5 billion Nevada plant that will double the global supply of lithium-ion batteries. Lux analyst Cosmin Laslau predicts that by 2020, Panasonic will control about 50% of what's expected to be a $30 billion annual market.
But other analysts think the race could come out differently. Panasonic is facing creeping competition from LG, the South Korean chemical giant that supplies German carmakers VW, BMW, and Daimler. If the Germans sell more cars than expected, LG could rout Panasonic. By extension, the German automakers may come to be bigger in electrics than Tesla.
To the degree that investor sentiment is an indicator, Panasonic should watch out. Panasonic shares were up 46% for the year as of May, but have since given back almost all of their gains. LG shares are still up by 21% in 2015.
At the heart of the race for market share is yet another battle, between two battery chemistries—one that favors an aluminum electrode (Panasonic), as opposed to manganese (LG).
Musk has always championed a cathode made of nickel, cobalt, and aluminum (NCA), and that appears to be Panasonic's sole chemistry. He says it's far cheaper than competing chemistries. But a lot of other carmakers—BMW, VW, Daimler and GM among them—think NCA is too volatile, and insufficiently energetic. They favor nickel, cobalt, and manganese (NMC), which researchers say is safer and holds more energy. LG makes NMC off of a license with Argonne National Laboratory, which holds the patent.
Already, NMC is poised to take a big slice of the market, according to Lux. The charts below show the situation. As of now, Panasonic's NCA is far ahead. But by 2020, NMC is starting to pull away, and by 2025, it's got a big advantage, because so many German carmakers are in the game, not to mention GM, which also uses NMC. All of this is based on a scenario in which electrics make up 3% of the Germans' car sales; if they are 6%, NMC's margin will be even greater.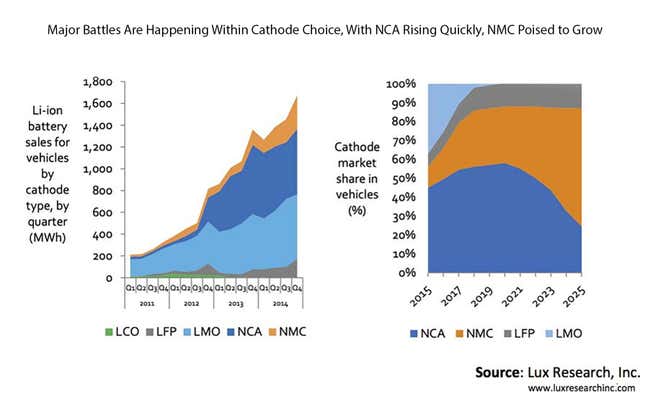 As we've previously reported, Musk is showing signs of hedging his bets: while most of his stationary battery line contains Panasonic's NCA, one version of his Powerwall models uses NMC (he doesn't say from whom he buys it) because of its superior energy.
In addition, Musk has put Jeff Dahn, a co-inventor of NMC, on contract as of next June.
Whoever ends up on top, the scramble suggests a credible case for a coming age of electrics.