Many of us conduct our work and personal lives largely via instant messaging these days, but the young mayor of Bom Jardim, a small town in northeastern Brazil, took it to the next level. Authorities there say Lidiane Leite ran the town for three years via the mobile app WhatsApp—while living a luxurious life in a different town and delegating decisions to subordinates.
Governing via WhatsApp is not a crime, but now Leite is under investigation for allegedly stealing public funds for Bom Jardim's education system to fund a life of leisure, and is reportedly on the run from police. Her lawyer says that she was not aware of any wrongdoing.
When Leite was elected mayor in 2012, she had little experience in public service, the BBC reports, citing prosecutors and local media. Authorities say she was just acting as a proxy for her boyfriend, Beto Rocha, approximately 15 years her senior, who had been forced out of the election because of suspected corruption.
After being elected, Leite appointed Rocha as her main adviser and left him to take care of business, the BBC reports. She moved to Sao Luis, 150 miles away from Bom Jardim, and authorities say she took the funds that had been allocated for Bom Jardim's education system with her.
Only recently, it seems, did Brazilian government officials notice that those funds (approximately $4 million) were missing, and that Leite, now 25, has spent the past three years governing Bom Jardim remotely—by checking in with Rocha and other cabinet members via WhatsApp.
"She was too young and and inexperienced when she took office," her lawyer, Carlos Barros, told UPI. "She lacked confidence and delegated many tasks to Mr. Rocha."
Leite was never shy about her life outside Bom Jardim, one of Brazil's poorest towns, Brazil's Folha de Sao Paulo reports (Portuguese). Her Instagram account, which is now private, reportedly showed Leite posing for selfies with friends on jet skis, her personal trainer, and holding glasses of champagne.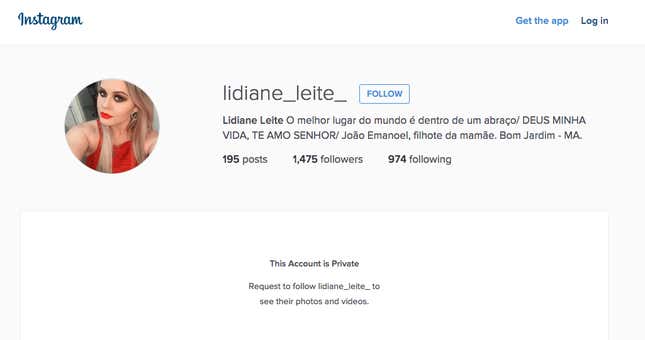 One of the comments she posted in a note to her followers translates to: "Before I was mayor, I was poor, had a Land Rover. Now I'm in a SW4. I should have bought a more luxurious car because thank god the money is left."
Another set of comments translates to: "I buy what I want, spend what I please. They're not even there for what they think. A kiss on the shoulder for the repressed."
Now, Leite is on the run, the town's poor education system has collapsed, and its teachers are not being paid, the BBC reports. A local judge is threatening to issue an international arrest warrant if Leite does not turn herself in by Thursday.