With more than one-in-four unemployed in Spain, there's plenty of misery to go around. Money, on the other hand, is another story. The stark change of circumstances for the consumers of Spain—a nation famous for, among other things, marathon partying—shines through in the otherwise solid results of global drinks giant Diageo, which reported its second-quarter earnings today.
In a post-earnings conference call with analysts, executives spotlighted the weakness in Spain, the largest market for its J&B brand of whiskey, and a key market for Tanqueray gin and José Cuervo tequila. Diageo's net sales in Spain declined some 23% during the first half of the current fiscal year, executives said, as against a 2% drop in Europe overall. "Southern Europe [is] still very, very weak, and Spain in particularly soft because there's more destocking there and we have continued weakness on the consumer side," said Andrew Morgan, Diageo's president of its European division.
As Quartz's Simone Foxman has pointed out, Spain hasn't lost its appetite for alcohol all together. In fact, as sales of spirits—and economic spirits—have gone south, sales of beer have bubbled up.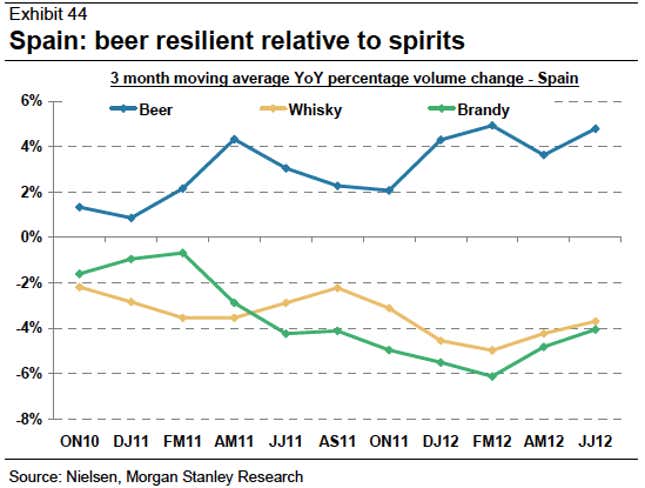 Why the Spanish should move to beer from hard booze in a downturn in anyone's guess. In the Philippines, it's apparently the other way around, while when Croatians see the economy sag, they drink less in general, but smoke more. Each nation, it seems, has its own way of dealing.