A driver in a BMW in Nanjing, China earlier this year flew through a red light at a blazing 195 km per hour (120 mph), slamming headfirst into a Mazda sedan, killing its two passengers instantly and sending their car flying several meters into a bus.
What possessed Wang Jijin, the BMW's suspected driver, to act so recklessly? If you believe the official government interpretation, released on Saturday (Sept. 6), it wasn't a medical emergency or drugs, but "acute and transient psychotic disorders." Many people in China don't believe it.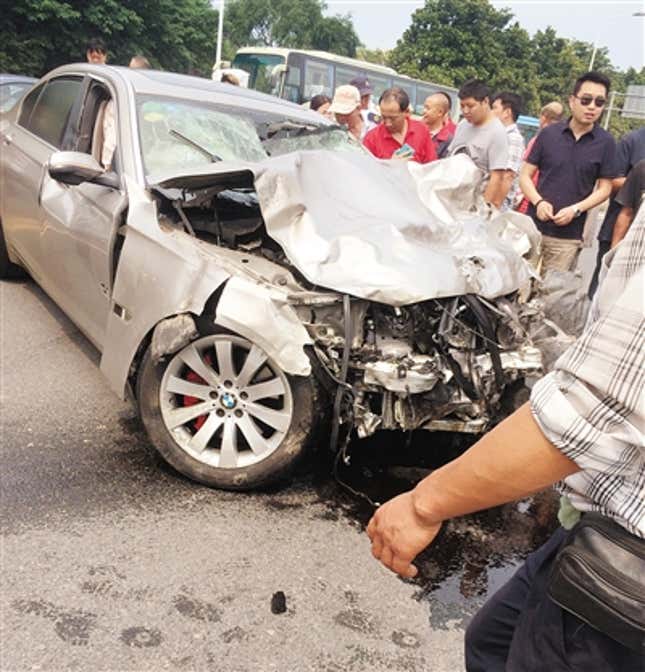 "Transient psychotic disorders" are a real thing. Oxford Medicine says that their three features are "suddenness of onset," "presence of schizophrenic symptoms," and "presence of associated stress." Nanjing Psychiatric Hospital's forensics division officially diagnosed the driver with the condition, saying it gave "careful examination of every detail before delivering a fair, impartial, and scientific interpretation," according to Chinese reporting on the high-speed crash. (Here is a GIF showing the crash. Warning: it may be disturbing.)
But the netizens of China are not convinced. They are chiefly upset over the fact that the diagnosis, according to the psychiatric hospital, "limits the ability to attribute blame" to Wang. It doesn't help that the hospital cited as evidence completely subjective accounts like, "once in the car Wang suddenly felt he was in a dream" and "felt he had to get away."
Now the internet is making a mockery of the diagnosis. The most common form criticism has taken is the meme, "Don't mess with me, I have acute and transient psychotic disorders," sometimes with emoji.
YeDongFeng:
I'm telling you, it's best if you don't mess with me. One day I might burst out suddenly with #AcuteAndTransientPsychoticDisorders and beat you to death, but don't blame me! So if you fear death, might want to buy me dinner.
Some also doubt the soundness of the psychiatry. "Is the meaning of this disorder not just being absent-minded?" asked one Weibo user. A live online poll of internet users by QQ news asks whether they think China's forensic psychiatry exams are rigorous. The proportion of users saying they are not has been fluctuating between 95% and 97%.
The fact that Wang was driving a BMW also heightens skepticism. Fancy-car-drivers are often shamed in China for treating the road as if it were their own. Slate has documented the tendency of drivers to make sure to kill in cases of hit-and-runs, primarily in order to avoid paying long-term medical bills and use legal scapegoats only available when victims aren't around to defend themselves.
And if drivers have the right political connections, wrongdoings are not publicized, or at least the well-connected are not blamed. In 2012 the government attempted to cover up the death of a 23-year-old son of an aide to China's then-president, Hu Jintao, who died in a high-speed crash in his Ferrari. It even led to the word "Ferrari" being blocked on Weibo for a time. (That incident did eventually lead to a political fallout, though months after the fact.)
One Weibo user offered a prediction:
I'm Really Trying Not to Talk:
#AcuteAndTransientPsychoticDisorders This disorder will, one night, spread and infect all influential officials.
A small-business owner, Wang doesn't appear to be particularly well-connected, but owning a BMW makes him suspicious in the eyes of the internet. Most Chinese reporting on the Wang incident makes sure to mention the car's brand in the headline.