About nine years ago, Nintendo launched the Wii, and brought casual, arm-waving gaming into tens of millions of living rooms across the world. Today (Sept. 9), Apple announced announced a hefty update to its Apple TV set-top streaming device, and while the focus was on creating the "future of TV," Apple spent a significant chunk of time explaining how its box can be used as a gaming machine. The Nintendo Wii hooked kids in with Mario, and Wii Sports convinced parents to join in on the fun, and it looks like Apple wants to follow in Nintendo's footsteps to control the future of casual gaming. But how will we play games on the Apple TV?
With the remote
The new Siri-powered remote acts a lot like the Nintendo's Wii game controller. It's got a detachable strap (which is sold separately) and can be waved around to control gameplay. Apple showed off a game called Beat Sports, which is reminiscent of the Wii Sports game that came bundled with the Wii in many countries: It's a series of mini-games where users play games based on sports like tennis and golf, swatting the controller back and forth to do so.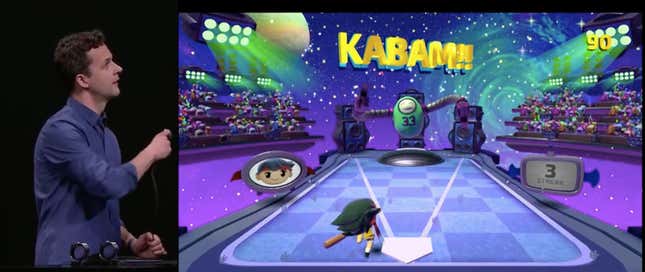 The remote also has a touchpad—or "virtual directional pad," as Apple calls it—that can be used to control games as you would on an iOS devices. Speaking of which:
With iOS devices
Developers will have the ability to design TV games that can be controlled by iPhones and iPads. During today's event, the developers of Crossy Road, a modern take on Frogger, showed off a new multiplayer version of their game, where one person was controlling a character with the TV remote, and the other with an iPhone. Like the remote, iOS devices will be able to use their accelerometers, gyroscopes, and touchscreens to control games. No word yet on whether you'd be able to control any games with an Apple Watch.
With third-party controllers
Although it wasn't mentioned during the event, Apple's website says that games will be able to use certain MFi third-party controllers with the TV. The majority of the gaming demonstration was centered around casual, easy-to-learn games. But these controllers leave the door open for more serious gaming to come to Apple TV, although Apple was light on details on just how powerful its TV could be as a gaming machine. Other set-top boxes based on mobile operating systems, like the Ouya, have failed to make much of a dent on the gaming market, but iOS is already one of the most popular gaming platforms of all time, so the TV will certainly have a leg up.