Being far from the people you love is one of the most challenging experiences in life, even with today's cheap and easy trans-continental video-calls. So one can only imagine how hard it was for our ancestors not so long ago, when international phone calls were luxuries and the only way to keep in touch by writing letters that took days, sometimes weeks, to arrive.
And that's assuming they could write.
In the 1970s, 5.2% of Italy's population was illiterate. Most of those who could not read or write were women in rural areas. One, we know now, was a mother of three, likely from the area around Catania, on the eastern side of Sicily. Her story has made history, thanks to a poignant 1973 letter written entirely in pictures, discovered by the Sicilian writer Gesualdo Bufalino.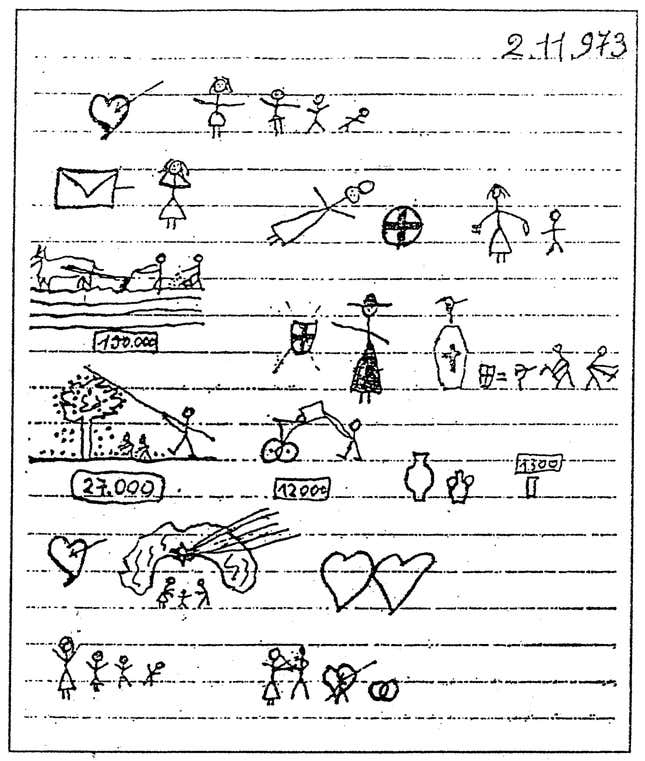 The letter was addressed to her husband, explains Bufalino in his book La Luce e il Lutto ("Light and Grief," link in Italian), a migrant worker abroad in Germany.
To preserve the intimacy of their correspondence, she did not ask for help in composing the letter in Italian. Instead, writes Bufalino, the woman and husband developed their own secret code. Bufalino, reports Italian online publication Il Post (link in Italian), was able to retrieve one of their letters and translate the symbols into words:
Here is his translation—rendered in English by Quartz, and republished below in the original Italian:
My dear love, my heart is tormented by your far away thought, and I stretch my arms toward you, together with the three kids. All in good health, me and the two older, unwell, but not seriously, the little one. The previous letter I sent you didn't receive a reply, and I am sad about it. Your mother, hit by a disease, is in the hospital, where I go visit her. Do not worry that I go there empty-handed; or alone, generating gossip: our middle son comes with me, while the oldest looks after the youngest.

Our little field, I ensured that it was ploughed and sown. To the two daily workers, I gave 150,000 lire [about €500, or $560 today] . The town elections were held. I voted for the Christian Democracy, as the parish suggested. For the Hammer and Sickle, the defeat has been huge: as if they died, in a coffin.

But whether one or the other wins, it's the same. Nothing changes for us poor people: we dug yesterday, and we will dig again tomorrow. Many olives, this year, from our olive trees. The men and two guys I hired, one to knock them down, the others to pick them from the ground, cost me 27,000 lire (about €90). I spent 12,000 (about €40) more for the olive press. I obtained enough oil to fill a large jar, and a small one. I can sell it at the current price, which is 1,300 lire (about €4) a liter.
My far away love, my heart thinks of you. Now, especially that Christmas is close, I wish that I were with you, heart to heart. A hug, then, from me and our three little kids. Goodbye, dear love, my heart is yours and I am faithful to you, joined to you as our two rings are.
Amore mio caro, il mio cuore è trafitto dal tuo pensiero lontano, e ti tendo le braccia insieme ai tre figli. Tutti in buona salute, io e i due grandicelli, indisposto, ma non gravemente, il piccino. La precedente lettera che t'ho spedito non ha ricevuto risposta e ne soffro. Tua madre, colpita da un male, si trova in ospedale, dove mi reco a trovarla. Non temere che ci vada a mani vuote; né sola, dando esca a malelingue: m'accompagna il figlio mezzano, mentre il maggiore rimane a guardare il minore. Il nostro poderetto, ho provveduto che fosse arato e seminato. Ai due "giornalieri" ho dato 150.000 lire. Si son fatte le elezioni per il Comune. Ho votato Democrazia Cristiana, come il parroco m'ha suggerito. Per la Falce e Martello la sconfitta è stata grande: come fossero morti, in un cataletto.

Ma che vincano gli uni o gli altri, è tutt'una. Nulla cambia per noi poveretti: abbiamo zappato ieri, zapperemo ancora domani. Molte ulive quest'anno, dai nostri ulivi. L'uomo e i due ragazzi che ho assunto, l'uno per bacchiarle, gli altri per raccoglierle a terra, mi sono costati 27.000 lire. Altre 12.000 lire le ho spese per il frantoio. Ne ho ricavato tant'olio da riempire una giara grande e una piccola. Posso ricavarne il prezzo corrente che è di 1.300 lire al litro.
Amore lontano, il mio cuore ti pensa. Ora, soprattutto, che viene Natale e vorrei essere insieme a te, cuore a cuore. Un abbraccio, dunque, da me e dai tre figliolini. Arrivederci, amore caro, il mio cuore è tuo e ti sono fedele, unita a te come i nostri due anelli.