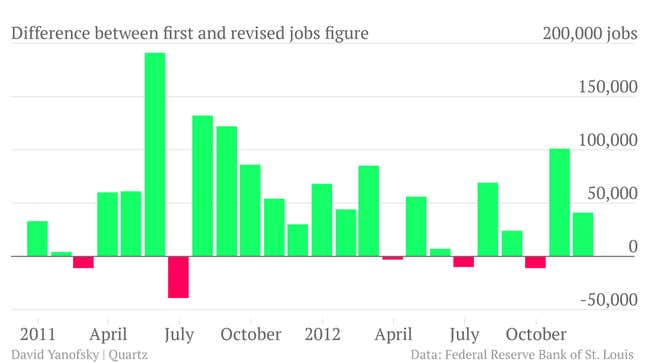 Up 157,000!
That was the cry across financial media this morning as the Bureau of Labor Statistics reported the official tally of the number of jobs created in January. What many people don't realize is that this number—157,000—is considered preliminary by the BLS. The organization can and will change the official amount of job creation in January 2012 over the course of the next months and years as it collects more data through surveys of the American population.
The BLS has ended up revising its preliminary employment number higher for 19 of the last 24 months. That's important because, while revisions are generally understood by investors, much more attention is paid to the original number.
Last month the change in nonfarm payrolls–a measure of the number of people working in the US–was initially reported to have increased by 155,000 jobs in December. Today, the BLS announced that it was revising that to 196,000.
The initial report of 146,000 jobs created in November was revised to 161,000 last month and 247,000 this month, an overall increase of 101,000 jobs.
Since January 2011, the US has added 1,194,000 more jobs than contained in intial reports.