When Kerby Jean-Raymond, the founder and creative director of the New York fashion label Pyer Moss, was just 10, he and his friends jumped a fence to go play basketball in their Brooklyn neighborhood. What happened next was among the first of several upsetting experiences he had with the police.
"We were all put down on our knees, face down," he says. "The cop had his hand on his gun the whole time and was threatening us with it, kind of like flexing for it."
By the time he was 18, Jean-Raymond said, he had been stopped and frisked by police a dozen times—a number that's unfortunately not at all unusual for black men and boys in New York City, according to the police department's own records.
Like it or not, race continues to play a big role in the way people interact with each other, particularly in the United States, where racism is still common and where law-enforcement authorities have killed black men in several controversial cases recently. That reality and Jean-Raymond's own experiences as a black man informed the intense, eye-opening video about police brutality that he played at the opening of his recent runway show at New York Fashion Week.
Created with help from his friends, it featured raw, unnerving footage of police violence against black men and women from the officers' own body and dashboard cameras, including video of the police chokehold that caused the Staten Island man Eric Garner's death and another instance of a black person being literally run down by a police car. Interspersed were interviews with victims' families and figures in fashion and entertainment, such as Pulitzer-prize-winning fashion critic Robin Givhan and the singer Usher.
The video was difficult to watch at times, provoking gasps from the audience when a police officer aggressively kicked a black man, even as he submitted to arrest. But it felt like a crucial moment, one in which a room full of fashion people who might not otherwise be paying attention were suddenly forced to confront these images.
In an industry notorious for its lack of racial diversity, the presentation showed that diversity's value isn't in the symbolism of different skin colors parading down the runway; it's in the variety of experiences people bring with them.
The designer, now 28, didn't appear in the video himself, and offered no comment to the audience. The presentation felt sincere, and there was no hint of anything sanctimonious or mercenary.
When the models began walking the runway in Pyer Moss's athletic, streetwear-inspired collection, the clothes were unfortunately less effective than the video, but the evening left a strong impression nevertheless. The crowd saw a fashion designer using the tools at his disposal to address an issue that matters.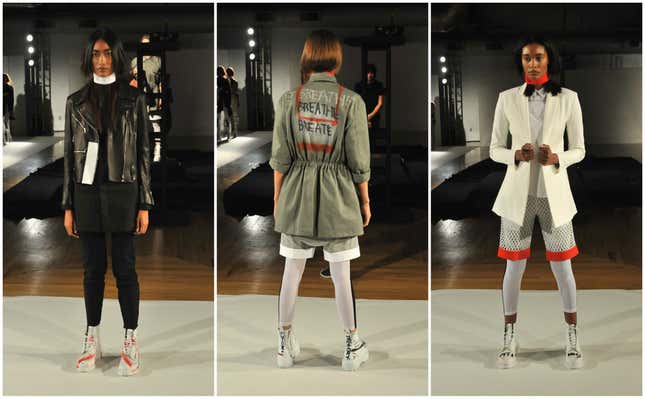 Sadly, his stance may have hurt his business. Jean-Raymond told Fashionista that, after Givhan wrote about his plan for the video in a piece for the Washington Post in August, one of his retail accounts in Europe suddenly stopped carrying his line with no explanation, and the original venue he'd booked for his runway show canceled, now saying it couldn't handle the capacity of the audience.
After the show, Jean-Raymond explained that playing the video was a way to use his platform as a designer to call attention to a problem he has experienced first-hand. He recalled, for example, being pulled over in his car at the age of 18 to be questioned about a hit-and-run. When he pointed out that there was no damage to his car, proving he couldn't have been involved in the incident, the police officers yanked him out through the window. He couldn't understand it.
"I was going to college on a full scholarship," he told Quartz. "I graduated summa cum laude. I was always on the dean's list. I was never a kid that started any kind of trouble."
This treatment wouldn't surprise those Americans who endure it every day, but it's still unfamiliar to many in the predominately white fashion world. And that's precisely the point: Jean-Raymond had something to say that many other designers wouldn't. It's worth listening to voices like his.