Besides the morning's respectable jobs numbers, a closely watched gauge of US manufacturing sector suggests plants picked up production in January.
The Institute for Supply Management's manufacturing index bumped up to a reading of 53.1 in January after touching 50.2 in December. (A reading below 50 indicates contraction, while a reading above it indicates expansion.) The January figure was better than the expectation of 50.7 on Wall Street.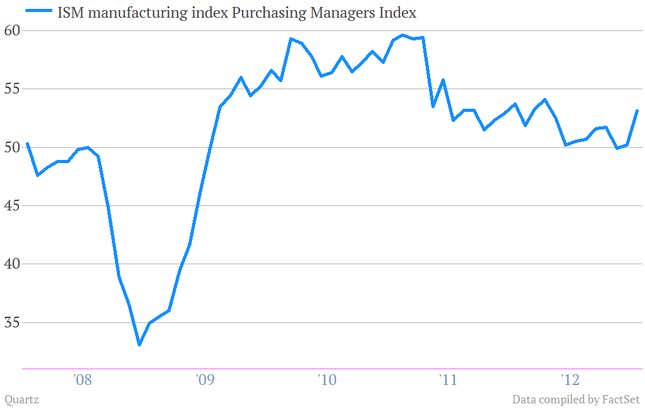 Economists at Goldman Sachs gave their view on the details of the report in a research note:
By category, the forward-looking new orders component rose 3.6 pt to 53.3, production rose 1 pt to 53.6, and employment rose 2.1 pt to 54.0. More than half of the increase was due to an 8-point surge in the inventories component to 51.0. This is consistent with a turnaround in inventory investment in Q1 relative to a depressed Q4, but not necessarily with strong underlying demand growth.
Other US economic reports worth taking not of today include the December reading on construction spending, which showed the resurgent residential construction leading overall construction higher, posting a month-over-month increase of about 2%, versus the overall increase of 0.9%, which was better than expected.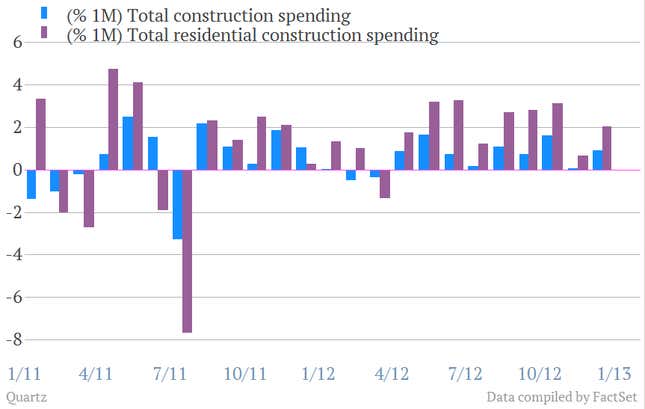 Consumer sentiment also looks sturdy, if not stupendous, at least according to the latest University of Michigan survey out today, which rang in January at a better-than-expected 73.8.