Efficiency is a stereotype Germans are typically proud of, but recent development projects are models of anything but. A spate of public large-scale enterprises have turned from great ideas into economic time bombs. Just this year, three projects in Berlin, Hamburg and Stuttgart have turned out to be twice as expensive as budgeted, with billions of euros in additional costs.
This is becoming a standard part of German development culture. Some German economists suggest that companies intentionally calculate lower costs in order to be considered for project assignments. Only in the development process, they concede initial estimates were unrealistic.
The infrastructure boom started in the 1980s and 1990s, under the mentality of Wirtschaftswunder, the country's economic growth of the 1950s. But amid a financial crisis in the European Union, costly development projects in a country of top engineers not only harm public confidence but also taxpayers' wallets.
How that plays out: When projects are proposed, taxpayers are consulted. But because the development period often spans decades, public opinion changes; protests rise and fall depending on the current status of building. Some of Germany's city and state politicians, who often initiate these large-scale projects, have been criticized for pushing development in order to gain prestige at the expense of their constituency. In other instances, they are lax in overseeing the development process as it balloons to astronomical budgets.
Here are the three projects that have German taxpayers shaking their heads over right now:
1) Berlin is getting a new airport. The question is, when.
In the beginning of January, the technology director for the new Willy-Brandt International Airport (BER), Horst Amann, informed the government that the airport would not open on Oct. 27 as planned, after two years of delays. The most recent lag has been caused by scheduling errors, structural damage, and a faulty smoke extractor. Costs have increased from €1.7 billion ($2.3 billion) in 2004 to €4.3 billion ($5.7 billion) in 2012, in part because a shopping mall and a hotel have been added to the project.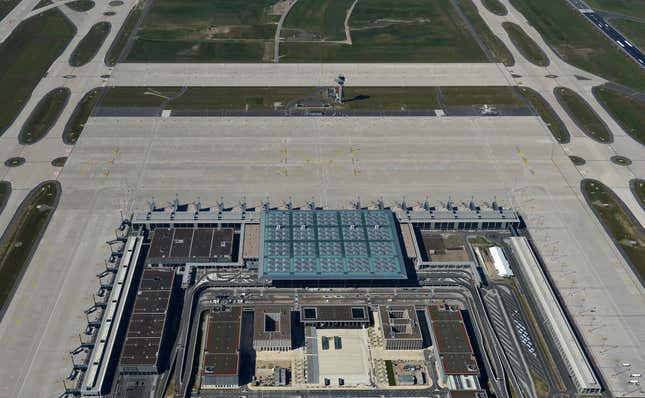 The number of travelers at Berlin's airports had been rising in the past few years; 25 million people passed through the city's airports in 2012, up from 20 million in 2008. Willy-Brandt International Airport is slated to replace Berlin's two existing airports: Berlin Schönefeld (SFX), which is being expanded to become Willy-Brandt International Airport, and Berlin Tegel (TXL). Berlin Tegel has been in use since 1948 and urgently needs replacement but it hasn't been determined what will happen with the soon-to-be defunct space. Berlin's mayor, Klaus Wowereit, who had been overseeing the project as head of its supervisory board, has been accused of mismanagement and stepped down from that position (but remains mayor of the city). The states of Berlin and Brandenburg are shareholders of the new airport; the federal government also holds a small part, meaning that some of the damages are paid for with taxpayer money.

The postponed opening has caused economic losses for some private investors that have built facilities, such as a hotel and an airport office center, on the site. Many office spaces are still empty in spite of valid leases. German airline Air Berlin has filed a lawsuit against the airport operator, Flughafen Berlin Brandenburg GmbH that operates Berlin's two airports and is the developer of the new airport. In the meantime, the management board is discussing a second terminal to increase capacity. The airport will already be too small for the current demand when it's finished, which is also due to its long planning phase (Schönefeld had been chosen as site for the large airport in 1996). The opening is now planned for some time in 2014, with an exact date yet to be determined.
2) Stuttgart's rail tracks will be moved underground, if Deutsche Bahn digs up the money to pay for it.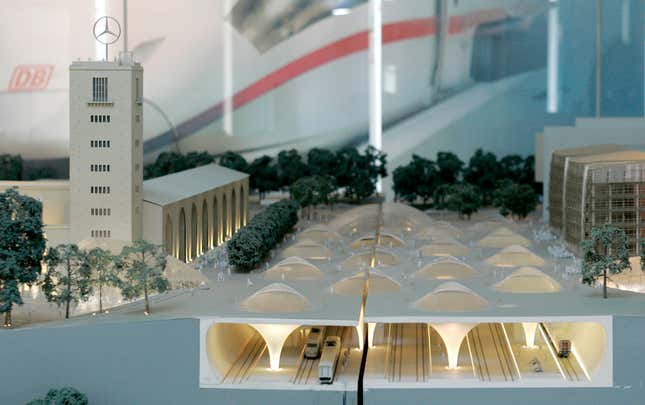 Few infrastructure projects have caused a public outcry like "Stuttgart 21." In 2010, Germany had planned to build a high-speed rail link between Stuttgart and Ulm to decrease travel time through the Swabian Alb, a low mountain range between the two cities. The rail is important since Ulm has a connection to Munich, Germany's third largest city. Due to some narrow turns in the old tracks, trains are only able to travel 44 mph in some sections, while traveling a maximum of 100 mph in others. The new rail link pledged to increase the trains' maximum speed to 155 mph. To help make the system faster, Stuttgart's stub-end station was to be moved underground, to establish a through station. Many Stuttgart citizens opposed the demolition of the old historic station, as well as the billions of euros in construction costs.
After two years of unsuccessful protest, opponents of the project have simply lost interest in the fight. Now the government may reconsider the plan and stop construction on the new station. The Stuttgarter Zeitung (German) has reported that confidential documents reveal that the federal ministry of transportation doesn't trust the recently proposed project costs of €6.8 billion ($9.2 billion) made by Germany's state-owned railway company, Deutsche Bahn. The company had to adjust its cost estimate upwards several times. In March 2012, for example, it raised its estimate from €4.1 billion ($5.5 billion) to €4.3 billion ($5.7 billion), after 50% of building contracts had been assigned at higher costs than expected. The new €6.8 billion cost estimate, in part, is a result of plans and services that hadn't been calculated before or were calculated with "unrealistic" (German) numbers. Yet construction on the site has already begun, and a cancellation of the project would mean additional costs of €1.5 billion ($2 billion), partly because the state government of Baden-Württemberg already signed binding contracts.
3) Hamburg's philharmonic was supposed to become the world's best concert hall—instead it has turned into a Tower of Babel.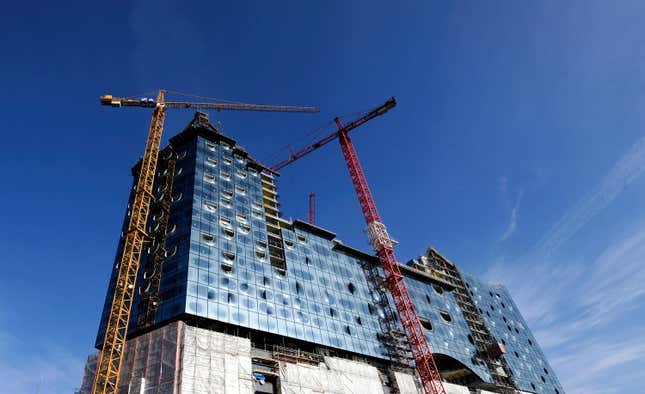 The HafenCity Hamburg is supposed to help transform the Elbe river island. Old port warehouses will be replaced with hotels, shops and destinations to turn the 145-year-old neighborhood into a chic district. The Hamburger Elbphilharmonie (the philharmonic building) is part of the plan for the new district that will attract private investors.
When the city of Hamburg first calculated the costs for the new philharmonic building in 2007, it originally estimated a total sum of €77 million ($102 million) that the city had to pay for. Already in 2008, the construction firm Hochtief had announced delays in planning and held the project's two architectural firms responsible. The architectural firms, however, shot back and accused Hochtief of construction errors. Costs started to explode, and construction froze in November 2011 for several months.
Now, the city has considered signing a new contract with Hochtief, in which the company offers to finish building the project in cooperation with the two architectural firms, for an additional €200 million ($267 million). Added to the so-far calculated cost of €375 million, the project's total costs would then jump to €575 million. Also angering opponents: architects' salaries ballooned to a total of  €94 million ($126 million), more than the entire project was supposed to cost. With the contract, Hamburg would also give up demands on any damage compensation it still might have, since no blame's been assigned for the cost overrun. If the contract goes through, the philharmonic's opening date would be postponed from 2015 to 2017.