The historian Niall Ferguson said that the maps best illustrating globalization are those that show commercial shipping lanes, through which physical goods flow around the world, and submarine cables, which direct the flow of information. He could have added airline travel routes, which map the changing vagaries of the global consumer class.
Qantas Airways, the Australian carrier which does most of its flying around Australia (see map), announced it would consider using its new Boeing aircraft (whose delivery it still awaits) to establish a slew of new direct flights to China, South Korea and India and tap into growing Asian demand for regional air travel. Qantas also said it would also raise the capacity of its Hong Kong and Singapore routes by 10% and 40%, respectively. The airline hopes to market its new flights to Asian cities as destinations unto themselves rather than just as stopovers to Europe.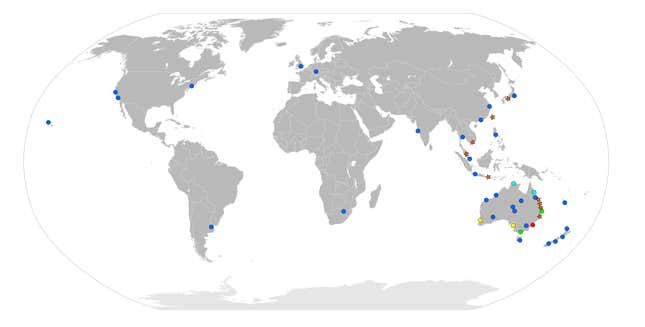 The airline's new focus on Asia rests in part on the carrier's recent alliance with Dubai-based Emirates Airlines, which now allows the Australian carrier to use Emirates planes to fly Qantas passengers to Europe, and redirect its own planes to Asian destinations. According to a note from Macquarie Group, the Australian bank helping Qantas with its turnaround strategy, the airline hopes to mint more partnerships with other local Asian carriers, such as Malaysia Airlines and China Eastern.
Qantas' evolving "Asia strategy" mirrors the changing consumer dynamics of the Asian-Pacific region. With American and European markets saturated in terms of growth, and even lagging as consumers continue to cut back on spending, airlines are setting their sights on Asia. In 2016, half of the 831 million new passengers to join the ranks of global air travelers since 2011 will be from the region.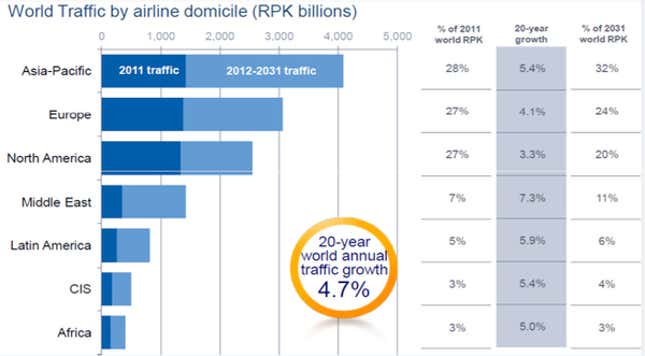 Elsewhere in Asia, Indian carrier SpiceJet is also expanding its routes, targeting Chinese cities. The company launches its first Delhi-Guangzhou flights later this week (this week's already sold out), and is looking to fly to Hong Kong, Macau, and Chengdu. SpiceJet, India's second largest airline carrier by market share, operates mostly domestic flights, while Chinese airlines offers almost no flights to India. (Air China flies Beijing-Delhi four times a week; China Eastern flies Shanghai-Delhi once weekly). A decade-long border dispute and lingering trade competition has made for a relatively underserved India-China airline market. But SpiceJet's expanding horizons (partly precipitated by a slowdown in domestic Indian air traffic) hint at changing expectations for Chinese-Indian air travel.
The Malaysian budget airline giant AirAsia is preparing to list its Indonesian unit on the Jakarta stock exchange later this year, with CEO Tony Fernandes, dreaming of a $1 billion market capitalization. Indonesia AirAsia, which is 49% owned by its Malaysian parent, represents "our biggest opportunity, but also our biggest challenge," according to Fernandes, who moved his company's headquarters from Kuala Lumpur to Jakarta, last year. Indonesia's massive population (the world's fourth largest) and its rapidly expanding middle class (the number of air passengers in Indonesia in 2011 was up 65% from 2009) make it an attractive market.
Air traffic between Asian countries seems set to grow, but that trajectory presents its own share of problems. Related infrastructure will have to be improved to meet growing demand, and some basic conditions will have to change if Asian passengers are to start flying en masse without too many hassles across the region. Last week, for example, terrible smog common in Beijing grounded more than 100 flights in Zhengzhou, Beijing, and Qingdao.