The last look to take the runway at Chromat's recent New York Fashion Week show was the clear standout. It was a little black dress, but with some major technological twists. Called the "adrenaline dress," it had been 3D-printed, but more impressively, a carbon-fiber lattice evoking sci-fi fairy wings extended from the back, where a panel powered by technology created by chip maker Intel allowed these wings to expand or contract based on the wearer's adrenaline, stress, or temperature levels.
The dress, as unorthodox as Chromat's diverse casting, expands to mimic the fight-or-flight response of animals that enlarge their silhouette to intimidate possible threats. A sensor in the waistband relays information about the wearer's breathing and adrenaline levels to wires that control the carbon-fiber wings.
Fashion in recent years has become more and more obsessed with wearable tech, but it's only just starting to figure out how to make use of it. While 3D-printed clothes are finally looking like real fashion, other technologies are still in the early stages of exploration. Becca McCharen, the founder and lead designer of Chromat, is certainly up to the task. A former architecture student and Forbes "30 under 30" pick with a penchant for mixing math into her design, she threw herself into that exploration with her sporty new techwear collection—with a little help from the chip maker Intel.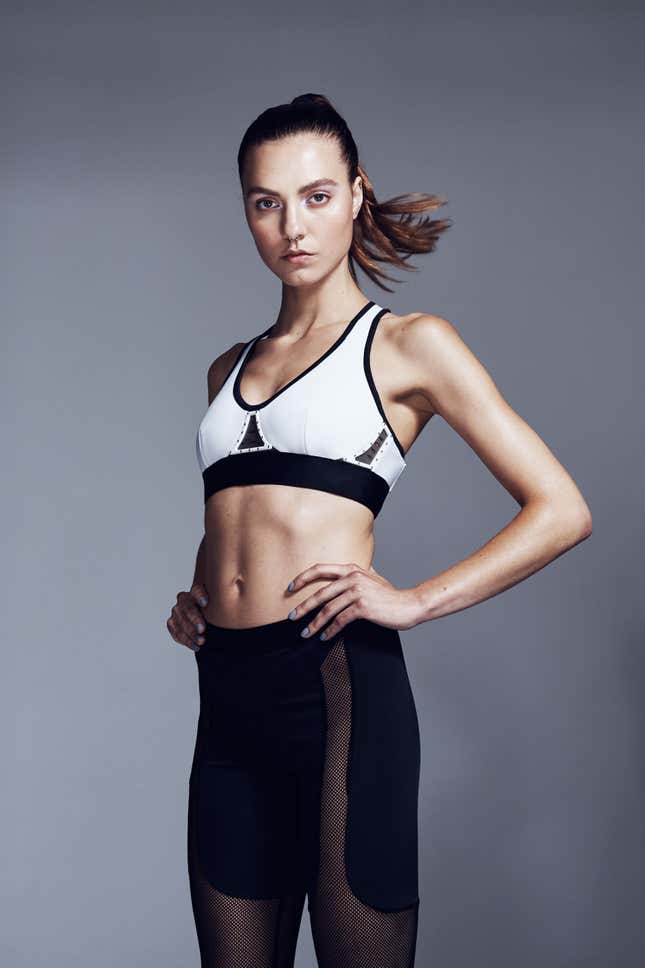 Another garment in the show, the Aeros sports bra, uses a special alloy that allows it to react to cues from the wearer's body. In a blog post about the Chromat collaboration, Ayse Ildeniz, vice president of the New Devices Group at Intel, wrote that the bra "can respond to changes in perspiration, respiration and body temperature to open or close vents in order to cool (or warm) the wearer." The rest of the materials are more common synthetics, including Lycra, mesh, and neoprene.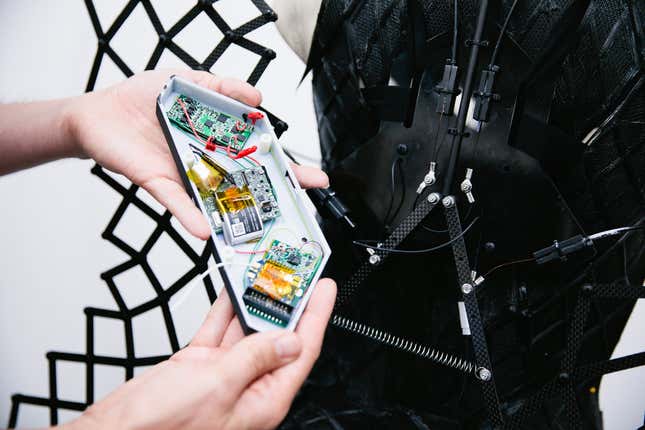 Both the sports bra and the adrenaline dress make use of Intel's Curie Module (pdf), a tiny "hardware product," as Intel puts it, that lets designers add functions to wearable items, including clothes, but also things such as rings and fitness trackers.
So far, fitness is what most wearable tech has focused on. Ralph Lauren, for example, recently introduced a smart shirt that monitors the wearer's vital signs, including breathing and heart rate, just ahead of the US Open. It sends that information to an app that then uses it to customize workout programs.
But Intel is hoping designers such as McCharen will find all sorts of uses for its Curie Module. It created the software platform to work in a "variety of use cases," which it says "allows manufacturers to create their own unique and differentiated products."
And for now it's more about experimentation anyway: the Curie Module hasn't yet been cleared by the Federal Communications Commission, and until that happens, it can't be sold.
Until then, McCharen can work on integrating technology into the clothes she creates for her other job: designing stage costumes for the likes of Beyoncé, Madonna, and Nicki Minaj.