The Federal Reserve opted to leave interest rates unchanged in a closely watched decision, citing headwinds coming from financial markets and emerging markets.
In its statement, the Fed's key monetary policy committee, known as the Federal Open Market Committee, sounded a note of caution on persistently low inflation. The Fed's preferred gauge of inflation—a metric included in a monthly report of personal consumption expenditures (PCE)—has remained stubbornly below the US central bank's target of 2%. "Recent global economic and financial developments may restrain economic activity somewhat and are likely to put further downward pressure on inflation in the near term," the statement said.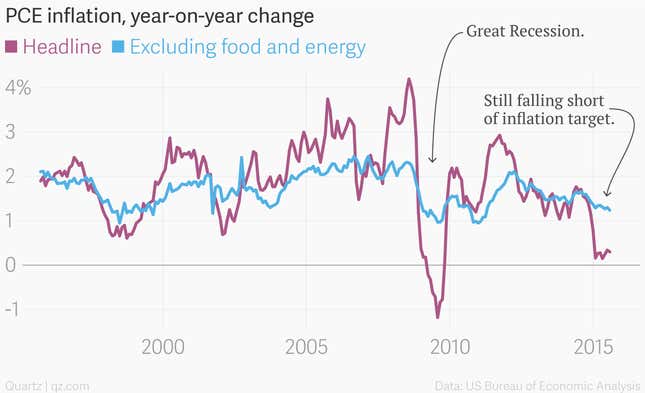 Investors and Fed watchers had shifted their expectations for action in recent weeks. Many had thought the Fed would move interest rates higher in September, but a spate of market volatility stemming from what looks like an increasingly sharp Chinese economic slowdown prompted odds of a change to shift to mostly even.
But market sentiment could change during a press conference Fed chair Janet Yellen is about to hold to explain the rationale behind the decision.
You can see the full reaction in our live blog.