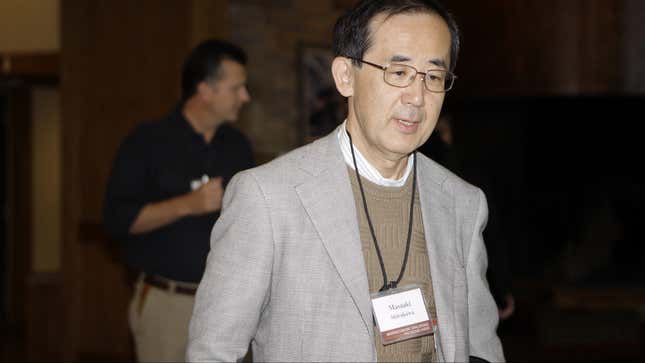 Bank of Japan (BoJ) governor Masaaki Shirakawa will leave his post almost three weeks before the end of his term. His decision to walk out just slightly earlier than he needed to leave may signal that he felt his position was untenable.
While Japan's government and central bank are meant to operate independently from each other, the country's new prime minister, Shinzo Abe, has been pressuring the BoJ to get behind his plan for a massive monetary stimulu, which he believes will revive the country's flagging fortunes.
Shirakawa's response to so-called Abenomics so far has been to diplomatically decline to offer his enthusiastic support. The central bank agreed in principle to Abe's aggressive easing policy, while fixing the start date for open-ended asset-purchases a year from now.
And the departing central bank governor has made comments in the past that would suggest he does not agree with other aspects of Abenomics. Japanese finance minister Taro Aso has called for the BoJ to underwrite government debt to finance stimulus spending. Yet as Bloomberg reports, Shirakawa said in 2011 that if "a central bank starts to underwrite government bonds, there may be no problems at first, but it would lead to a limitless expansion of currency issuance, spur sharp inflation and yield a big blow to people's lives."
As Shirakawa was due to leave soon anyway, Abe is already narrowing down his shortlist of potential replacements. The Japanese leader is reported to favor Asian Development Bank President Haruhiko Kuroda, former BoJ Deputy Governor Kazumasa Iwata and Toshiro Muto, another ex-deputy.
Kuroda has for years favored the idea that the BoJ should set inflation targets (paywall). That was a big point of resistance with Shirakawa, though he eventually gave in last month and raised the BoJ's 1% inflation "goal" to Abe's desired 2% "target."