Mud houses all but disappeared from the world in the 20th century, thanks to industrialization and the advent of commercial building materials. But the homes, which have seen a small revival in recent years, still offer many advantages: They're sturdy, naturally insulated, surprisingly durable, and sustainable. And most of all, they're extremely cheap.
That's why the Italy-based World's Advanced Saving Project (WASP) is trying to bring mud back as a popular building material—with a modern twist. At a three-day rally event in Italy's Ravenna province this weekend, WASP debuted what it calls the globe's biggest 3D mud printer, which fuses new technology with ancient building techniques to produce affordable, green homes.
At 12 meters (40 feet) tall, the BigDelta printer is comprised of a lightweight, collapsible steel frame and a suspended printing nozzle. Clay is pushed and rotated through the nozzle, layer by layer. The printer uses only water, dirt, clay, and plant fibers to make earthen dwellings—and by using locally dug-up materials, avoids expensive shipping and materials costs.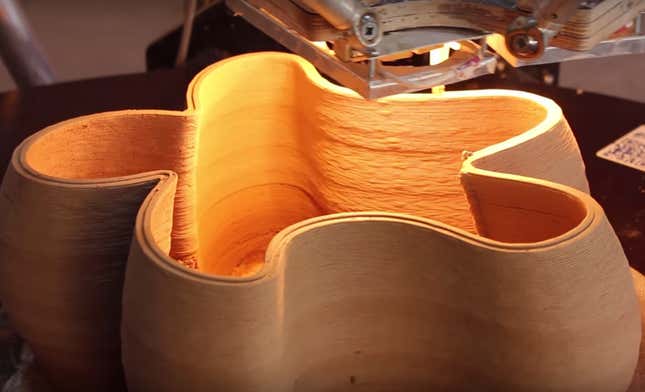 While the idea of using 3D printers for housing construction is not new, WASP's BigDelta printer is the first to focus on the cheap material of mud, a plentiful resource as the world's low-cost housing needs increase. In a press release, the company points out that "by 2030, international estimates foresee a rapid growth of adequate housing requirements for over 4 billion people living with yearly income below $3,000."
Mud homes produced by BigDelta won't be the most lavish dwellings, to be sure—but they could give people cheap shelter in parts of the world where it's in short supply. The group's acronym, WASP, was partly inspired by the simplicity and structural stability of wasps' nests.