Volvo, the world's second-largest truckmaker, reported awful fourth quarter numbers today.
The Swedish firm's operating income plunged to 1.12 billion Swedish crowns ($177 million) from the previous year's 6.96 billion, which was well below analysts' expectations.
But its shares climbed almost 5% after the results came out on news that Western demand for its trucks may be rising out of a trough.
What Volvo is seeing now in its truck business, CEO Olef Persson said in a press conference, is that "demand in Europe and the US is improving."
While the US recovery is well-flagged, Volvo's results are one of a clutch of recent signs that previously deadbeat European economies are turning a corner.
Markit's Eurozone Composite PMI, which gauges business activity across thousands of companies, rose in January to a 10-month high of 48.6. A reading below 50 shows the region's economy is still contracting, but at least the contraction is easing off.
Meanwhile, Swiss agribusiness giant Syngenta and British oil major BP just posted earnings that beat analysts' expectations. And German insurer Munich Re has also just unexpectedly increased its dividend.
These events could help sustain the rise of the euro, which has advanced healthily in recent months as the worst of euro zone despondency has receded.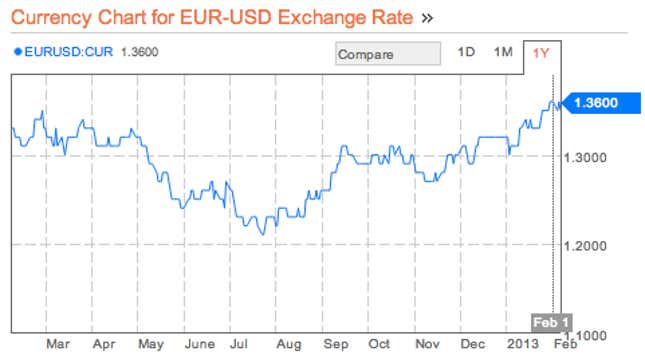 Not all of the euro zone is doing well. The Markit PMI data showed the German business conditions are vastly improving while activity in France and Italy is declining markedly.
And euro zone companies that are clutching at green shoots of recovery will also be hoping the euro does not strengthen too much, which could derail the currency bloc's tentative progress by making the region's exports too expensive.