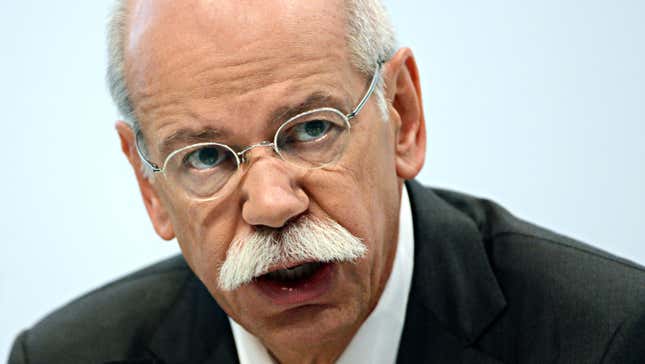 For luxury car companies, limited European demand has made emerging markets the site of an increasingly aggressive turf war. And in China, that scrabbling for market share has gotten especially fierce. The country's urbanization, rising disposable incomes and enthusiasm for luxury labels—to say nothing of its sheer size—have helped fuel growth for high-end carmakers throughout the global recession.
Not so for Daimler, the maker of Mercedes-Benz, though. The 195,000 cars it sold there last year puts it far behind BMW's 325,000 and Audi's 405,000, and it claims only 1.4% of China's automobile market share. Those sales contributed just 9% of Daimler's total revenue (for comparison, BMW's sales already made up 37.4% of company revenue back in 2011). And that's after it sold its S-Class vehicle in China at a deep discount.
Daimler is now furiously trying to make up ground there, having set a goal 300,000 vehicle sales in China in 2015. It might have a shot at meeting that target considering that it's addressing one of its biggest problems: that it has been using two different sales teams for local and imported cars. Last week, Daimler bought a 12% stake in its Chinese joint-venture partner, Beijing Automotive, in anticipation of the local company's possible IPO.
China's not the only weak spot for Daimler, though. Worldwide, Daimler managed to grow its revenue by 7% year-on-year in 2012, compared with BMW's 11.7% increase last year. But the combination of its weak position in China and the European financial crisis will make it hard for Daimler to narrow the gap with its competitors this year. CEO Dieter Zetsche announced the company only will be able to "push forward" its "relative" position in 2014. Part of this abstract plan involves introducing new car models; it plans to roll out 13 over the next eight years. So far, Daimler had no all-terrain vehicle, leaving that segment to Audi's Q3 and BMW's X1.

Aside from its grim sales outlook, Daimler also has a profit problem on its hands. Making a Mercedes, it turns out, is more expensive than churning out an Audi or a BMW. Zetsche has a plan to tackle this too, though: a massive austerity program that shall reduce costs by $2.7 billion by the end of next year. Daimler will also spend more on research to bring down production costs.
Nervous Daimler investors can relax. Austerity for engineers won't translate to dividend cuts: Zetsche is keeping the dividend at €2.20 ($2.97). Investors might be happy about that. But they're likely none too pleased with Daimler's struggles in the Chinese market and the steady slide of Daimler's stock price. This year the stock saw only a small rise of €1.20 ($1.62).
Zetsche may have made some bad calls in the last few years about where to focus Daimler's sales efforts. Still, media reports suggest that the company's supervisory board is likely to keep Zetsche as the CEO, possibly extending his contract to 2018, when it announces its decision on February 21.
One reason to keep him in place is to let Zetsche see through his new plan to shift some of the capital saved in austerity measures toward investments in R&D. With Daimler's competitors leading the race for global market share by a wide margin, tweaking sales operations alone won't boost its performance. Daimler will have to come up with something truly innovative if it wants to contend with the competition.