To the surprise of no one who has been following this, daily fantasy sports (DFS)—the sports betting phenomenon sweeping the United States—is in some hot water.
Ethan Haskell, an employee of DraftKings (one of the two biggest DFS companies), admitted to inadvertently leaking insider information that may have helped him win $350,000 on rival site FanDuel, according to the New York Times (paywall). The leaked data was said to involve the percentage of entrants who selected certain NFL players for their weekly lineups—information that can be extremely advantageous to someone with knowledge of it before it's released to the public.
While Haskell's good fortune is suspicious, to say the least, it'll be difficult to prove that he actually used the data to come in second place in FanDuel's "NFL Sunday Million" contest. The weekly contest costs participants $25 to enter, and doles out $5 million in prizes to the thousands who enter.
In a joint statement, the two companies said there was no wrongdoing. "Employees with access to this data are rigorously monitored by internal fraud control teams, and we have no evidence that anyone has misused it," they said. A DraftKings spokesman, did, however, tell the New York Times that employees from both companies have won big paydays playing at other DFS sites. Both companies have since temporarily banned their employees from fantasy sports betting.
Standard fantasy sports, which rose to popularity in the 1990s, entail drafting a "fantasy" lineup of players and managing that team throughout the entire season—when your players perform well (statistically) in real-life, so does your team.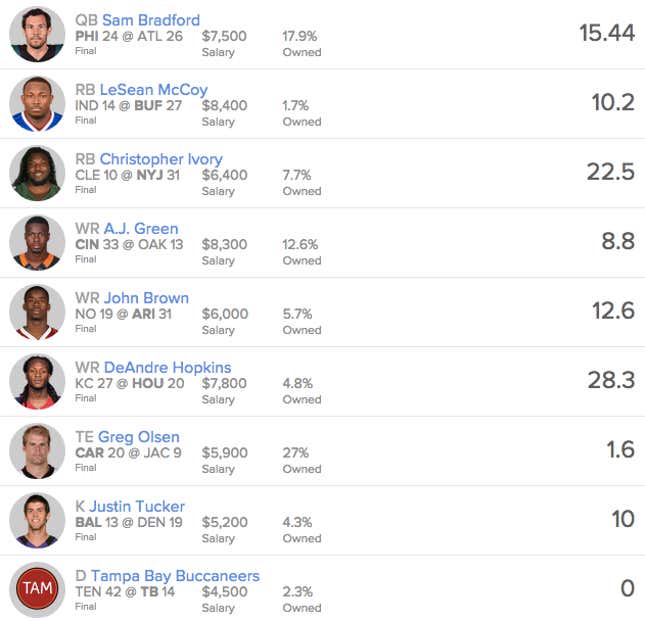 But daily fantasy sports (DFS)—a much more recent phenomenon—takes that experience and shrinks it. Instead of picking a team once a year, you pick one every single day (for most sports) or, for American football—by far the most popular fantasy sport—you select a squad once a week. You don't have to play every day or every week, but many players do. It requires hardly any commitment, and, more importantly, it gives players infinite chances to win money.
It's a very close cousin to Las Vegas-style sports gambling, except it's actually being embraced by many of the major leagues. You've more likely than not been annoyed by their TV or internet ads. (Full disclosure: I have played DFS on FanDuel casually for several years. I've won, in total, around $20. It's not easy.)
One major strategy is to select players that you don't think will be owned by many other entrants, increasing your odds that your team is unique. That's part of the reason Haskell's leaked information could have been useful to him or to anyone else with access to it.
For now, DFS is legal in most states, though some politicians want that re-evaluated. The industry having its first insider trading scandal was always a matter of "when," not "if." And unless policies change, it's likely to keep happening.
"The single greatest threat to the daily fantasy sports industry is the misuse of insider information," Daniel Wallach, a sports and gambling lawyer, told the New York Times. "It could imperil this nascent industry unless real, immediate and meaningful safeguards are put in place."