Fantasy sports is an unstoppable juggernaut in the United States. Once a cultish underground hobby, it has ascended to the mainstream of American culture—the subject of sitcoms and multimillion dollar Las Vegas tournaments.
The most recent evolution has been daily fantasy sports, in which players select lineups over and over, instead of once a season—it provides near-instant gratification and, crucially, more chances to win money. Now, major sports leagues themselves want a piece of the growing multibillion dollar industry.
DraftKings, one of the most popular daily fantasy sports sites, announced today (July 27) that it has added $300 million in new investments (paywall) from backers including Fox Sports, Major League Baseball, National Hockey League, and Major League Soccer, for an implied valuation of about $1.5 billion.
The company, which launched in 2012, has itself invested heavily in advertising: You may have seen one of the company's various commercials on television (video). In total, the site has raised nearly half a billion dollars since inception.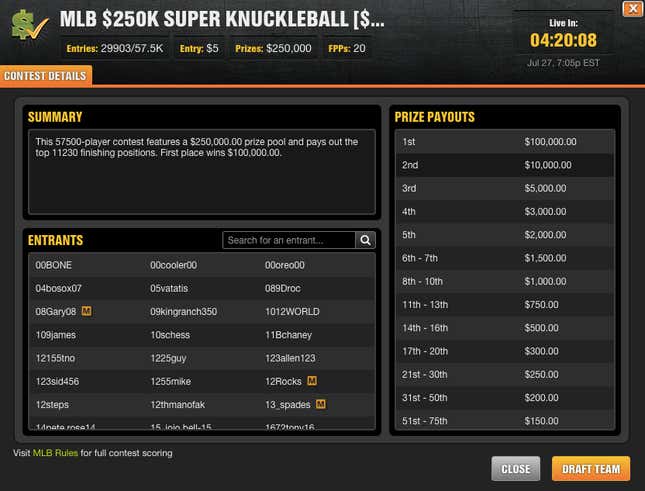 FanDuel, DraftKing's largest competitor, recently raised $275 million of its own, and is backed by the National Basketball Association along with several major NBA teams, including the New York Knicks, Brooklyn Nets, Chicago Bulls, and Dallas Mavericks.
In February, NBA commissioner Adam Silver told ESPN that he supports legalized sports gambling, and the NBA's investment in FanDuel suggests as much. But are daily fantasy sports really gambling? That depends on if you consider them to be a game of luck, or a game of skill.
Fantasy sites like DraftKings and FanDuel are legal under US law because they have:
[A]n outcome that reflects the relative knowledge of the participants, or their skill at physical reaction or physical manipulation (but not chance), and, in the case of a fantasy or simulation sports game, has an outcome that is determined predominantly by accumulated statistical results of sporting events, including any non-participant's individual performances in such sporting events.
DraftKings boasts a "100% legal" page on its site, citing that exemption for fantasy sports. FanDuel has a similar page.
But given the long history of illicit gambling scandals involving professional sports, these alliances seem a bit precarious, and raise a number of legal and ethical questions about whether leagues should become entangled with platforms that engage in de facto sports betting.
Together, the two sites constitute about 90% of the daily fantasy sports market. But there are several smaller sites that allow for "micro bets," or bets that involve smaller outcomes within individual games, and THEY might not necessarily be legal. For instance, the site HotRoster allowed users to guess if a specific player would score more points than another player in a recent NBA playoff game.
The more precise these "fantasy" outcomes become, the murkier their legality gets. But for now fantasy sports are on the upswing, and if these massive new rounds of investments are any indication, daily fantasy sports is no longer the frontier, but the new mainstream.