Access to hundreds of shows and movies is great, but perhaps the most frustrating thing about streaming media boxes is figuring out what to watch.
Players Roku 4, Apple TV, and Amazon Fire TV all incorporate some version of universal search, which allows you to simultaneously scan all your streaming apps for content. Now, Roku has taken things a step further, adding what may be the best discovery feature ever put in a streaming media player: a feed.
The Roku 4, announced today (Oct. 6), has a new feature called "Roku Feed." When you bookmark your go-to TV shows or movies, Roku will send you notifications—in the form of a feed, not unlike RSS or Twitter—that tell you when and how that content becomes available. It will also notify you when the price of the content changes. You can access this feed on both the actual Roku home screen and from the Roku mobile app.
Ultimately, you don't really have to search for or do anything—the shows, and where to find them, come to you.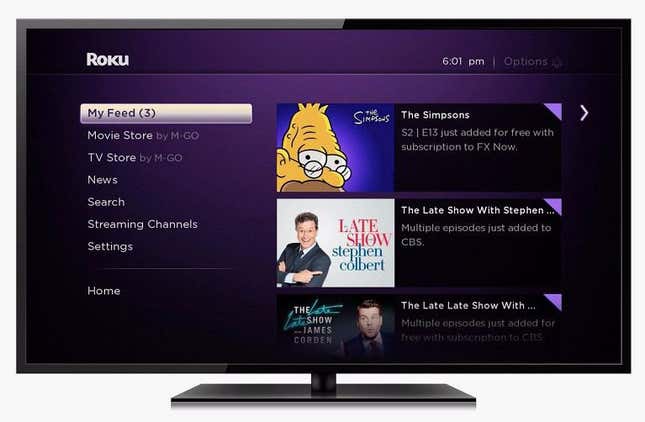 Since Roku doesn't have a TV streaming service of its own, it doesn't favor any particular content. (Apple TV and Amazon Fire TV appear to prioritize iTunes and Prime Instant Video, respectively—at least on their home screens.) The Roku 4 also includes 4K video streaming, a neat find-your-remote button, and upgraded hardware and software.
Roku actually rolled out a similar feature for the Roku 3 earlier this year, but it only worked with movies that were still in theaters. Now, it works with all TV shows and movies; you can even select an actor or director to "follow" and the feed updates every time those people are involved in something that's ready to watch.
The new feed is yet another move away from using standalone apps. It essentially turns the Roku itself into an app, turning all of your actual streaming apps—Netflix, Amazon Prime Instant Video, HBO Go, Hulu, etc.—into one big entertainment catalog. Though not revolutionary, it's the kind of smart innovation that customers are likely to actually use.
The $129 Roku 4 announcement comes just days after Google rolled out a new $35 Chromecast, which came just days after Amazon debuted its new $100 Fire TV, which—you get the point here—came just days after Apple showed off the updated $149 Apple TV. The timing of these announcements is not a coincidence. The battle for streaming supremacy is really, really heating up.