During China's National Day holidays this month, almost 8 million tourists visited Beijing in just four days—and the Chinese government kept a close watch on every one of them as they toured the capital's streets.
Beijing police added new surveillance cameras ahead of the holiday, and have expand coverage in the city to "100 percent" for the first time ever, to "tighten the capital's security" and "avoid crimes in crowds," state-run China Daily reported.
Beijing's video surveillance system is part of a nationwide monitoring project called "Skynet" that was launched in 2005. The Chinese government plans to completely monitor "key public areas" with video surveillance across the country by 2020.
The capital appears to be a model for other cities to follow. Beijing police said the number of surveillance cameras in the city has increased 29% from last year, without specifying the exact number. In August, police said Beijing had over 46,000 surveillance cameras, the Beijing Evening Post reported (link in Chinese). The cameras are now on every street corner: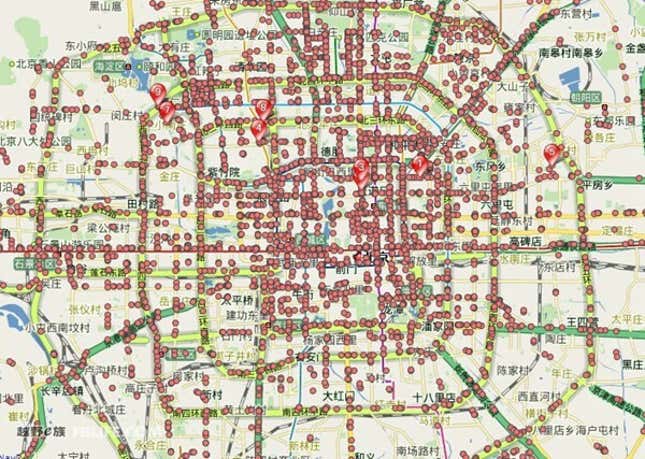 Over 4,300 police officers are in charge of monitoring the footage, Beijing police said, and more police officers were deployed to patrol crowded places including markets, bus stations, and parks during the week-long holiday.
The blanket video surveillance is fighting crime, police said: They've helped to crack more than 1,500 cases this year so far, up 22% from 2014, resulting in the arrest of 2,370 suspects, up 5% from last year, Beijing police said on the Twitter-like service Sina Weibo (link in Chinese, registration required). Over 5.5 million people have been interrogated in street patrols so far this year, a rise of 77% from last year, the police said on Weibo.
The Skynet project is up and running in other cities as well. Since 2011, the Changsha city government of central China's Hunan province has has invested (link in Chinese) 528 million yuan (around $83 million) for more than 27,000 high-definition street cameras and over 4,000 mobile monitoring devices that are mounted on public vehicles. Skynet has also reportedly been implemented in Tibet and Xinjiang.
The number of cameras might seem excessive. But China is hardly alone. Here's London's surveillance camera coverage south of the Thames, via The CCTV Map, an online database of London's cameras: