When you look at pictures of the NBA from the 1970s, one of the first things you notice is the socks: big white tube socks ringed at the top in bright colors. But in the decades since, socks became strictly black or white and faded into the background.
This season, the NBA's new deal with the surprisingly hot, California-based sock startup Stance is set to inject a lot more color into the sport. It marks the first time in more than 15 years that the NBA has a new official sock provider.
In addition to the five solid colors—white, black, yellow, blue, and red—now available to all, teams will also be able to choose from customized styles. One is a solid sock with stripes up top, similar to the socks players wore decades ago. The other two options reflect the team's name and character, like the sock for the Philadelphia 76ers, which is white with blue stars.
If that weren't enough, there will be "special-events socks" introduced throughout the year, such as a Christmas Day sock, and a sock for Black History Month.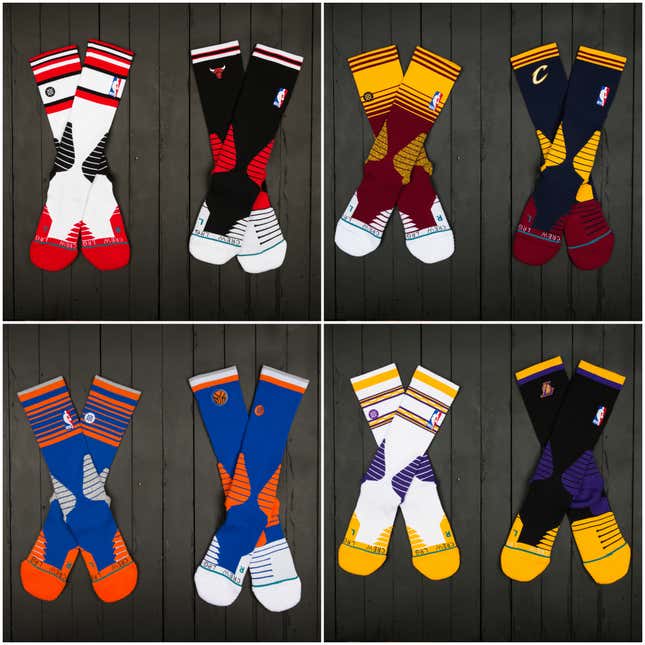 "We had been somewhat conservative in our [on-court] socks for years, so we were excited to elevate and change the look of the game," says Lisa Piken Koper, the NBA's VP of licensing, to Quartz. She says the NBA doesn't disclose deal terms, but did offer that the deal with Stance is a "multiyear partnership." Players are already starting to wear Stance socks as the preseason gets underway.
Stance has blown up since its products first hit stores in 2010, which is pretty remarkable for a company dedicated to sock innovations. The company's founders say they focused on making better socks because nobody else was, and it's paid off. They've amassed $86 million in funding, and have celebrity backers such as actor Will Smith and basketball star Dwyane Wade. Rihanna, the globally famous singer and style icon, designed a sock line with the company.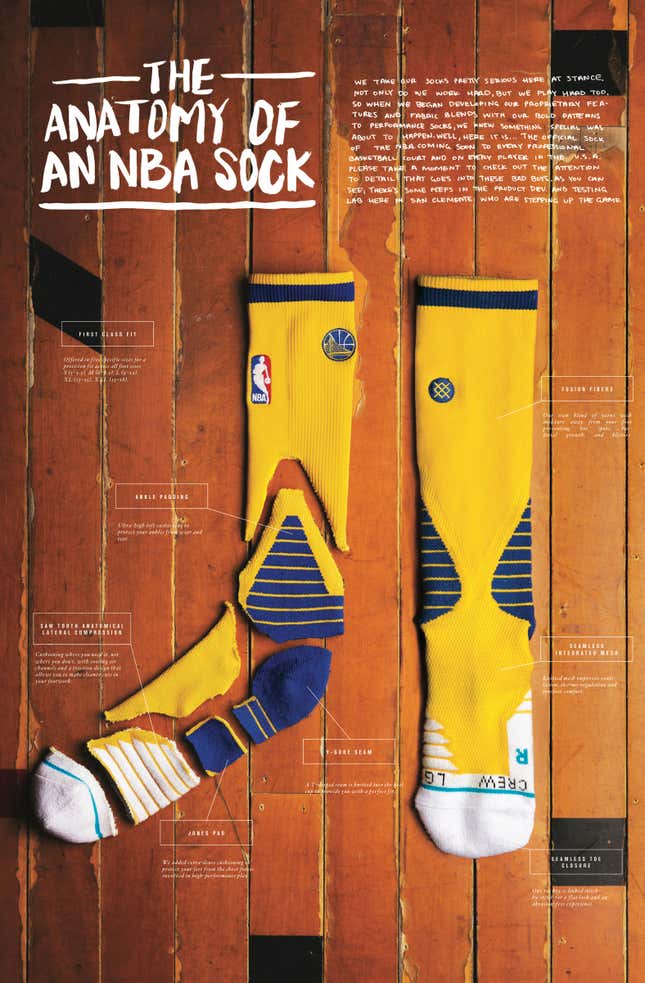 Stance's NBA socks are specifically engineered for the sport, said Clarke Miyasaki, Stance's executive VP of business development, to Quartz. Among their many features are improved moisture control, compression, and targeted cushioning.
"When we sat down with the NBA and our product team, and we brought out our technical experts, they really bought in and believed that we were going to create the world's best basketball sock," he tells Quartz. "I firmly believe that we did that."
But that's not really why the NBA picked Stance.
"When we first entered into the partnership with Stance, it really was more about the fashion, and what it looked like from a product-design perspective," Koper says.
So far, both Stance and the NBA tell Quartz the feedback from players and teams has been overwhelmingly positive, though fashion always has its critics.
"There's a couple of teams—I won't name them—where they're like, 'Ah man, you put too much red in this thing!'" Miyasaki says, laughing. "We'll try to take that feedback and work on it for next year."