Amid the never-ending debate about gun control in the US, the last gun store in San Francisco—that hotbed of liberalism—has bowed to pressure and is closing for good.
Highbridge Arms announced its closure on Facebook with "tremendous sadness" and told "vultures" to not bother them as the shop clears out its inventory. (That post has more than a hundred likes.)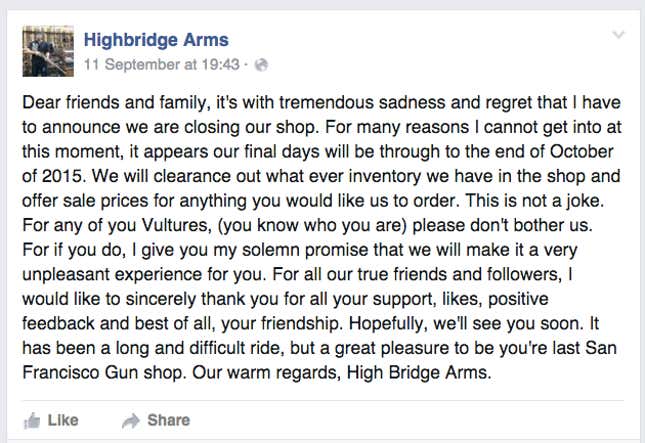 The store, which proudly declared itself the "last San Francisco gun shop," said could no longer cope with the fierce opposition from local politicians. The final straw was proposed legislation that would have forced the shop to record every firearm purchase on video and send a weekly report of ammunition sales to the police.
"I'm not doing that to our customers," general manager Steven Alcairo told the Associated Press. "Enough is enough." He added: "Buying a gun is a constitutionally protected right. Our customers shouldn't be treated like they're doing something wrong."
The man who proposed the legislation disagreed. "If I have to choose between the existence of a gun store in San Francisco, or the public safety of our residents, I'm going to choose the public safety of our residents every single day," Mark Farrell told CBS News.
While the announcement was met with some sympathetic support on Facebook, the city's residents has historically not been in favor of possessing firearms. In 2005, 58% of voters passed Proposition H, which banned the sale of firearms and possession of handguns. The National Rifle Association eventually overturned the legislation after a successful lawsuit.
Highbridge Arms has been selling firearms in the same location since the mid-1950s, according to its website. The shop is now set to close on Oct. 31.