Playboy's recent decision to stop publishing nude photos marks a watershed moment in media, as the porn pioneer buttons up and turns its back on what made it famous. But the company's core has had little to do with pornography for a long time.
Over the course of a decade, Playboy has steadily transformed itself from a publishing company to a company that sells bunny drawings to T-shirt manufacturers. Revenues from licensing Playboy merchandise went from $37 million in 2009 to $65 million in 2013' marking about half the company's revenues at the time (paywall).
Dumping the brand's association with nudity, however mild compared to online porn standards, gives it a better image in countries where government policies towards pornographers can be highly critical—which just happen to be the two most populous countries in the world. Attempts to open Playboy-branded clubs in India were swatted by authorities twice. China, meanwhile, has repeatedly announced anti-porn campaigns in recent years.
Even with the government's tough attitude to pornography, Playboy earns 40% of its revenues from China, according to the New York Times.
Across the country, it's not uncommon to see men and women wearing t-shirts or carrying handbags donning the Playboy Bunny. Playboy-branded retailers take up space in high-end department stores and dingy street shops alike. Earlier this year the company made a further push in the Middle Kingdom, signing a 10-year licensing agreement with Handong United the oversee manufacturing and distribution of Playboy-branded items, and to increase its retail presence to 3,500 locations.
Licensing has rewarded Playboy with happy returns. The company claims to have helped generate $5 billion in retail revenue from China within the last decade, and more than $500 million in 2014 alone—despite how few of these customers remain aware of the brand's racy origins.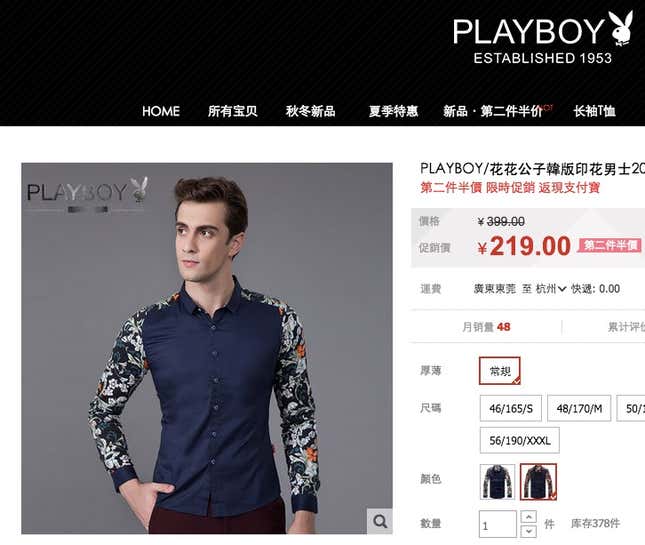 "'People know what the bunny ears are even where we have never published a single magazine," Playboy Enterprises CEO Scott Flanders told the South China Morning Post in 2010. "I think we have a cleaner image in the mind of the consumer in Asia as a result."
But a cleaner image doesn't mean a classier one. Playboy's designs in Asia lean towards ostentatious, and price points tend to be mid-tier. Parsing through authorized sellers on Tmall, Alibaba's brand-centric e-commerce site, shows floral-patterned oxford shirts and suede athletic shoes priced at 259 yuan per item (about $40). It's mass market, but still international and aspirational to some.
"In China and other Asian markets, Playboy has positioned itself as a lifestyle brand for sophisticated, suave, fashion-conscious consumers by working with strong licensees in premium mass-market apparel, sportswear, eyewear etc," said Torsten Stocker, greater China retail partner at AT Kearney, in an interview with the Financial Times (paywall)
Magazine sales, on the other hand, have been a lost cause for some time. Playboy's pay-per-view porn business, meanwhile, is non-existent—Playboy sold it to porn magnate Manwin in 2011. The Playboy brand might be vague and amorphous without nudity. But if it's to grow, it needs to sell more bunny ears in China, not centerfold magazines in the US.