As their spending power increases, the world's expanding middle classes are drinking more coffee. Consumption has increased dramatically over the past few decades, and even more within the last few years (see graphs). Only it seems the world's coffee drinkers are becoming more price-conscious.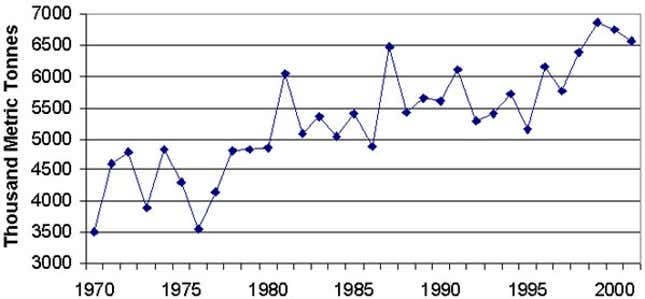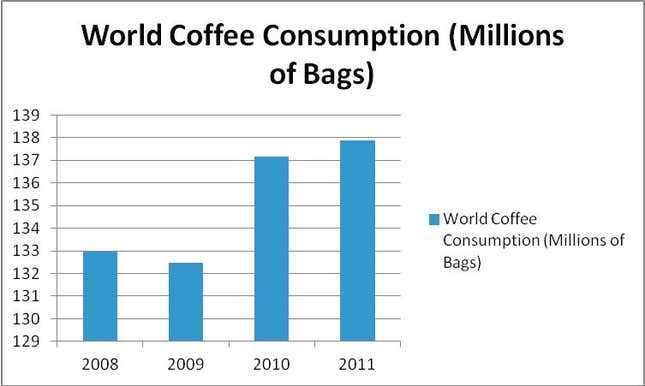 While sales of arabica, the more flavorful, refined beans used to roast most of the coffee consumed in Europe and North America (Starbucks, for example, will only roast arabica) have remained flat, causing prices to drop 37% in the past year, coffee drinkers in places like Russia and Brazil are boosting demand for robusta coffee, the hardier, bitter, more heavily caffeinated beans used to make instant coffee. As a result, robusta prices have increased 13% in the same period, the Wall Street Journal reports.
Specialty coffee drinkers accustomed to blue-label coffee pickings and small artisanal batches may turn their noses down at robusta beans, as one Brooklyn roaster did when he told the Wall Street Journal, "It tastes like tires." But the gap between the two varieties has narrowed to its lowest level since April 2009: arabica now trades for about $1.40 a pound ($3.10 per kg), while robusta sells for $0.95. This follows a spike two years ago in arabica prices, which in the previous few years had been closer to their current level.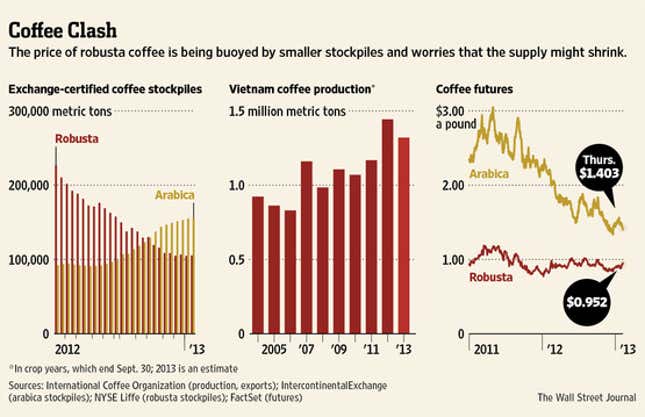 Jim Rogers, the famous commodity trader, noted last November that global consumption was shifting from arabica to robusta and attributed the growing demand to Asian countries, which are also top producers of robusta beans.
But traders shouldn't pile their money into robusta ETFs just yet, as some important one-off events have also contributed to the recent shift in prices: while demand for robusta has grown, supply is expected to be tight this year because of scarcer-than-usual rains in Vietnam, by far the world's largest producer of robusta beans. The country's harvest is expected to be 7% smaller this year.
And the reverse has taken place for arabica beans, with a supply glut amplifying the effects of slimming demand: last year saw a record arabica crop in Brazil, even as Brazilians drink up more and more robusta (at the expense of pricier arabica).
And there's also the fact that, as the price gap between arabica and robusta narrows, arabica will start to look a lot cheaper to roasters, who will add more of it to their coffee blends, potentially reversing a trend seen in the last few years, wherein major coffee brands (even in arabica-loving America) added more robusta beans to their mix to save on costs.
As demand for robusta grows (the International Coffee Organization expects it to grow 6% per year through 2015, compared with a 1% annual increase for arabica), the strain will become more expensive, relative to arabica. The effect could be a see-saw shift tilting arabica back into favor.