In the Philippines, all eyes are on the Commission of Elections headquarters in Manila, as aspiring government officials file their certificates of candidacy this week.
There are 18,069 positions at stake—from assemblymen all the way to the presidency—for the general elections scheduled for May 9, 2016. Among the 57 who have applied to run for president is Romeo John Ygona, a minister from northern Philippines who wants to be listed as "Lucifer" on the ballot.
Would-be candidate Allan Carreon, a waiter at fast-food chain Wendy's, calls himself an intergalactic space ambassador. He claimed that he was urged to run by aliens who communicate with him via the internet (Facebook group), and plans to provide free wifi for all.
On Oct. 12, another potential candidate, lawyer Ely Pamatong, burned a Chinese flag (video) as a symbol of his intention to defend the Philippines in the ongoing territorial dispute with China over Spratly Islands. He was also implicated in a bombing attempt at the national airport last year. Pamatong has attempted to run for president twice before.
"It is the right of every citizen to aspire for higher office," said commission chairman Andres Bautista to the Philippine Star. While many citizens lament the nation's "circus election" on social media, Bautista insists that unknown or unpopular candidates ought not be labeled nuisance candidates—at least until his commission deems that they are.
The incumbent president Benigno "NoyNoy" Aquino III will be ending his six-year term in June 2016. He is not eligible to run for re-election.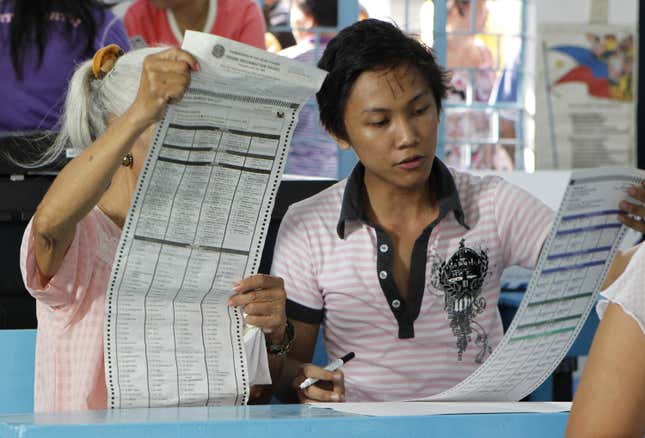 Aspiring candidates have until Friday, Oct. 16 to formally apply to be listed on the ballot. The commission will review all applications and release the final list by December 10. If enough candidates pass the commission's criteria, voters may face an overwhelmingly long electoral ballot; in previous years, eligible candidates have numbered in the hundreds.