The 2013 garment factory collapse at Bangladesh's Rana Plaza, which killed at least 1,133 people, was seen around the world as a wake-up call. There had already been several deadly tragedies in the country's massive and growing garment industry, such as the 2012 Tazreen Fashions fire, but the deaths at Rana Plaza were on a new scale.
Nobody could ignore the dire conditions that workers toiled in any longer, and international retailers scrambled to pledge their commitment to ensuring safety in their supply chains. More than two years later, however, many of the factories that produce clothing for Western retail stores remain deathtraps and tragedies waiting to happen, according to the organization tasked with overseeing those commitments.
We are now roughly halfway through the five-year, legally binding agreement that an international coalition of brands and organizations signed, promising to making Bangladesh's garment industry safe. While the Bangladesh Accord on Fire and Building Safety and its signatories have done a great deal of work, their progress in improving safety has been painfully slow. By the Accord's own admission, it is significantly behind schedule in making the structural and procedural changes necessary to keep Bangladesh's garment workers safe.
"For the large majority of our factories, remediation is behind," says Rob Wayss, executive director of the Accord. "In too many of our factories, it's far behind."
The reasons
According to Wayss, "almost all" of that work should have been done already. Many factories have been granted extensions on their deadlines for fixing violations, which is ultimately lengthening that original five-year timeline. In all likelihood, this isn't really the halfway point any longer.
The reasons for the delays are numerous. Some are valid, Wayss says, while in other cases, "the reasons aren't acceptable."
The process of making Bangladesh's garment industry safe is an enormous undertaking of startling complexity. To date the Accord, which now has about 120 employees, has inspected more than 1,300 factories in Bangladesh, and it has about 150 newly listed factories to check. It's also taking the lead on refurbishing some 250 factories inspected by the Alliance for Bangladesh Worker safety, a separate coalition that formed after Rana Plaza.
What the Accord found when it began inspections was an industry that had been built haphazardly, to put it generously. Virtually every factory had a litany of safety issues. Nearly all lacked effective fire doors, alarm systems, and properly constructed safety exits. Many had gates to lock employees in, improper electrical wiring, and no plan for weight management—cracks were visible in the columns of some buildings that were dangerously overloaded. About 30 buildings, each containing multiple factories, had to be shut down immediately because they didn't meet the Accord's minimum structural standards.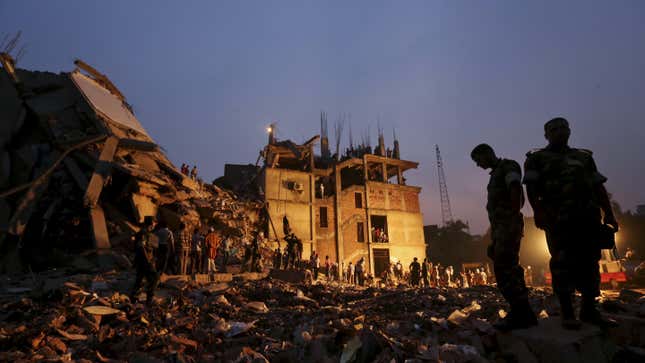 And these are just the factories Accord staff are inspecting. There are more than 5,000 garment factories in Bangladesh, many of them unofficial and essentially off-the grid. As a 2014 study (pdf) by NYU's Stern School of Business pointed out, international coalitions, including the Accord, are only inspecting around 2,000 factories. "The worst conditions are largely in the factories and facilities that fall outside the scope of these agreements," the report stated.
When the Accord began telling factory owners what they needed to fix, many didn't have the technical know-how to correctly install effective fire doors, construct enclosed stairwells that can seal out smoke, fix structural problems, or upgrade electrical wiring—not to mention that they had to make sure they were buying legitimate items. Wayss says they had to be on the lookout for counterfeit fire doors and sprinkler and alarm components.
The Accord has now made sure factory owners have direct access to engineers who can guide them, so lack of expertise is no longer a valid excuse in most cases.
But there are also a number of factory owners who are just ignoring the problems. Kalpona Akter, the executive director of the Bangladesh Center for Workers Solidarity, said the factory owners, generally speaking, can't be relied upon to do the right thing. "When it's out of sight, they forget everything," she says. "It's been more than two years since Rana—I don't believe factory owners learned anything from that."
Indeed, some haven't even bothered to order fire doors yet, Wayss says.
Lingering problems
The way to get factory owners to make the necessary safety improvements is simple in theory: Brands sourcing from the factories should apply pressure. But that's easier said than done.
Under the Accord, the penalty to owners who refuse to comply with the required fixes is that brands have to pull their business—but Wayss says only two or three factories have delayed so much that the Accord has forced brands to drop them. As retailers continue to churn out clothing to satisfy the world's appetite for fast fashion, supply chain disruptions cost the brands and the factories alike time and money.
H&M was recently the target of an extremely critical report (pdf) by labor groups, including the Clean Clothes Campaign, which found that more than half of H&M's "best" factories in Bangladesh still had locking doors or collapsible gates, which can slow workers' escapes during an emergency. Even worse, 61% didn't have working fire exits.
"Any factory where a lack of stairwell enclosure and fire doors has been identified, but where these hazards remain uncorrected, is effectively a death trap," the report asserted, and estimated that nearly 79,000 workers' lives are in danger as a result.
H&M responded with an official statement and comments to the press saying it had experienced delays but had made "good progress," having completed 60% of the renovations in factories where it's the lead brand responsible. The groups retorted that more progress should have been made, and that H&M was misleading consumers. (H&M shot back that the groups' portrayal of its factories is inaccurate.)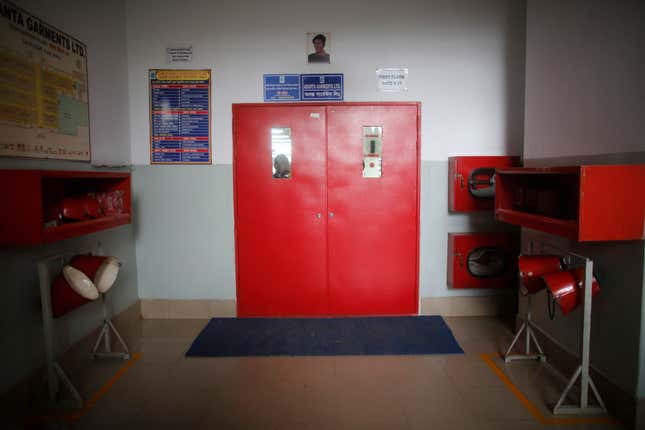 The groups singled out H&M because it was one of the first brands to sign the Accord and remains one of the biggest buyers of garments from Bangladesh. But it's far from the only brand whose factories have seen delays. It sources from fewer than 300 factories in the country; the nearly 1,700 factories producing for more than 200 signatory brands that the Accord has inspected almost all need upgrades.
The progress
It's an enormous job, Wayss says, and he argues that the Accord has accomplished a huge amount when you consider that it started from scratch and had to develop its own organizational structure while trying to inspect an entire industry.
There's another kind of progress not reflected in the Accord's reports: "The important part is that workers are more aware than before about their safety," Akter says. "If they see a crack in the building, or faulty wiring on their floor, they speak up."
That wasn't always the case, according to Akter, and the visibility of the Accord's inspections have played a role in that change. Without the public pressure it created and workers demanding change, there may have been no fixes whatsoever.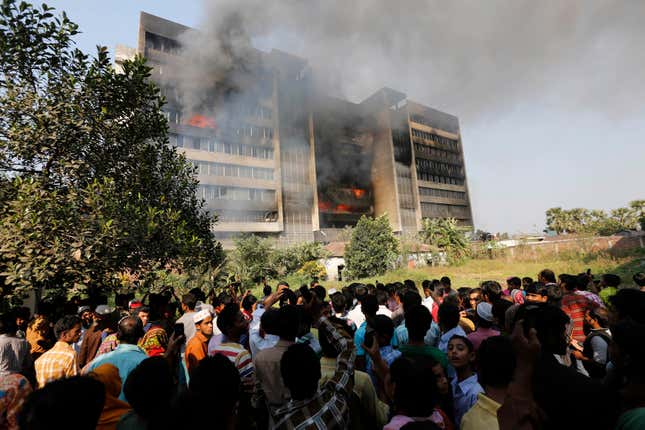 So who's accountable for making sure Bangladesh's factories are safe? For real change to happen, Wayss says, everyone is.
"The Accord is responsible: That's what we've been set up to do," he says. "And the factory owners—the main responsibility for remediation rests with the factory owner."
But the brands do have to be involved as well, because they're the ones who can apply financial pressure on the factory owners. "Brands are absolutely responsible," he says. "They've made obligations to the factories that are producing their products to ensure that the required remediations from the inspections get done." (A number, including H&M, Gap, Nike, and others, just signed a new pledge to improve global labor conditions.)
And ultimately it falls to shoppers around the world, whose purchase decisions fund this whole system, to decide whether worker safety does, indeed, matter to them.
With additional reporting by Annalisa Merelli.