More than 3 billion searches happen on Google each day, according to the company, so if there's one thing Google has lots of, it's insight into what people are looking for.
With Halloween approaching, the tech giant has playfully put its power to use to determine the most popular costumes in the US, both nationally and by location. The result is Frightgeist, a "Google Trends experiment" that maps the costumes you're most likely to see, based on search data. The tool also lets you delve into specific getups trending across the US.
You can see, for instance, that many people in Alpena, Michigan will be dressing as Daenerys Targaryen from Game of Thrones, come October 31st. But in Fargo, North Dakota, Las Vegas, Nevada, or Laredo, Texas, Harley Quinn—the villainous clown femme fatale from the Batman universe—is more likely to be spotted trick-or-treating.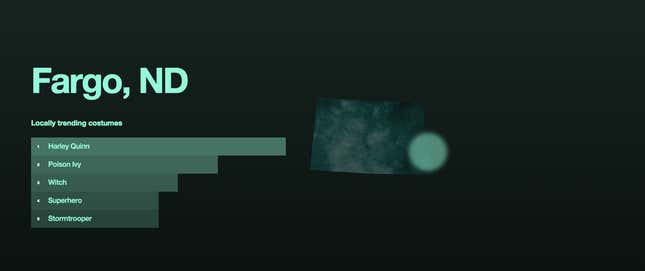 For that matter, "Harley Quinn" is currently the top search nationally, which means, as Google puts it, "you have a frighteningly high chance of seeing another Harley Quinn costume at a party this year."
Rounding out the rest of the top five costume searches, as of this writing, are "Star Wars" (not character specific), then "superhero," "pirate," and "Batman."
Search for any specific costume, and Frightgeist will display its current national rank in popularity, as well as show the trend in searches for that costume in recent years. The screenshot below shows what happens when you search for "hot dog"—the number of Americans considering a frankfurter alter ego this year seems to be on the rise.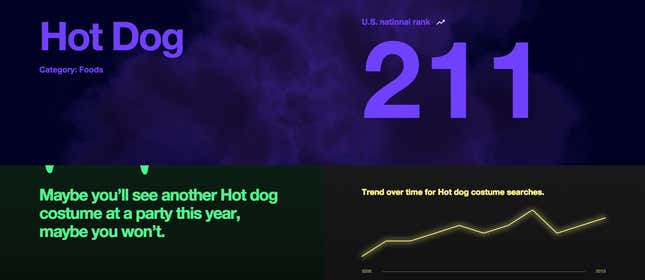 One thing Frightgeist doesn't let you do, unfortunately, is search for specific locations. You're basically stuck just looking at the areas they've picked for you. Sorry southern Utah and central Nevada, as well as numerous small towns across the nation; you'll just have to check what's trending nearby for insight on what to wear—or not.