Hong Kong is home to the happiest people in Greater China, closely followed by Taiwan, according to Tencent, the owner of WeChat, China's largest mobile messaging service. China's capital city of Beijing came third.
These conclusions came from "sentiment analysis" of the content posted by some of WeChat's 570 million daily users to the Tencent-owned social network, Tencent said during a conference last weekend.
They also point to a stark divide between the mainland and the rest of the country—after all both Hong Kong and Taiwan have separate governments that are (somewhat to mostly) independent of China's Communist Party, and retain freedom of speech and other rights citizens don't have on the mainland. Most people in both regions do not even identify as Chinese. People in the Chinese provinces of Yunnan, Guangxi, and Guizhou, are the least happy, Tencent found.
Tencent presented the rundown to developers at a conference on Oct. 24, but the slide that explained their ranking didn't make it into many of Tencent's official media used to promote the conference. Here's a picture taken by an attendee at the conference, showing Hong Kong on the left, followed by Taiwan, and then less happy areas: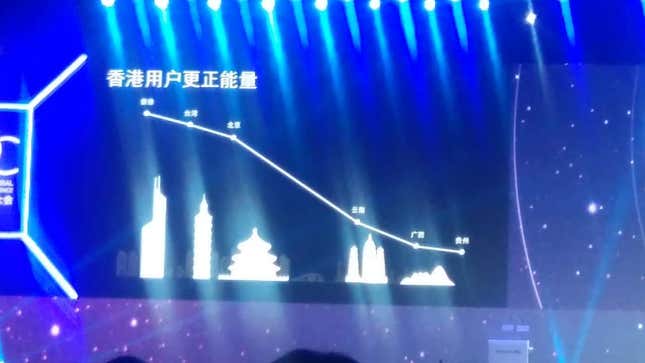 "Using sentiment analysis we've discovered that, on average, Hong Kong is actually the happiest, most positive city—or at least, their Moments posts portray [as such]," said Stephen Wang (video), WeChat's international operations and data analytics manager.
The happiness index was based on an assessment of the material posted to users' "Moments" feeds, which is similar to a person's Facebook wall (here's a screenshot of mine, with my friends' WeChat identities blocked out. Some are posting about upcoming Halloween parties, others about Iran's Ashura festivities):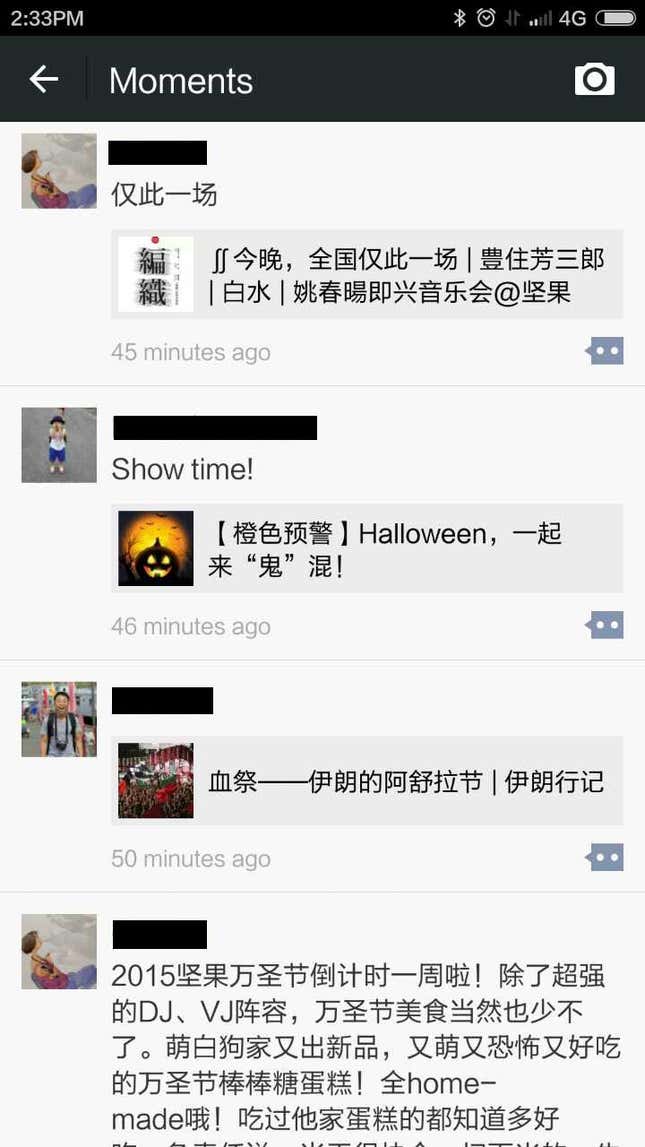 Wang gave no specific details about what exactly Hong Kongers were posting to be considered the happiest region in China, or how "sentiment analysis" actually works. But the result appears to be supported by the UN-backed World Happiness Report (pdf), which assesses countries and territories globally. It put both Hong Kong and Taiwan above mainland China in terms of overall happiness, but noted that the mainland made the greater gains in happiness between 2005 and 2014, whereas Hong Kong slipped marginally. Taiwan's happiness level inched up.
The result may also surprise many Hong Kongers. Earlier this year a small local study found that residents of the city had reached a record-low in terms of happiness. Insane house prices caused the most concern, followed by political worries; the survey was taken soon after Occupy protests dominated conversation in Hong Kong.