The general public may not have forgiven Volkswagen for its egregious diesel-engine deception, but it appears that job seekers have.
Job hunters around the world are rapidly regaining interest in Volkswagen positions, after a sharp drop off occurred when news of the scandal broke in September, the job site Indeed has found.
The company's research arm scored job-seeker interest on a scale of 0 to 1 by comparing daily job post clicks to historical highs. The scores were calculated by taking the percentage of Indeed users who clicked on job listings with "Volkswagen" in the positions on a given day—that includes dealership listings—and dividing it by the highest percentage of clicks for Volkswagen jobs over the past year.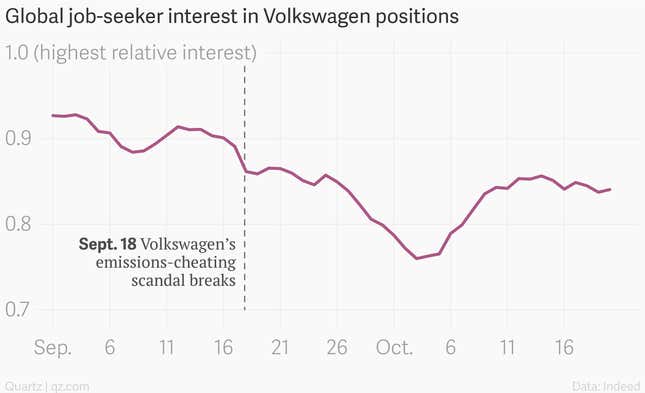 The data shows that job seekers swiftly lost interest in working for the auto maker after the US Environmental Protection Agency revealed on Sept. 18 that certain Volkswagen models violated the Clear Air Act. Interest continued in a downward spiral as the scandal unfolded over the following weeks, hitting a low on Oct. 3 when new chairman Hans Dieter Poetsch warned that the deception could threaten the company's existence.
Then job seekers made an abrupt about-face. Interest in Volkswagen positions climbed later in October, even as news spread about the vast scale of the recall—one of the biggest in history—and job hunters were encouraged by the repairs needed. Job-seeker interest is now nearing pre-scandal rates.
Tara Sinclair, chief economist for Indeed, wrote in an email to Quartz that "job seekers seem to be seeing opportunity in the numerous recall repairs, as well as Volkswagen's messaging about taking a new direction."
Sinclair also noted that, "sometimes 'all news is good news,' and some job seekers may simply be reacting to the frequent appearance of the [Volkswagen] name in the headlines."