With more entertainment choices than ever, from Netflix to smartphones to social media, Americans aren't exactly expected to be flocking to movie theaters. But ticket sales in North America, by far the world's largest market, were up 6% last year. In fact, movie exhibitors could increase their revenues over the next few years. According to Ibisworld, a market research firm, revenue for the industry should grow at 1.7% a year (pdf, p. 9) over the coming five years—hardly stellar, and slower than GDP growth, but at least an improvement on the 0.7% annual growth of the previous five years.
Yet, like movie popcorn, the good news should be taken with a liberal dose of salt. The industry may be rebounding from the financial crisis, but attendance is still 15% lower than it was in 2002, and what's swelling the income for cinema chains such as AMC or Regal Entertainment is not just more seats being filled, but more onscreen ads, more and pricier snacks sold at concession stands—and the creative use of slow movie-going nights. Film theaters are being used to live-stream opera, concerts, or sporting events, according to a recent report from Moody's. The report says revenues per moviegoer have risen 22% percent in the last six years—much faster than attendance. Ticket prices increased about 19% in that span of time, with the remaining revenue coming from other sources, like increased sales of snacks and ads.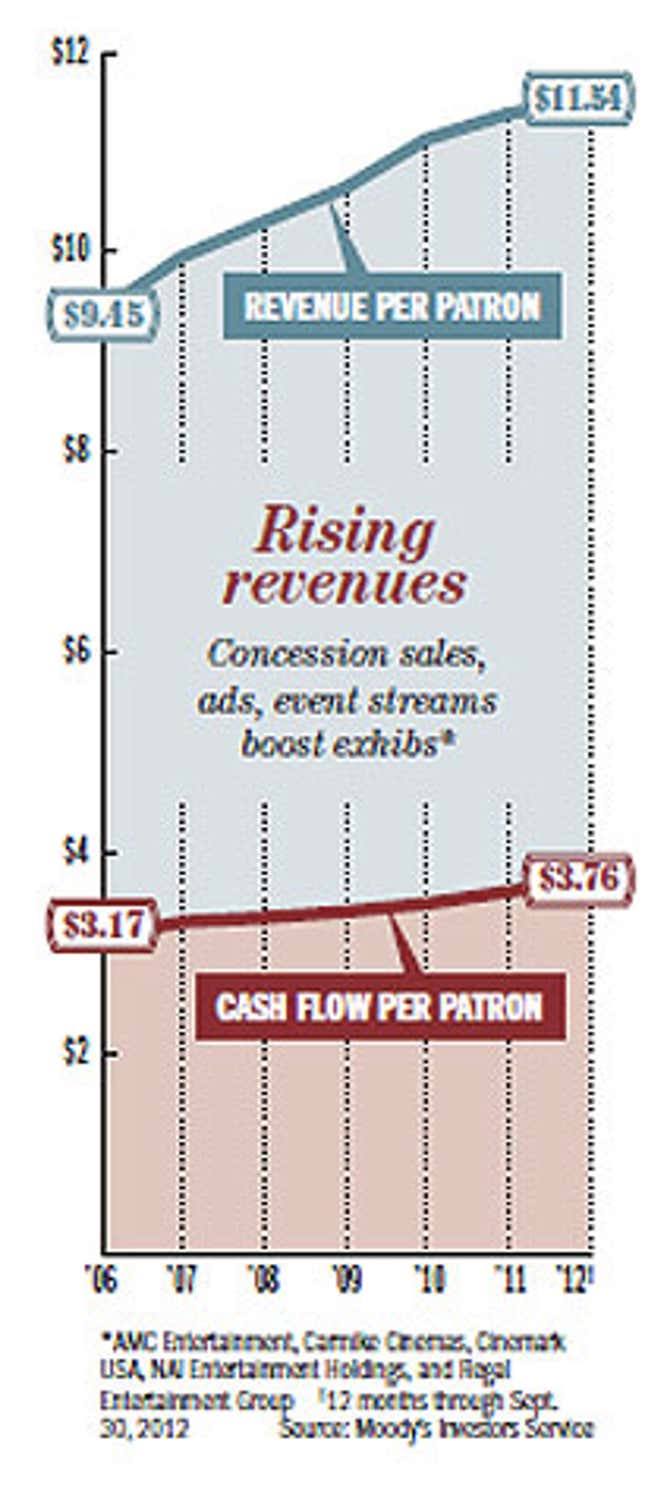 For instance, Regal Entertainment, the nation's largest theater operator, reported optimistic earnings last week: but although per-screen attendance was up a surprising 13.4%, concession-stand revenues grew faster, at 18.4%. (There are a number of possible explanations for why Regal did better than the industry average; one is that 2012 was a particularly strong box office year, and that Regal owns more theaters than its competitors).
Americans who go to the movies (that is, who saw at least one film in theaters last year) saw 6.8 films per person, on average, compared with 6.9 in 2011, and paid an average of $7.96 per ticket. Box office revenues (gross ticket sales) have been more or less flat for the past decade, and the rise of 3D movies, which some in the industry saw as a hope for attracting more people to the theaters, has only slightly boosted overall revenue.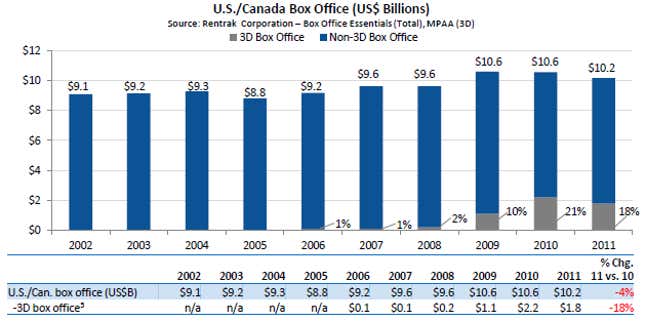 On a brighter note, audiences are getting younger: adults (25- to 54-year olds) accounted for 52% of sales in 2012, compared with 56% in 2011 and 57% in 2010. Relatively speaking, this is good news for the industry, because it suggests that despite streaming home video, social media, games, and the multiplicity of other digital distractions, the kids still enjoy old-fashioned moviegoing. But even so, they haven't increased the total number of movies the American public sits down to watch each year.