Kia Motors, of all companies, might have just changed how major American sports teams make money. The National Basketball Association will slap Kia's logo on players' jerseys for the next two all-star games, according to the Wall Street Journal (paywall).
Sponsoring jerseys is common in many other countries; in European soccer, for instance, jerseys are often emblazoned with at least one, if not multiple, corporate logos. In the US, that's a practice generally reserved for Nascar drivers. It has been verboten in the top US professional leagues for basketball, baseball, football, and ice hockey.
The NBA's move, which it's calling a test, could set a precedent for logos on jerseys during the regular season. Adam Silver, the league's commissioner, has said it is likely to happen this decade. Other leagues could follow suit.
The deal with Kia is part of a larger advertising buy with the NBA and Turner Sports, which broadcasts the All-Star Game. In addition to other ads, Kia will get a 3-inch-wide logo on the upper-left of the front side of players' jerseys. It's not known how much Kia is paying for the privilege.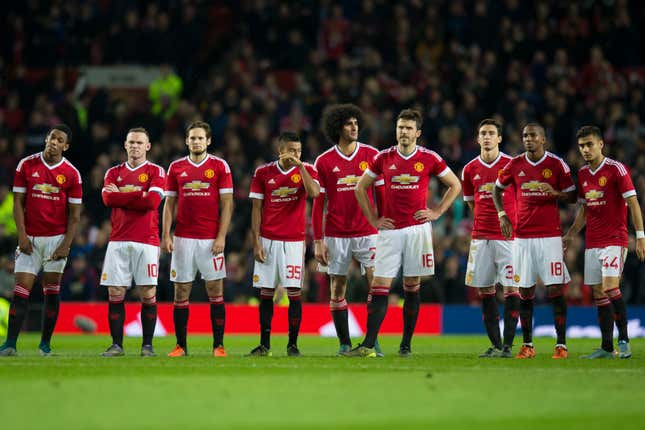 In professional soccer, the sponsorship deals for real estate on major teams' jerseys are often sold for astronomical sums of cash. Chevrolet recently agreed to pay Manchester United FC $560 million over seven years for the right to put its logo on the front of the team's jerseys, and have forward Wayne Rooney muddle through lines in TV commercials.
Teams in both the women's basketball association (the WNBA) and the men's developmental league, where prospects train, have also added sponsorships in recent years. Major League Soccer, the highest tier of pro soccer in the US, can elect to have shirt sponsors, like teams in foreign leagues. Recent expansion clubs Orlando City FC and New York City FC struck deals with Orlando Health and Etihad Airways—the same sponsor as their part-owner, Manchester City FC. And then there's the New York Red Bulls.
The NBA already experiments with soccer-style jerseys from time to time, so it's not that much of a stretch to see teams rearranging jerseys to fit a sponsor logo. If fears of increased branding will lead to a decline in jersey sales, it's worth noting that Manchester United sold nearly 1.5 million jerseys last year, with logos much larger than what the NBA will allow.