The new Apple TV can't come fast enough. By all accounts, the streaming media device has received a major upgrade from its previous version, which languished for many years while competitors like Amazon, Google, and Roku leapt ahead. Now you can read all of the initial reviews, which just came out, to see if the Apple TV is for you.
You can buy the Apple TV from the Apple Store in many countries beginning on Friday, Oct. 30. You can also order it from Apple's website. It costs $149 for the version with 32GB of storage or $199 for 64GB.
Here's a sampling of what the reviewers are saying.
Christina Warren, Mashable: "Setting up the Apple TV is a snap, especially if you have an iOS device running iOS 9.1 or higher. Simply plug the Apple TV into HDMI and power and then use the Bluetooth connection from your iPhone or iPad to share information such as iCloud and iTunes Account preferences and your WiFi password. Not having to enter in a Wi-Fi password and confirming your iTunes and iCloud login information from the phone makes the process of setting up the Apple TV a cinch."
Geoffrey A. Fowler, The Wall Street Journal: "The Apple TV's greatest edge is its remote control. That may sound trivial, but other efforts to make apps work on TVs have been comically complex. Most others require you to tap, tap, tap, up/down and left/right like on a directional pad. Chromecast makes you use a phone. I've seen remotes with 51 buttons, magic wands you end up waving around in the air like you just don't care, even coffee table mouse-and-keyboard rigs."

David Phelan, The Independent: "But there's much less tapping to be done than before because searching for a film title, for instance, is now done by Siri, Apple's voice-recognition system. Press and hold the microphone button and speak to give Siri commands. It's different from the iPhone where you press and release the home button. The remote has two microphones, one to pick up your voice and the other on the back to listen to, and nullify, other noises in the room so you don't have to hold the remote right up to your face. In practice it works beautifully. I have hardly ever had to repeat what I was saying and mostly Siri has understood accurately."
Walt Mossberg, Recode: "Siri works to search not only in Apple's own iTunes service, but in Netflix, Hulu, HBO and Showtime, and displays results across multiple networks — er, apps. For instance, when I said 'Season four of The West Wing, it offered me the right season of the venerable TV series from both iTunes and Netflix. It also showed me the list of episodes, with descriptions, and the cast. And Siri is smart. If you can't recall the name of the classic movie When Harry Met Sally, but can remember its stars, you can say 'show me movies with Billy Crystal and Meg Ryan.' Siri can also do follow-up questions. I asked for movie mysteries, and it showed me a ton. Then I said 'only the good ones,' and it edited the list down based on critics' ratings. It also correctly dug up TV shows based on questions like 'Show me the finale of Breaking Bad.'"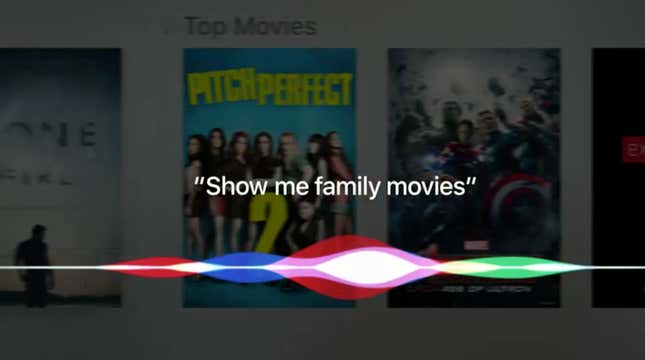 David Pogue, Yahoo: "It's clear that Apple worked its fingers to the bone on this; it works unbelievably well. You have to give a lot of commands before you find a failure. (I finally stumped it when I said, "Show me the episode of 'The Office' with guest star Paul Feig.'")"
Stephanie Schomer, Entertainment Weekly: "It has the potential to turn your TV into one giant iPad: Search for homes on Zillow, book your vacation on Airbnb, use the remote as a controller to play the various video games that are starting to populate the store. (If anyone at Seamless is reading this, please create an app ASAP.)"
Brian X. Chen, The New York Times: "Gaming graphics were also on par with Nintendo's Wii U, and some of the casual games seemed to compete directly in Nintendo's sweet spot: lightweight, family-friendly gaming. I still don't see players of deep action games like Halo abandoning their PlayStation 4 or Xbox One to play on an Apple TV, at least not until we see some hard-core games on the Apple device."
John Paczkowski, BuzzFeed: "Incidentally, that Amazon Prime Video is the exception to the conga line of content offerings above is entirely Amazon's doing. A ~magnanimous~ Apple tells BuzzFeed News that "all are welcome" on its new Apple TV platform. But Amazon — which recently purged Apple TV from its store — doesn't have a Prime Video app in the Apple TV App Store. And as of a few days ago, it hadn't submitted one. (An Amazon spokesperson told BuzzFeed News the company "doesn't have anything to share" on the topic.) Which means presumably I'll be streaming Season 2 of Transparent from my phone to my TV come December — a bummer because Prime Video is my second-favorite feature of Amazon's membership service, right after two-day shipping 30-pound bags of dog food to my front door."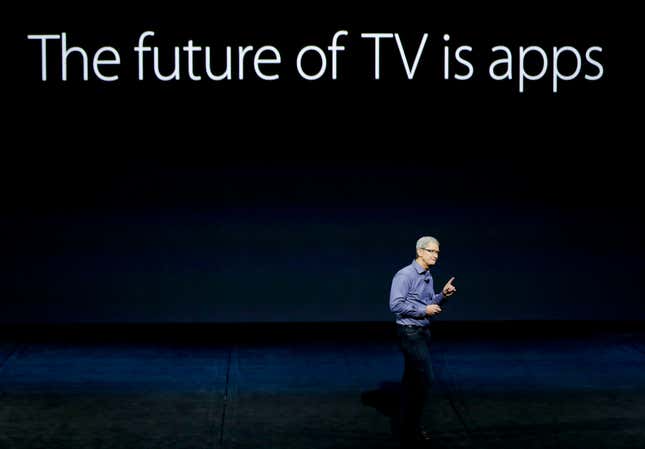 Nilay Patel, The Verge: "But limitations are everywhere. Only a small handful of apps work with Siri search right now — iTunes, Netflix, Hulu, HBO, and Showtime — so finding something in, say, the ESPN or CBS apps isn't possible. Siri can't find you a funny YouTube video, which seems like a shame. Tim Cook says a Siri search API is coming, but I get the feeling Apple wants Siri search to be a differentiator for the more premium services, so we'll see how wide open that API is when it gets here. And once Siri drops you into a streaming app from that universal search, it's a free-for-all — they all have different interfaces and recommendation engines, and none of them talk to each other. Shouldn't Siri pay attention to what you're watching and suggest content across services? Or at least give you a Most Recently Watched list across all your services, like the Fire TV and Roku? One of the best things about traditional TV is the serendipity of flipping it on and seeing something you like, or finding something new. There's a big discovery piece that really ties all these services together that's missing here. TV isn't all about demanding things from a robot."
David Katzmaier, CNET: "To get the most out of Apple TV you need to be invested already in the Apple universe, with games, TV shows and movies you've purchased from iTunes and the App Store. That's a shame since it offers the best streaming experience today, and more potential tomorrow once app developers go to town finding ways to exploit the big screen and that slick remote. But if the previous Apple TV was any indication, this one's only going to grow more appealing."
Christina Bonnington, Refinery29: "With the exception of a couple of app crashes (including one unfortunate case of having to re-enter my Netflix credentials again), the Apple TV is a wonderful way to meld the things you enjoy on your phone and laptop with the things you enjoy on your television. The onscreen menus are logical and easy to navigate, especially if you use Siri to find TV episodes and movies to watch. The apps, from the early examples I tested, are well-executed and generally well-suited for the big screen."