Even in overpopulated India, the Kumbh Mela is a metaphor for a crowded place. And despite the religious nature of the festival, companies can't help but target all those potential consumers.
This year, Unilever has paid hundreds of eateries around the gathering to brand chapatis with its message of hygiene. Using a special heat brander, nearly 3 million pieces of the flat bread are being served around the Kumbh Mela with the question: "Have you washed your hands with Lifebuoy?"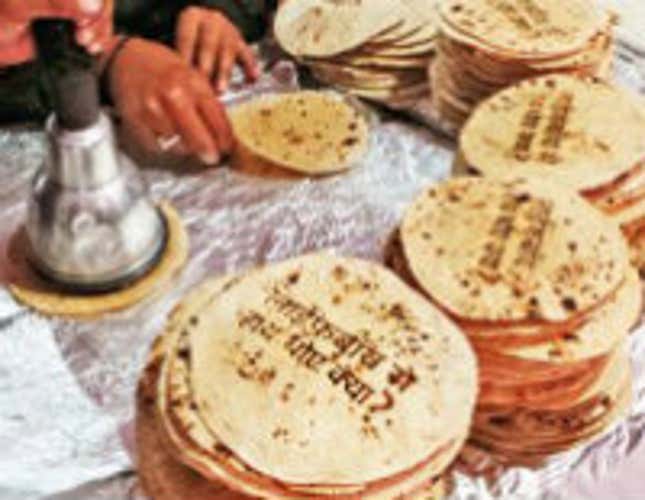 Roti Reminder, as the campaign is called, is expected to grab consumers' attention at the crucial moment when they tear the chapati with their hands. Lifebuoy is one of the largest brands of Hindustan Unilever (HUL) and is positioned as a mass-market good to protect users from germs. The Kumbh Mela, in its milieu of chaos and dirt, is as appropriate a place as any to push this product.
HUL is looking at this campaign as a low-cost, yet effective way to advertise. The demographic of a sizeable portion of the Kumbh attendees fits right into Lifebuoy's target audience and the idea breaks through the clutter of hoardings and pamphlets around the mela grounds. (Not to mention that since the message is literally eaten, it gives a whole new meaning to "internalizing the brand.") HUL has tasked about 100 promoters to stand in partner restaurants and ensure that the chapatis are branded through the campaign's run until early March.
The Kumbh Mela, which is being held in Allahabad and occurs once every 12 years, expects to draw 100 million people over 55 days. This year, about 30 million people attended the mela on Feb. 10, the main day to bathe at the point of confluence of three rivers.
Maybe next time, HUL will make a play to get its soap into the hands of the bathers.
See our previous coverage of the Kumbh Mela: