Well, that's disappointing. British retail sales in January fell by 0.6%, shocking economists, who had predicted an increase of 0.5%, on average. Food sales, down 1.6%, were the main driver.
The drop has raised fears that the United Kingdom is indeed headed for its third recession in four years—a "triple-dip" recession, as many call it. Just after the retail report, the sterling shed more than a cent against the dollar, hitting $1.5477 as of 11:37 GMT.
The British Office for National Statistics (ONS) notes that the average weekly amount spent by consumers has slowed in recent months and remained unchanged between January 2013 and January 2012. This chart from the ONS shows how before now the average weekly amount spent by consumers steadily increased since 2000 and started to flatten in 2012.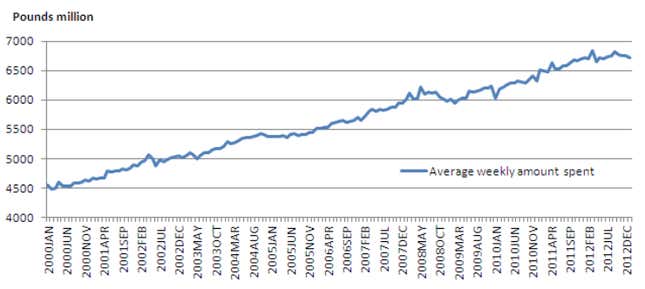 Blame the recent snow storms, instructed the ONS, saying they kept would-be shoppers inside. But Rob Wood of Berenberg Bank thinks it's worth digging a little deeper. "The underlying picture is that the economy is bouncing along the bottom, so weather disruptions can easily tip it into negative territory," he wrote. And that bottom-bouncing is due in large part to austerity. As the government has pressed on with cuts in government spending, Brits have felt increasingly squeezed and, therefore, less likely to spend. The resulting pound-pinching is knocking out an engine that the economy needs to recover.
Income stagnation is also a culprit here, the ONS said on Wednesday. Median earnings per hour in real terms in peaked in 2009 at £12.25 ($19.01). By 2012, they'd dropped to £11.21, around the same level as in 2003. As World First, a foreign exchange currency services firm, put it on Twitter:
Consumers aren't spending because wages aren't keeping up with inflation; life is too expensive

— World First (@World_First) February 15, 2013
The (perhaps only) beneficiaries of this situation are e-commerce sites. Frugal Britons are doing more of their shopping online where they can find more deals. While Britain's mom and pop stores (those with 0-9 employees) saw an overall fall in sales, bigger stores attributed much of the increase they saw to an uptick in online transactions. Compared to last year, online shopping increased 8.7% and internet sales made up more than 10% of retail transactions in January, a level normally only seen just for the month of December, when holiday shopping gets underway. Of course, e-commerce activity also often picks up when inclement weather keeps people indoors, which lends more credence to the ONS's reading on the situation. Let's hope so—the UK economy needs that January data to be an outlier, and not a trend.