Thirty million people voted in Myanmar's general election on Nov. 8, and as the results roll in it appears that Myanmar citizens overwhelmingly chose Aung San Suu Kyi's National League for Democracy party.
Not only the party expected to win the popular vote, according to early estimates, but it may have grabbed enough constituencies to form the government alone, which would allow it to bypass what might have been months of horse-trading and compromise with other parties to take control of the country. A decisive win for Suu Kyi's party would be a resounding victory, after a huge 1990 election win was annulled by a military junta, and Suu Kyi placed on house arrest for years.
The party, known as the NLD, has won more than 70% of the parliamentary seats, a crucial threshold for forming the government, a spokesman estimated just after 4pm local time on Nov. 9. And the opposition is conceding defeat. "We lost," said Htay O, the acting chairman of the ruling Union Solidarity and Development Party, in a Reuters report, at approximately the same time, though he noted he didn't yet know the margin.
One-quarter of the seats in Myanmar's parliament are reserved for the military, so the NLD needs to gain control of 70% of the over 1,000 seats in three levels of parliament to form a government alone. Seats in constituencies are won on a simple majority basis, so the NLD's strong reported showing in the popular vote makes this scenario likely, but official results have yet to be declared for most seats.
You can follow the election results live on Channel NewsAsia and the Guardian.
Already NLD supporters have gathered to celebrate: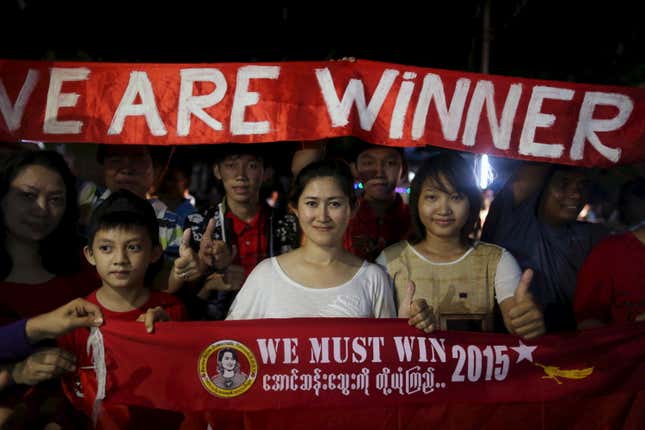 And in what might be a fast-fashion record, vendors have already started to sell "We won. NLD!" t-shirts:
Even if the party does get the 70% of parliamentary seats it needs, the country is headed into a period of uncertainty. Suu Kyi is barred from being president because of the military junta-written constitution, and another leader will need to be named. Still, the relatively peaceful, transparent election process of far has sparked optimism that Myanmar can successfully transition from authoritarian to democratic rule.