Over the last few years, we've all finally admitted that hospitals are depressing, sometimes toxic places. These places for healing can also make patients and staff ill, and the constant beeping of different machines doesn't improve anyone's mood. Frustrated patients often direct their ire at hospital staff—but what if the solution is to redesign the building itself?
On August 21, a new hotel opened on the campus of Denmark's foremost specialized care hospital, Rigshospitalet. Called the Patient Hotel, this 74-room building provides convenient accommodations for self-sufficient patients who have traveled from far away, for an exam or treatment. For patients undergoing long-tern medical care, the tranquil, sky-lit space also provides a temporary escape from the regular hospital's blaring machines and daily bustle.
Designed by the award-winning Danish architecture firm 3XN, the Rigshospitalet Patient Hotel is staffed with nurses and nutritionists. All hotel rooms have a private balcony with views of the adjacent park. "We ensured that ample daylight and warm materials and colors create a welcoming and pleasant atmosphere, which serves as a comforting environment during a difficult period," said Kim Herforth Nielsen, 3XN's creative director and founder in a press statement.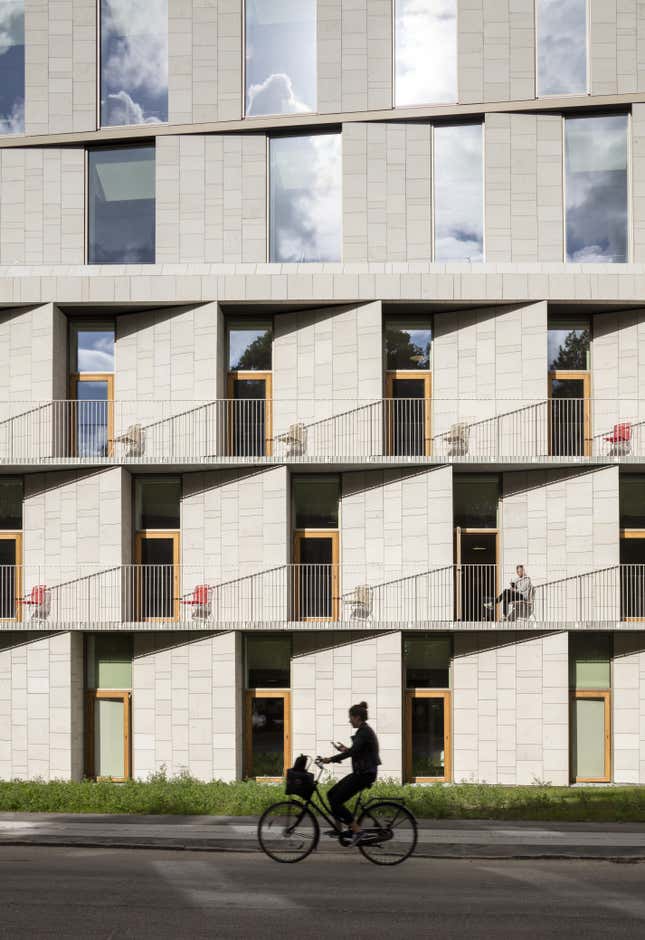 Since the late 1980's, hotels—not hospitals—specifically designed for sick people have been popping up throughout Scandinavia. The first patient hotel opened in the Lund University Hospital in Sweden in 1988, as a way to free up hospital beds for incoming patients. Norlandia is the largest patient hotel chain in the region, operating six outposts in Norway, Sweden and Finland.
In Finland, Norway, Sweden and Denmark, a patient's stay is free, covered by national insurance. And patient hotels actually provide big savings for state-funded hospital system, with the price of a hotel room equivalent to a third of the cost of a hospital bed, according to The Guardian.
Accommodations at patient hotels resemble most traditional 3-star hotel properties, usually with a on-site restaurant, lounges, parking facilities, free wi-fi. Rooms are uncluttered with simple, modern décor and furnished with a desk, a mini-bar, a flat-screen TV, and in-suite bathroom facilities.
But unlike traditional hotels, a patient hotel is still primarily a medical facility. Spaces are designed with patients with limited mobility in mind and wired for easy communication with nurses and medical staff. Walls, flooring and furniture needed to  be easy to clean to prevent the spread of infection.
"The surfaces had to comply with the strict hygiene demands of a hospital but still convey the warmth of a hotel," Nielsen tells Quartz, describing the architect's challenge. "What we are especially pleased with was the ability to connect the lobby and guest room corridors with the open, light-filled atrium so guests can have a welcoming and inviting environment."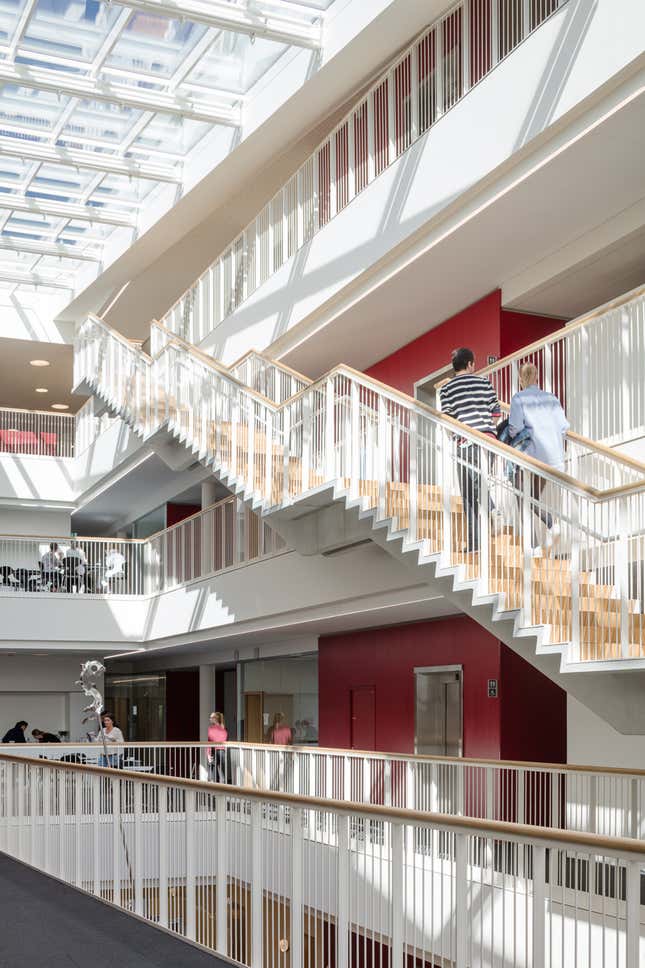 As with similar properties throughout the region, the Rigshospitalet's Patient Hotel in Copenhagen provides a more joyful place to see visitors and recuperate after a treatment. And perhaps best of all, immediate family members can stay with their loved ones seeking treatment at the hotel at no cost.