Christine Schofield, mother of three, disappeared the day after the Bowl-A-Thon: February 13, 2012. She'd co-chaired the annual fundraiser with Holly Riordan at the Brunswick Zone in the Chicago suburb of Woodridge. The Grand Prize at the auction was a wheelbarrow full of wine bottles, which Christine wreathed in flowers. Altogether, the event raised more than $35,000 for We Grow Dreams, a not-for-profit greenhouse providing employment for teenagers with disabilities.
Sometime after 7pm, Christine and Holly hugged through puffy coats in the parking lot. It was a frozen February, even by Midwest standards. They'd been close for decades, meeting first as stage moms when their kids were in school plays. Then, as kids became teens who dabbled in selling marijuana and using cocaine, Christine had stepped in as an unlicensed, pull-no-punches drug counselor, having been through several 12-step programs herself.
But as Christine stood there holding Holly, heir to a family fortune built through early stakes in the companies Waste Management and Boston Chicken, Christine knew they would soon enter a phase in which they could no longer walk arm in arm as mothers: retirement.
According to the Pew Research Center, 2011 marked the first year that Baby Boomers turned 65. Though still only 52, Christine could feel her doom impending, along with many of the 10,000 Boomers who would be turning 65 every day for the next 18 years.
A petite, blunt, coffee-fueled personality with a smoker's voice and blinding white dental veneers, Christine was something of a novelty, even among her "peeps." For a while, she had been passing as upper middle class in one of the nation's richest suburbs—Naperville, Illinois. She worked odd jobs remodeling her friends' middle-class mansions and stretched her husband's low-six-figure salary to make do. But carpooling and kids' field trips and dinners with other parents were part of citizenship in this suburban Disneyland, where the median home price was over $320,000, and nothing came free. Now, with the kids out of the house and her marriage crumbling, the time to crack into savings loomed, and Christine sensed she wouldn't be joining friends like Holly in the Great Valley of assisted living.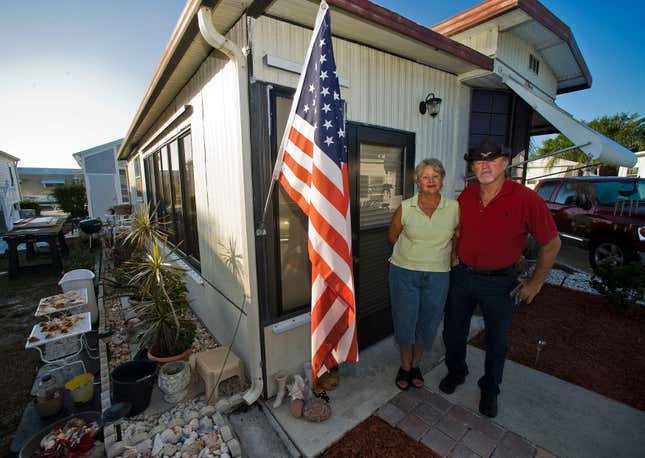 The end stage in the US was built around the IRA and 401(k)—voluntary savings plans invented in the 1970s to get employers out of life's finale, and for which her generation had been the lab monkeys. However, like most of their generation, she and her husband Brad had saved up too little to maintain their current standard of living. Social Security could keep Christine at subsistence level, but the program would be underfunded as the largest generation in US history lined up for benefits. Whatever pot of gold had been promised the children of WWII and Korean War soldiers, Christine realized, it hadn't worked out. Being old in America was every old lady for herself.
Wearily, Christine parted from Holly. "She tells me that standing there that day," said Holly, "and just realizing what We Grow Dreams had accomplished just, kind of, made it click for her." Christine agreed later about why she disappeared from her home of 22 years: "It started with the Bowl-A-Thon."
Nobody could find her the next week. "She was kind of off and gone," said Holly. Friends debated calling the police. Christine had talked about a journey for years, usually while gathering up the red plastic cups after parties. But Christine was a talker who, even at her age, made big promises. "I kind of thought it was just a dream of hers," explained Maureen, Christine's best friend and former next-door neighbor. "Wishful thinking, you know."
* * *
Two days later, Christine sat on a beach staring off at the manatees. She'd been up since 1 a.m. for the predawn flight from Chicago O'Hare International Airport. She'd nabbed a freak, last-minute deal when she booked a flight on the night of the Bowl-A-Thon for February 15, just two days ahead. She closed her eyes, mediating the light behind her eyelids. Sea cows swam atop one another, mating in the middle distance.
"It felt like stealing away, leaving my husband," laughed Christine, remembering the limousine ride circling towards the United Airlines terminal, the thousands in cash in her purse. She'd never been out of country before, never stamped her passport—which she'd only purchased as a gift for herself the Christmas before.
Christine had been guilty of dreaming through the internet. She'd harbored a secret addiction for photo-gazing at the sprawling mansions in Latin America—mostly, the expansive kind built by industrialists and profiteers. When Panama and Guatemala and Ecuador out-priced even her fantasies, her dreams turned to Belize.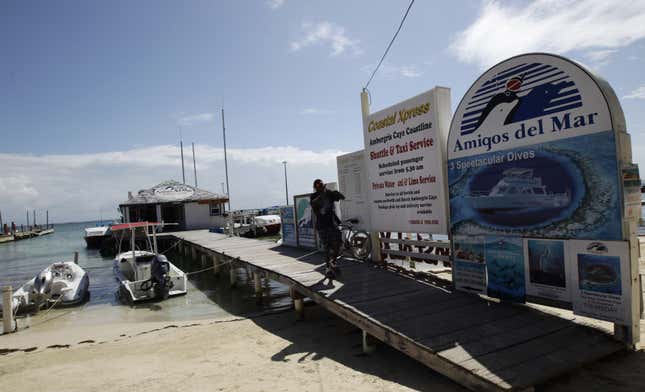 Belize sat as a tiny nation of 350,000 people—roughly the population of Tampa, Florida—nestled on the Yucatán peninsula. "A thumb," Christine said, laughing, "sticking it to the butt of the world." As a former British colony, Belize was the only English-speaking nation in Latin America. It became sovereign in 1981, though it still remained part of Queen Elizabeth II's vast commonwealth.
The country boasted a clambake of residents: descendants of slaves turned citizens, visitors turned immigrants—Kriol, Mayan, Mestizo, Mennonite German, Indian, Canadian expatriate—all now "Belizean." It's the place anti-virus software tycoon John McAfee disappeared to before bolting when he became a "person of interest" in a murder. As of December 2011, more than 420 US retirees receiving Social Security benefits lived in Belize; by last December it was 490.
Throughout 2011, Christine had watched prime properties in Belize fall off the market, mostly taverns and bed & breakfasts, selling to foreign investors and retirees. "As a mother and a woman, there's plenty of missed opportunities in your lifetime," Christine said. "The chosen ones. You choose to miss them. But then you get to a certain point, and you don't want to miss."
* * *
From Belize City, a Tropic Air puddle jumper scooped her up and droned along the coastline. Christine watched dolphins chasing the shadows from her window. They flew low past lagoons and landed on gravel runways. Christine hadn't slept since Chicago, and scenes began to blur. Someone shook her when they touched down at her destination: the beach village of Placencia. She stepped off alone. It was 7pm, Central Standard Time, which she couldn't believe: Belize shared a time zone with Naperville! She thought of Holly and just as soon forgot her.
Christine stood on the stem of a long peninsula. Her view extended to the Maya Mountains. To the west was a cove, to the east saltwater sea. A blue-crowned bird flew past her, and she felt, somehow, unburdened. She hopped in an old Volkswagen cab that dropped her off at Lester Bull's Cabanas for the night. She dined on spiny lobster tails, more savory than sweet, and collapsed in her one-room cabin. The next morning, she swung in a hammock and listened to boogie boarders banter about the point break.
Then she started walking. The place she was seeking had no zip code, no street number to signify an address. Ten years ago, this village had been a thicket of mangrove trees. By 2012, it had blossomed into a tourist enclave of approximately 1,500 residents that swelled to 4,000-plus during "high season," November through June. She strolled down the only paved road she could find: the Placencia Sidewalk, a concrete path that locals called "The longest sidewalk in Belize," and liked to claim was listed in Guinness World Records as "The narrowest main street in the world." (It isn't, and never was, Guinness told Quartz.)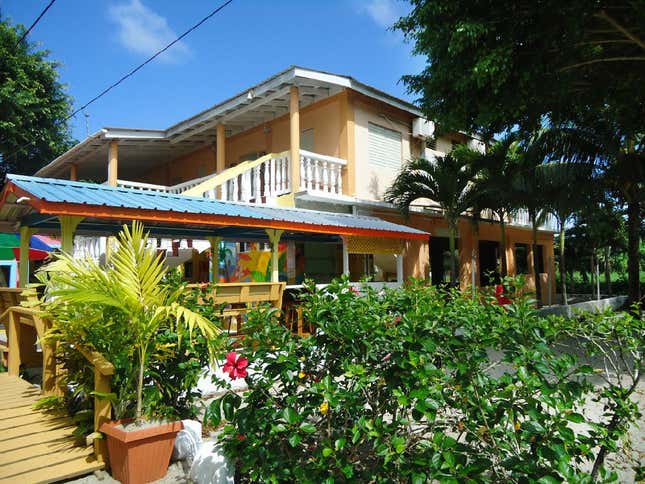 She was on the lookout for a yellow, concrete inn with a wrapping veranda: two floors, six private guest rooms, 4,900 square feet (455 sq m). It also had 100 feet (30 m) of private beachfront and a pier jetting into the ocean. With a dock on Placencia harbor and a full panorama from east to west, the inn had a view of sunrise and sunset, something Christine couldn't imagine for herself in the United States.
She'd examined this property, called Dianni's Guest House, for months through Facebook photos, TripAdvisor reviews and online real estate listings. It was the secret she'd held close like a baby animal, even from Holly; a secret she couldn't reveal to her Midwest friends because they would have smiled at it and condescended to it and, ultimately, choked it of air. She sensed that owning Dianni's, if she could swing it, wouldn't feel like work for her. The arrangement would be like the way she already lived, tending to friends. "Why shouldn't I have my own inn and get paid for people to stay in it?" she fantasized.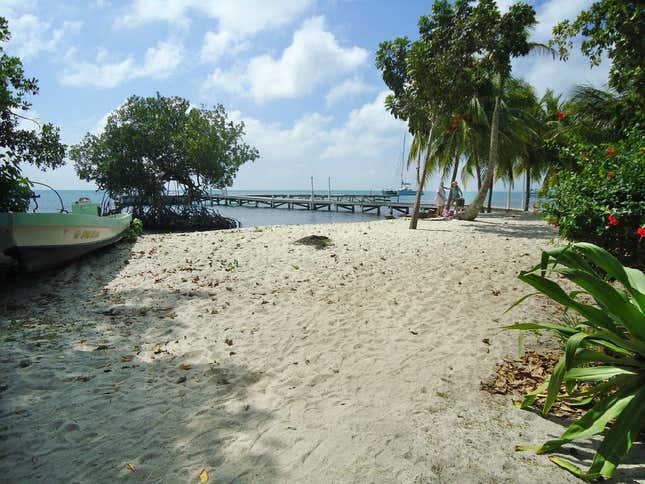 The owners, Dean Cabral and his soon-to-be ex, Ruth Turner, had run the inn since 2002. But they were divorcing and splitting assets. They listed Dianni's on the market for $595,000 and its private beachfront, separately, for $225,000.
Christine met Dean first and then Ruth. The two women hit it off. "She thought that this would bring her family back together," Ruth told me, "and so I was really happy for her." On February 20—five days after arriving in Belize—Christine signed an agreement to buy the beachfront for $150,000 and Dianni's Guest House for $450,000, all without calling her husband or friends or family members. "Both of the properties, both of them," laughed Christine. "Like a crazy woman."
* * *
Still, she had a house on Cherrywood Circle and a husband with whom to contend. Her 22-year marriage had been shaky before the trip. Brad worked as a General Manager at Mahoney Environmental and wore bandanas on the weekends—grilling and playing guitar. The two planned to separate on March 1 and were talking to divorce lawyers. Their house, purchased in 2008 on the eve of the financial meltdown, was now worth about $15,000 less than they'd paid. At the bank, they had some cash they were stowing for new apartments and divorce expenses. Their retirement nest egg consisted, primarily, of a 401(k) with $224,000 and less than a decade to compound before either reached the age of 59.5—the beginning of the withdrawal window.
Christine had asked around and discovered that these savings—based on a "four times your salary by age 50" rule of thumb—amounted to less than half the amount recommended for people at their standard of living. That was better than average: In 2010, the median household headed by a person aged 60 to 62 had less than one quarter (paywall) of the amount needed to maintain current living standards. And even those were the people in the middle of the curve. Forty percent of households with a breadwinner age 55 to 64 had no assets in a retirement account (pdf).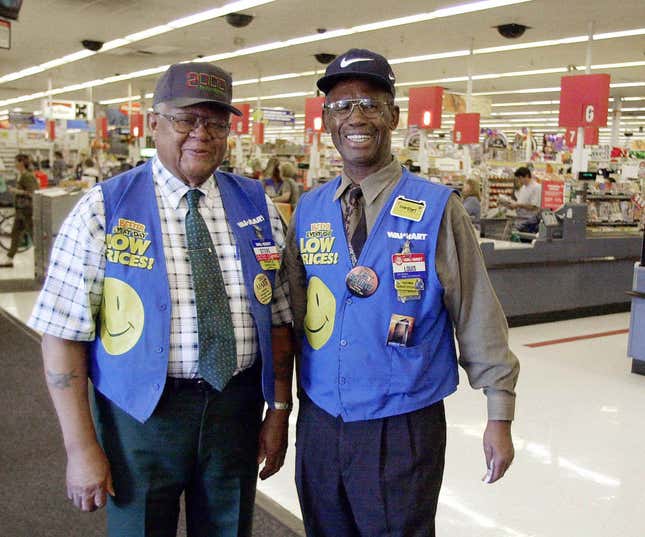 For the unlucky many, Social Security would be the sole income source. Nearly half of today's middle-class workers in America may end up living on a food budget of $5 a day, predicted Teresa Ghilarducci (paywall), an economist specializing in retirement policy, in 2012.
According to the Bureau of Labor Statistics, workers 55 and over were the fastest growing segment (pdf) of the civilian labor force. Older unemployed workers were searching longer and fighting harder for low-wage, low-skill "first jobs" traditionally held by teens and migrants. Christine pictured untold numbers of 80-year-old faces standing behind cash registers and Vietnam veterans serving tweens their Starbucks. She knew from years of working retail that the cashier class could sing a song of woe worthy of Les Misérables, and she had to maneuver fast or be one of that chorus.
"Here, you get a raw deal," said Christine. "So, we'll make our own deal." Brad was a bust, but, even in the worst-case scenario, half of his money was hers. That encouraged Christine to take tremendous risks with the financial reserves ("What's the worst that can happen?" "We'll be poor either way.") Plan Belize was "a deal on a shoestring," her enthusiasm the driving force.
* * *
Christine flew back to Chicago and spilled her story to everyone at We Grow Dreams. They learned about spiny lobsters, manatees, Dean, Dianni's, and the expanding cast of personalities. Maureen was in awe of her best friend. "She has a vision," said Maureen, "And, you know, you can't necessarily see it. But I always trust her with it."
Some of Christine's after-the-fact research seemed to support her instinctual leap. International Living magazine ranked Belize as among the top 22 retirement destinations in the world. It had a national public healthcare system available to foreign residents, and a cost of living that looked pretty good to both Americans and Brits. Belize was also an international tax haven, popular for multinational corporations like Procter & Gamble to park their subsidiaries. QRPs, or "qualified retired persons" of 45 and older, were exempt from all taxes on income earned outside the country.
Money started moving. Working with Laverne Parham—a part-time tour guide, part-time Belizean realtor—Christine squeezed her family's liquid assets, including the divorce savings, like a grapefruit and paid the $150,0000 for the beachfront in full on April 15, 2012. The beachfront title was now hers—to Ruth's chagrin, as Dianni's lost some value when Christine held the rights to build on the beach in front of it.
When Laverne had a heart attack in May, Ruth assumed responsibility for all the transactions. Struggling to scrounge up funds after buying the beach, Christine soon found herself late on scheduled payments for Dianni's. Deadlines came and went as she sent sums helter-skelter—$5,000 here and there, sometimes maxing out credit cards. A dispute emerged and grew; at one point, Dean claimed that $60,000 that Christine had sent through Ruth was now missing and Christine had to hire a lawyer.
Nonetheless, sometime that month, Christine won Brad over about the whole Belize adventure—or maybe Brad just loved Christine after all, for all of her theatrics. He lost his job at Mahoney Environmental at 54 years of age just as Belize started to take shape. Slowly, he found his way to Christine's line of logic and, to his surprise, loved her for it. "You're just my business partner," Christine said to him, initially rebuffing his romantic overtures, "because we don't have sex, and you suck." But when news hit them that their daughter Lindsay was pregnant for the first time back in Chicago—"out of wedlock," as Christine put it—the family dug in to secure the baby's birthright.
"My grandchild wants beachfront property" became Christine's mantra. Together, she and Brad raided the $224,000 from their 401(k). That meant they took an immediate 35% hit—10% early withdrawal penalty, 25% income tax—from the federal government, which shrank the lump sum down to $150,000. Christine convinced family friends to contribute some $225,000 to the project as silent investors.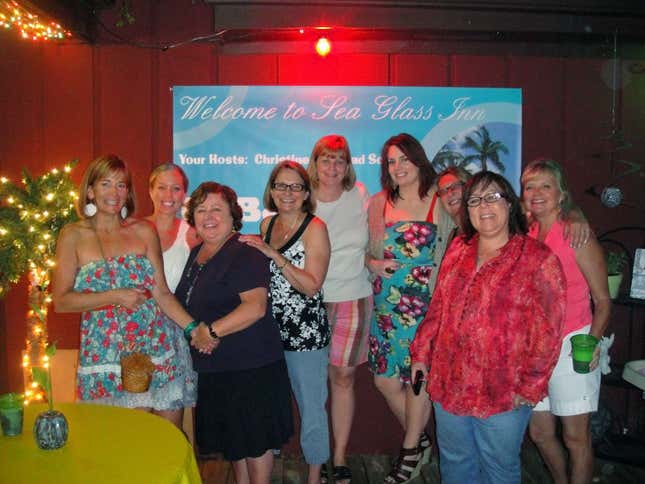 With Laverne recovering, Christine made her last play. On June 20, 2012, in a series of international conference calls between Laverne, Dean and his lawyer, and Christine and her lawyer, she issued the final offer: $366,000 for the hotel property, a sum that included the amounts already paid to Ruth; the investment from family friends; the 401(k); and Christine's word that she'd pay down the mortgage on Dianni's at the bank.
Between the beachfront and the inn, the sum total for the two properties would be about $84,000 less than the $600,000 Christine had agreed to in February and $304,000 less than the $820,000 Dean had originally listed online. After some last-minute brinkmanship, Dean approved the deal that same day. Christine Schofield, the scratchy-voiced, odd-job mom from the Midwest, had just negotiated an international real-estate transaction to buy a hotel.
But she still needed the approval of her other major investor.
"He's going to take a $90,000 loss?" asked Brad, sitting at their kitchen counter in Naperville.
"That's the deal," said Christine. "That's it. There's not anything left."
Brad looked queasy adding the sums.
Before he could speak, Christine started to rant: "It doesn't matter what you think. I'm going to the beach without you. I don't care."
"If you could just calm down, I'll tell you what I think," said Brad. "I can't believe it, but you did it, you fucking lunatic."
* * *
On February 1, 2013, barely a year after Christine's first visit to Belize, she and Brad take a tour of the Monkey River. The tour boat, named the Bonnie Express, toots its horn as it docks at their—their—pier.
Christine runs down the stairs from the second-floor guest room, where she's doing wonders with tile mosaics. Brad's busy painting the shipping barrels they used to haul their lives away from Naperville; Christine imagines transforming the barrels into bar tables. Her son Adam, a chef, is converting the kitchen and dining area into a small-plate restaurant. Back in the US, Lindsay has given birth to Christine's first granddaughter and is contemplating a move like her mother.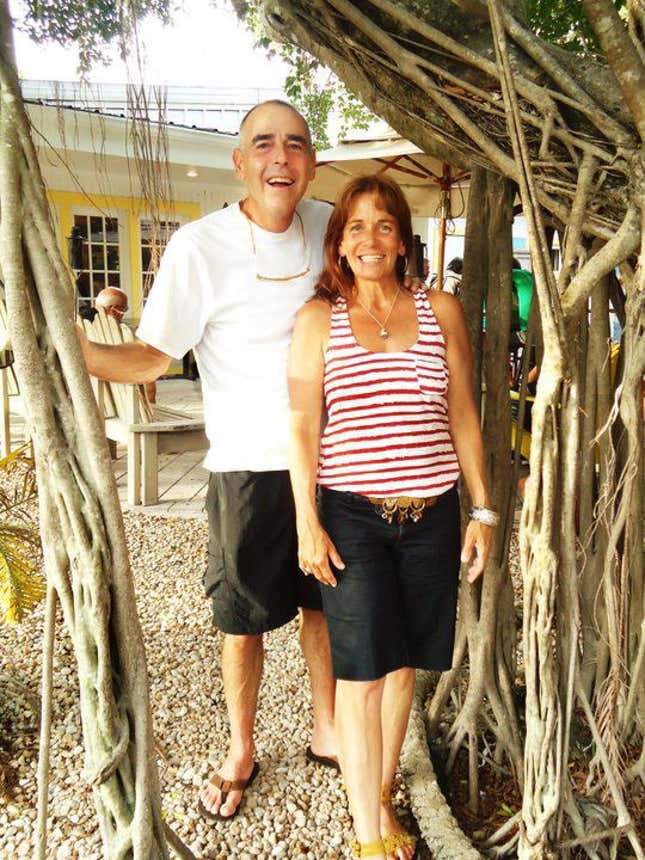 For Christine, something in their efforts feel like sea glass, those frosted shards that wash up on her shore like bits of amber and emerald. They once were rum bottles, discarded things. But time and tides reveal their worth.
Work can wait. An afternoon voyage beckons, which will take her and Brad to Monkey River Town. It's a remote Creole village primarily accessed by fishing boats. Stopping just to pick up lunch, they proceed up the river, a rainforest estuary. They disembark from the boat at a mossy pier and hike into the jungle. The path constricts as they head into foliage, which forces them to march single file.
A mile away, she can hear the disembodied, guttural whoops of howler monkeys. The sound becomes deafening as they approach. Then they are in the trees surrounding them, hanging by their tails and bobbing from branch to branch: all that drama pouring from open-mouthed creatures the size of raccoons. One monkey cradles a baby howler in its hands, which makes Christine think of the way she left her pregnant daughter back in Chicago. The whole trip, she finds herself pointing into the jungle, out at the river, saying, "Look at where I live! This is why I live here."
Since then, Lindsay and child have joined the family in Belize, and Christine has repelled Norwegian Cruise Lines' attempts to build a cruise ship wharf next to her property. "We're like a freaking reality TV show that would explode the television set," she says, sometimes reporting good news to friends in Naperville—receiving a TripAdvisor Certificate of Excellence, having the beachfront reappraised at $450,000—sometimes reappearing in the suburbs with health problems.
Back in Woodridge, each February, Holly Riordan continues to hold the annual Bowl-A-Thon for We Grow Dreams at the Brunswick Zone. Except now the Grand Prize at the auction is—and has been since the year she went missing—a seven-day stay at Christine Schofield's Sea Glass Inn in Placencia, Belize.