Not long ago, professional photography was an elite club with a high barrier to entry. Between schooling, apprenticeships, and expensive equipment, it was not a career you just jumped into.
Now, thanks to a new wave of photo-sharing platforms, amateur photographers have the chance to get their photos into the hands—or feeds—of people who could help them make photography into a career. All they need is an iPhone and an app.
That said, beginners won't get much for their shots. Photos go for between $20 and $250 a pop on photo-sharing and photo-selling app EyeEm, and prices are equally low on a similar app called Snapwire.
Chad Newell, founder and CEO of Snapwire, admits that sales on his platform are not enough to support a photographer.
"It just allows them to earn additional income," he said.
Once it was relatively easy for talented amateur photographers to launch successful careers on Instagram, which now has 400 million users. Chris Ozer, who downloaded Instagram the day it was released back in 2010, didn't set out to become a professional photographer. But through the app, clients found him. Today, he shoots for companies like Mercedes Benz and The New York Times.
"It wasn't something I had ever wanted to do professionally. It was always just for fun," he told Quartz.
Ozer said he was very active in the early days of Instagram, which helped him grow his photography skills and get the exposure that led to his success.
"I had no idea what I was doing when I started," he said. "I built a following organically, and then I was put on Instagram's suggested users list maybe a year into using it."
From there, things took off. Offers for jobs began to roll in as companies discovered Ozer's photos on the app, and soon he was skipping his day job to take on these projects. That's when he realized he could pursue photography as a career. He quit his job in 2013 and joined a representation agency called Tinker Street, which has since added a division for photographers who specialize in mobile photography.
"A lot of people there have similar stories to me," Ozer said.
Tinker Street currently represents 52 mobile photographers, around half of whom got their start on Instagram. But according to Ozer, these success stories are becoming more and more rare. It's no longer a community of photographers like those who contributed to his success in his early days.
"It's definitely a lot harder now to get discovered on Instagram than it was when it was small," Ozer said. "It's just different, and it's not going to go back."
While Instagram has slowly evolved into a place to share selfies and pictures of perfectly plated food, platforms like EyeEm and Snapwire have attracted users who want to focus on becoming better photographers. Both apps have marketplaces where users can upload their photos, in addition to competitions sponsored by clients and partners looking for specific images. And since the apps make more money when their users sell more photos, they have a stake in building a talented user base.
"It's actually not easy to crowdsource good photography," Severin Matusek, EyeEm's vice president of community development, said.
Matusek and his team create tutorials and educational content to help users take better pictures, and they are constantly on the lookout for talented users in the app.
"We might be the first ones to see new talent," Matusek said. "My job is to work together closely with these people because they are one of our biggest assets."
Chulsu Kim is one of these users. The 34-year-old from Japan works in the food industry and has no formal training in photography. He spends his weekends taking pictures on the streets in Tokyo, capturing the city's energy in black and white.
In March 2015, he won a competition EyeEm held with the Musee de quai Branly in Paris to feature new talent in its photography biennial, Photoquai. In September, Kim traveled to Paris to exhibit his photos.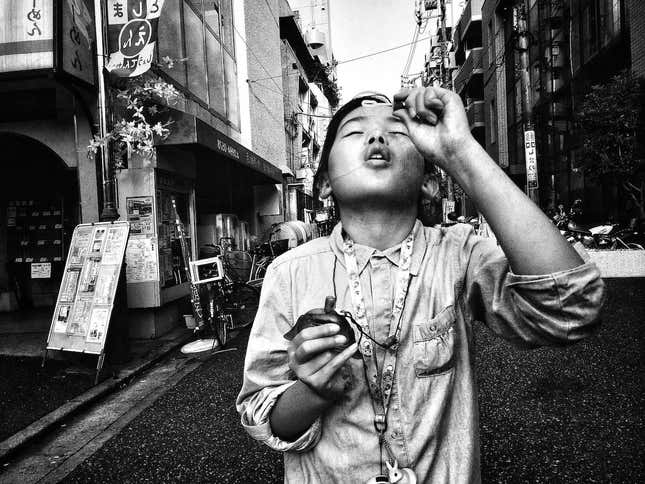 "I could not believe it when I found out I won," he told Quartz. "I was so excited."
Kim said he met many curators at the biennial, and, when he returned home to Japan, an invitation to be featured in a photography magazine awaited him.
Meanwhile, Matusek is looking for more users like Kim. He and his team keep a close eye on active users and reach out when they see someone who shows promise.
"Beyond the crowdsourcing, there's a network of photographers that I'm in touch with," he said. "It's not a machine, it's an engaged and tight knit community."
Kind of like Instagram used to be.