Ever since he stepped on to the national political stage, Barack Obama has been accused of being an elusive figure. But when it comes to sports, basketball especially, no one can doubt his conviction or what he stands for. The man just loves hoops.
In fact, basketball has been an important conduit through which Obama has connected with America, writes Ian Crouch in the New Yorker, in his review of a new book on the subject, Alexander Wolff's The Audacity of Hoop: Basketball and the Age of Obama. During the 2008 campaign for president, the sport became a tool through which he was able to deflect attacks that he was somehow "foreign" or not particularly American. If the man can ball, can he really be that un-American?
Every year, like millions of other Americans, he has filled his NCAA March Madness bracket, using the exercise to connect with voters, even leveraging it to advocate for some of his policies.
He is also a huge NBA fan. There he was, court-side, on opening day of the season last month, cheering on his Chicago Bulls as they beat Lebron James' Cleveland Cavaliers. Playing analyst during an interview with a reporter, he used the opportunity to talk about his "My Brother's Keeper" initiative, an effort to help young people, especially in minority community, realize their aspirations.
Basketball is so central to the president's political life that he apparently plays pick-up every election day. The tradition acquired superstitious significance after the one time he sat out a game during the New Hampshire primary in 2008—and lost the race to Hillary Clinton.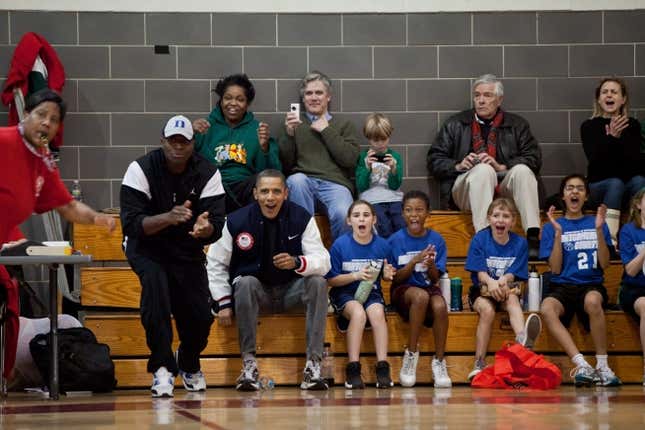 For a man who has been criticized for being so deliberative and cautious in his public life, it seems like Obama is most himself while on a basketball court. Those who have played with him say he likes to be inclusive, and is also competitive; he likes to win and is pragmatic about how he gets there, Crouch explains. To the sometimes great frustration of his supporters and rivals both, it sounds a lot like how he has governed during his presidency.