In a footnote to the tragedy in Paris, the digital car service Uber came under harsh criticism for business tactics it did not deploy, a warning for the company's battle-scared public relations efforts.
As authorities came to grips with the attacks in Paris on the evening Nov. 13, they asked residents to stay home and imposed a curfew for the first time since World War II. Ordinary Parisians opened their homes to stranded visitors, and taxis began ferrying people out of the city center free of charge.
But rumors began to spread on social media that Uber's surge pricing mechanism, which raises fares as demand increases, had gone into effect, charging panicking riders many times more than they normally would pay. Others said that the company had suspended service altogether. But neither were true, according to Uber officials, who say they shut off the surge pricing mechanism within 30 minutes of the first attack.
"Drivers kept working throughout the night, taking many a Parisian safely home for free," Thomas Meister, an Uber spokesperson, told Quartz.
But even the day following the attack, rumors continued to spread on social media:
One American journalist, Jeff Sharlet, deleted his accusations after other users questioned his evidence.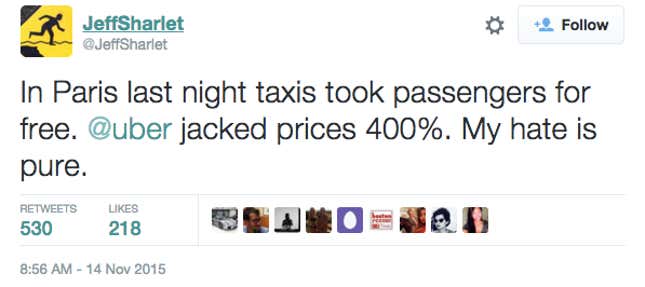 "It's a real shame that some individuals are using such sad circumstances for their own purposes. The rumors are not true," Gareth Mead, an Uber official, told Quartz in an email.  "To be absolutely clear: Uber immediately removed dynamic-pricing across France last night. The level of demand during such a terrible time meant that our partners were incredibly busy and constantly on trips. This remains the case today."
Last night, the company did warn users of its app of the attacks, and that the police had asked residents to avoid travel unless absolutely necessary.
The company did keep its service running, although reports suggest service troubled by the chaotic conditions in the capital.
Uber offers a range of service levels in the France through professional taxi drivers, but its peer-to-peer business has come under criticism from taxi drivers and government officials for violating city rules. The company's top executives in France face criminal charges for operating an illegal car service business, with a trial expected in February.
The immediate suspicion that the company had changed its prices to profit from the tragedy speaks to the company's polarizing reputation and history of bruising tactics. Surge pricing went into effect in New York City during Hurricane Sandy in 2012, generating complaints from New Yorkers irate to be charged extra as their homes and public transit flooded.
While Uber and economists maintain that the dynamic pricing helps keep cars on the road when riders need them most, the perception of profiteering has made any discussion of the technique a lightning rod. In New York City, the company has said it will cap its surge pricing during emergencies. But it still has no global policy for how it will adapt its pricing model to emergency conditions.