According to venture capitalists, Airbnb is worth $25 billion—more than major hotel chains Hilton ($24.1 billion market capitalization), Marriott ($18.7 billion), Starwood ($12.7), and Wyndham ($9 billion).
But that doesn't mean hotels are scared of the new kid on the block. New research from Morgan Stanley shows the hotel industry remains healthy, buoyed by strong growth in revenue per available room and occupancy rates, two of the industry's most important metrics. In outlining some of the challenges ahead for Airbnb, the firm also laid out a few reasons why hotels are unlikely to see a major impact in their businesses in the near future.
Hotel occupancy rates still have room to grow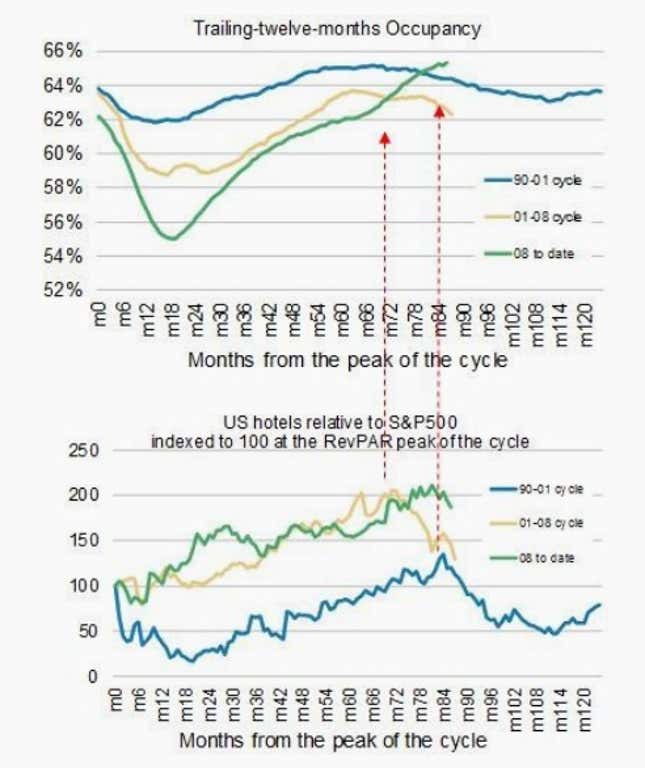 Hotel occupancy rates are strong, currently averaging 65% in the US, but Morgan Stanley says there's still several years of growth ahead. In the US and Europe, rates are expected to rise to 67.6% for the full year of 2015, 68.6% in 2016, and 69.1% in 2017.
Occupancy rates are considered an indicator for hotels' market performance. Historically, hotel stocks have fallen 12 to 15 months after occupancy has peaked, according to the report. The firm estimates the earliest that'll happen will be 12 to 18 months from now. In the US, where the rates are lower than other developed markets, it has a slightly longer runway, about two years. Even then, it'll take at least another year before their stocks show any decline, which should provide extra cushion against shareholder demands and concerns over Airbnb.
Airbnb's not after corporate travelers
Airbnb often says that it does more than help people find houses to rent. Instead, it emphasizes the notion of sharing homes, aiming to foster a sense of belonging and community—things that aren't necessarily important to people traveling on a company's dime.
After surveying 4,000 travelers, Morgan Stanley found only 7% of Airbnb users booked one-night stays. In contrast, overnight guests make up 25% of hotels' business. That's not to say people aren't choosing Airbnb over traditional accommodations, but it suggests corporate travelers—who are more likely to book just one night—are sticking to hotels, says the firm.
Most travelers book with online travel agencies
One major advantage hotels have over Airbnb is that they're listed on sites such as Priceline or Expedia. Online travel agencies remain the most popular method for travelers to book accommodations, and it seems highly unlikely that Airbnb listings will ever show up on places like Priceline due to privacy and safety concerns, according to the report. The fact that only 13% of respondents say they've used other rental sites, including HomeAway and VRBO, also suggests "the potential 'niche-ness' of the non-hotel accommodation space that could hold back Airbnb's user adoption."
Airbnb is a potential ally
It's possible that Airbnb might partner with hotels at some point in the future, allowing them to list their properties on the site. If that were the case, it would be a win-win for both parties. Airbnb could capture more market share from online travel agencies, and hotels would pay lower fees to acquire customers. Such agencies typically charge a commission between 12% to 18%, but Airbnb's standard 3% host fee "would represent a material savings on traffic and customer acquisition costs and give the hotels more bargaining leverage over the online travel agencies," argues the firm.
Airbnb has a huge awareness problem
Airbnb may be a household name in Silicon Valley, but awareness is still its No. 1 challenge. Of Morgan Stanley's survey, only 12% of respondents said they've used the home-rental site. Among those who've never tried Airbnb, 59% said they had never even heard of it. Advertising can fix that (though it might want to be more thoughtful in how it advertises), but privacy and safety concerns—especially important to corporate travelers—will be hard to overcome, it notes.