Imagine if every time you typed "Netflix and chill" (that's code for casual sex, for the uninitiated) into Tinder, the app slapped you on the wrist with a warning message.
That's what happens for users of Tantan, a dating app that's popular among randy Chinese. A pound-for-pound copy of Tinder, Tantan lets users make friends or meet potential partners by swiping left or right at a set of photos, and enabling two-way chat for every mutual match. While it might help facilitate one-night stands, Tantan is not immune to China's internet censorship.
Hong Kong-based entrepreneur Larry Salibra reverse-engineered the app using XCode, Apple's developer kit. In his breakdown, he discovered the app has a complete lack of encryption, enabling any marginally competent hacker to access usernames, passwords, phone numbers, and even conversations inside the app.
But Salibra also found an equally puzzling set of code: A list of sexually charged phrases like "hookup buddy" and "get a room" had been flagged as "foul." Users who attempt to enter them in a chat room will receive a warning message, either in Chinese or English depending on the app settings.
We typed yuepao, or "meet for sex," and received this: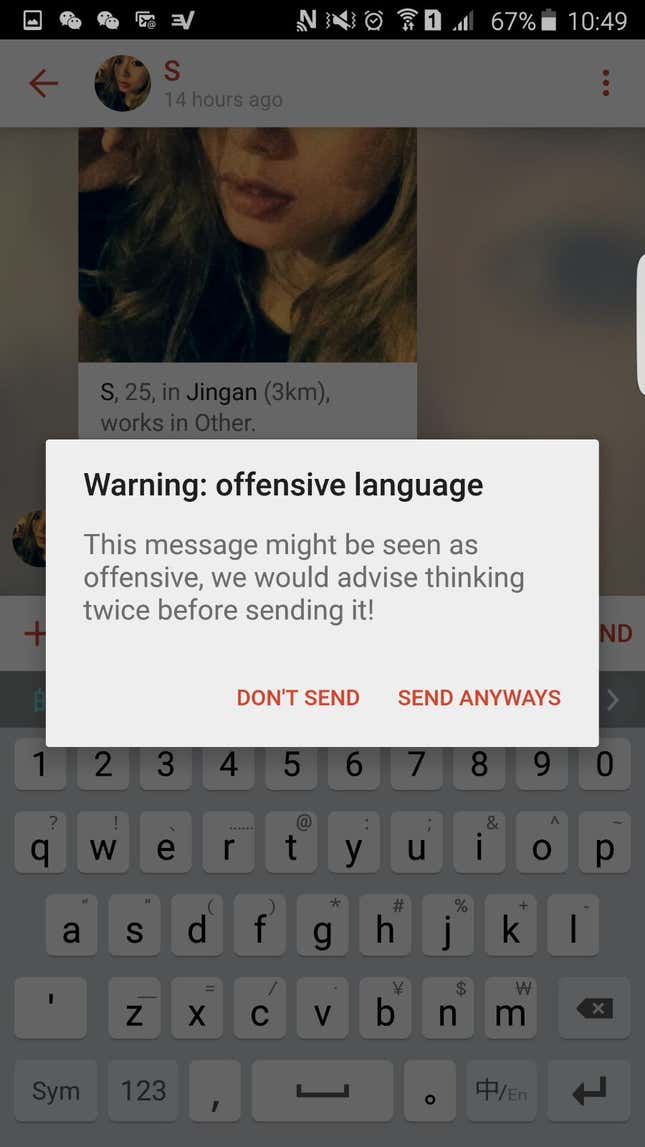 Quartz received the full list of flagged keywords from Salibra, and translated them:
China's censors typically direct their energy toward politically charged phrases, banning terms like "64" (a reference to the Tiananmen massacre) or "Bo Xilai" (the disgraced politician). But sexual content is also controversial in the eyes of the nation's internet authorities. Crackdowns on websites deemed pornographic are frequent, and last June China's cyberspace agency highlighted a few seemingly innocuous terms as language worth scrubbing.
Users can still send and receive words that are marked as offensive. But As Salibra points out, given that all data that passes through Tantan is easily viewable by anyone with a little tech-savvy, it's probably best for users to be cautious.
Keyword censorship is not uniform across China's apps and websites. Different apps might censor different words at any given time, using different methods. So it's possible that Tantan has additional databases of flagged or banned keywords elsewhere in its stack. The company did not respond to multiple requests for comment.
We can speculate as to why Tantan implemented the warning system. It might be designed to pre-emptively appease Chinese authorities. Momo, another popular Chinese dating app, came under fire when Chinese officials accused it of facilitating prostitution. Tantan could be attempting to dodge a bullet by appearing to discourage such behavior.
But according to Salibra, in an email exchange Tantan founder Yue Wang said it's a matter of politeness. "We have a list of sensitive words in the app which we use to remind users to behave in a civilized way. Unfortunately some guys do not know how to talk to girls and need some friendly reminders."
Indeed, for women who lament how Tinder and its ilk can bring out the worst in men, a little light censorship might be welcome.