This post has been updated.
Barbie, a perennial favorite toy, has been marketed to young girls for decades. Now, a new ad is finally recognizing that boys might want to play with Barbies, too.
A commercial for the special-edition "Moschino Barbie," created in collaboration with Italian luxury fashion label Moschino, features a boy in what may be a first ever for the company. "Moschino Barbie, she's so fierce," declares the little boy, whose shock of stylishly disheveled hair, shaved close on the sides, is definitely much cooler than the average kid haircut.
Quartz has reached out to Mattel, which makes Barbie, for comment and will update this post with any response.
Update, Nov. 18, 4:30pm: According to the BBC, Mattel explained in a statement that, while it made the ad, it was a "fauxmercial" under the creative control of Moschino that parodies the Barbie commercials of the 1980s. Technically, it's not Barbie's first genuine ad featuring a boy.
The new Barbie dolls are part of a limited release sold exclusively on high-end retailer Net-a-Porter, and were accompanied by an eight-piece collection of life-sized versions of the clothes. The stock of about 700 Barbies, priced at $150 a piece, sold out in under an hour when it went live on Nov. 9. The dolls are now popping up on eBay for $400 to $800.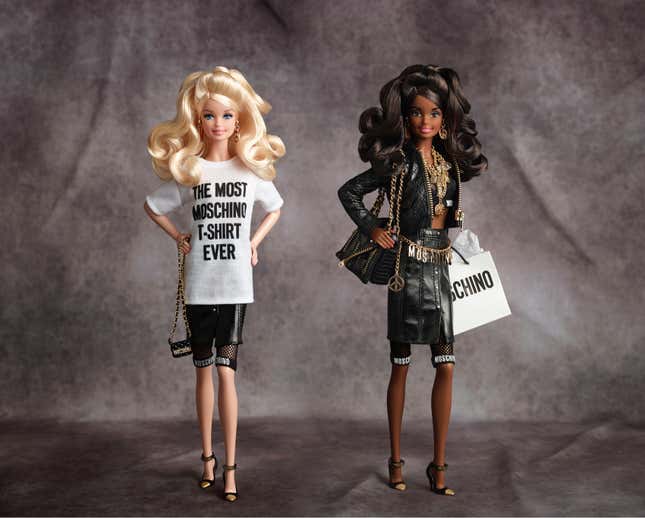 It's fitting that Moschino is the company breaking gender barriers with Barbie. The fashion label's designer is Jeremy Scott, a man who has showed nothing less than an obsession with pop culture—and Barbie. In September of last year, his spring-summer collection took some very literal inspiration from the toys and looked like a parade of Barbies come to life.
"The thing I love about Barbie is that she is the ultimate muse and inspired me to become a designer," Scott told People magazine recently.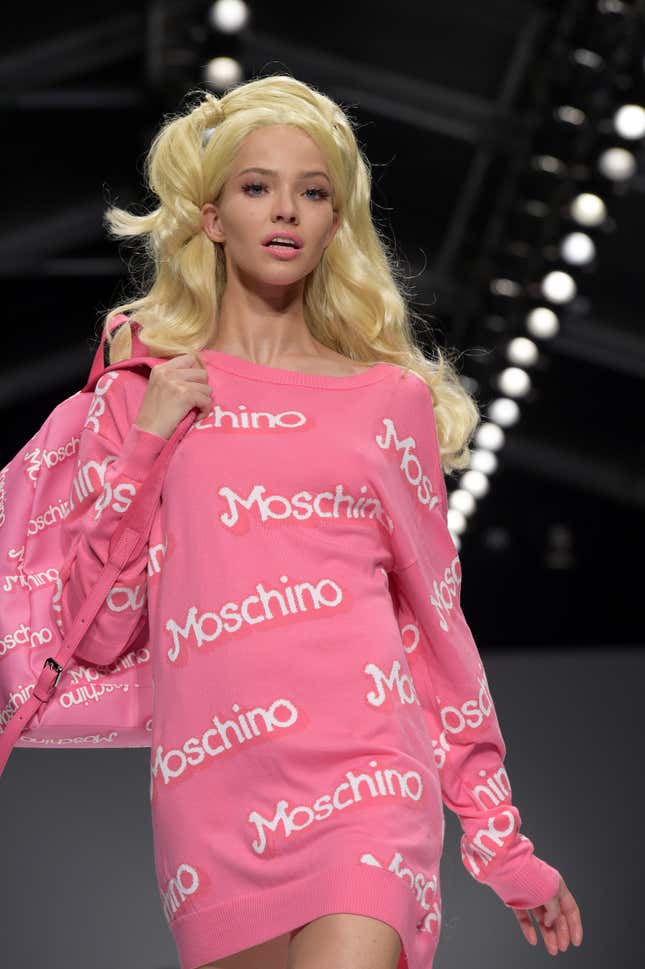 That more inclusive approach fits nicely with a wider trend in both fashion and toys toward gender neutrality. Target, for instance, recently said it would stop separating toys and bedding into "Girls" and "Boys," and in the fashion world, gender-neutral clothing has been all over the runway.
Though it wasn't Mattel that conceived the ad, it might have pleased co-founder Ruth Handler, who created the original Barbie doll. "My whole philosophy of Barbie was that through the doll, the little girl could be anything she wanted to be," Handler once said. "Barbie always represented the fact that a woman has choices."
The ad suggests that when it comes to Barbies, little boys have choices too.