Despite how creepy, dangerous, and complicated people perceive them to be, drones are expected to be one of the most popular gifts this holiday season.
The US Federal Aviation Administration projects 1 million of such devices under Christmas trees come December, and Parrot is hoping a good chunk of them will be its new Bebop 2 quadcopter.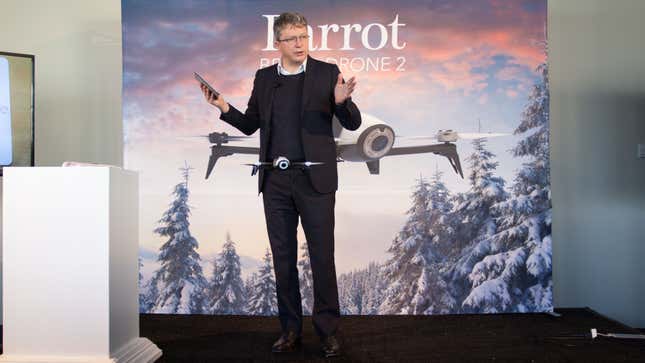 Taking the wraps off its new consumer drone in San Francisco today (Nov. 17), the French company showed off a more powerful, durable, and safer quadcopter that'll be available Dec. 14 for $550. These qualities make the Bebop 2 an ideal gift for amateurs, especially people who've never piloted drones before.
It's extremely easy to control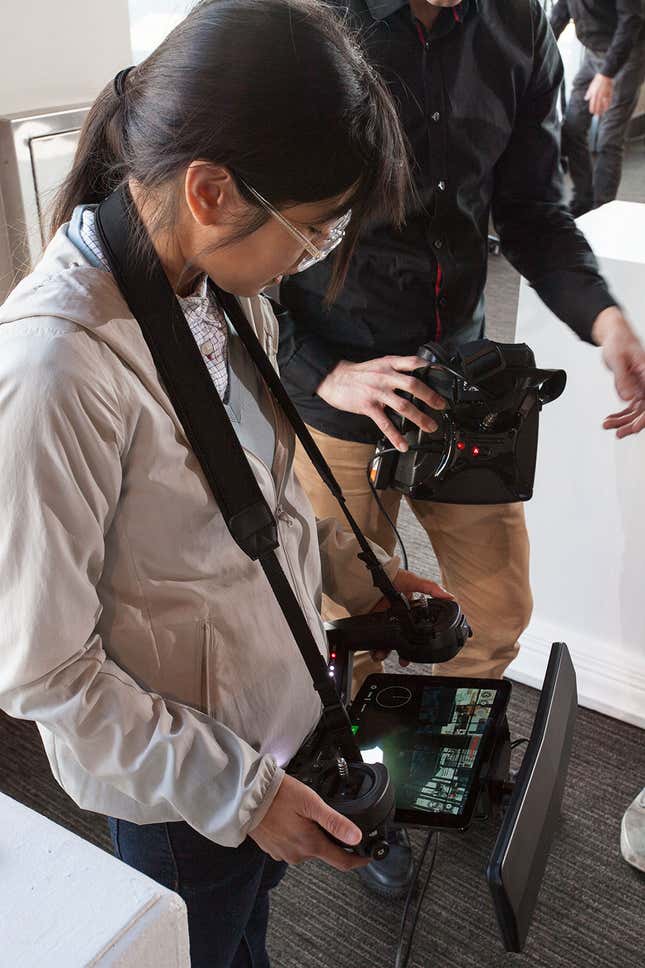 Like its predecessor, the Bebop 2 can be maneuvered using a mobile app or standalone hardware controller. The controls are the same on both, but the app uses the mobile device's accelerometer to steer and accelerate. Taking off, landing, and shooting video or photos using the integrated camera basically requires the press of a button. Once it's in the air, you don't have to struggle to keep it up since it stays in place, even when you're not doing anything, until you command it to do otherwise.
The physical controls on the Skycontroller, a bulky rig that holds a tablet you wear around your neck like a camera strap, are admittedly more intuitive and easier to use. But the controller comes at a price: It's bundled with the Bebop 2 for $800.
There are few moving parts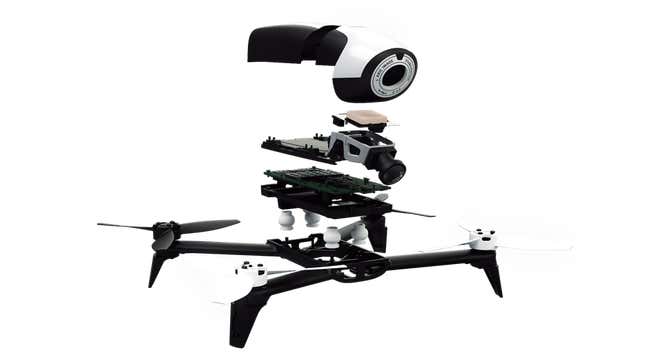 The Bebop 2 has been streamlined so "the only moving part of the drone is the propeller," says Parrot CEO Henri Seydoux. "The more you can downsize a drone, the better performance you can have," he adds. For the 500 gram Bebop 2, this means 25 minutes of battery life, twice that of the previous version. In comparison, DJI's Phantom 3 drones can fly for 23 minutes. Fewer moving parts also means more durability, since all pilots inevitably crash their drones.
It's powerful
The Bebop 2 can reach a top speed of 60 kilometer per hour, but most people will only be able to pilot it to 36 kilometers per hour. Chief marketing officer Nicolas Halftermeyer compares it to the top speed of sports cars—it can go that fast, but it probably shouldn't. That said, engineers and drone racers can modify it to go faster for their specific needs. Regardless, pilots will be able to control it steadily in windy conditions, as the company demonstrated with footage shot from the North Pole.
It won't cut you
When a propeller hits an object (or wall), all four propellers will automatically stop rotating. "The drone is not dangerous," Seydoux says.
Perhaps there's no better illustration of how safe it is than a mishap that happened during the hands-on demos with reporters following the press conference. As one of the Bebop 2 drones flew out of control at eye level toward a group of reporters (myself included), a Parrot employee grabbed it out of the air with one hand. She then took a bow, and exclaimed to the people in the room: "Safe!"
The price is not too bad
It's by no means a stocking stuffer, but $550 is actually quite reasonable when you look at the Bebop's capabilities and take into consideration that drones with similar specs can cost $1,000 or more.