You can't be at the Kumbh Mela long without hearing a comparison between the Hindu festival and Burning Man, the offbeat American gathering that takes place in the Nevada desert. While they are vastly different in size (see graphic above), they share the extraordinary similarity that both are pop-up cities built and disassembled in a matter of months. But on closer inspection, that's just the beginning of the similarities between these two fascinating events.
Seeing the light
Both events have a strong spiritual component. The Kumbh is an ancient Hindu ritual whereby believers bathe at the confluence of the Ganges and Yamuna rivers to cleanse themselves of sin. Burning Man involves a kind of spirituality, though more the worship of self, and the celebration of self-expression.
Naked people
At the Kumbh, one of the signs of the dedication of the Sadhus, or holy men, is their lack of clothes. They typically sit in their tents, cross-legged and covered in nothing but a holy layer of ash, and welcome visitors to sit at their feet. Some come in reverence, others come to gawk. There's plenty of gawking at Burning Man as well, where "naturalism" is a popular form of self expression and clothing is certainly considered optional.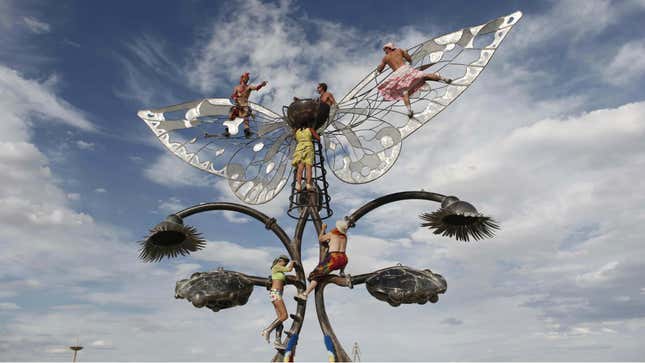 Healthcare numbers
At Burning Man, healthcare facilities see about 4,700 patients over the course of the eight-day festival, or about 580 patients per day. This is about the number of patients seen at each of the Kumbh Mela's 10 health clinics each day. In a striking contrast, out of Burning Man's 50,000 attendance, there is approximately one emergency medicine response every 25 minutes. At the Kumbh, which can swell to 60 times the attendance of the Burning Man, health clinics are likely to utilize emergency medical services only once a day.
The noise
At both Burning Man and the Kumbh, celebrations go on 24/7. According to the website the Mature Person's Guide to Burning Man: "Activities go on 24 hours a day, and they involve very loud music, very loud people, and very loud explosions." Similarly, the Kumbh Mela can only be described as cacophonous. A dissonant chorus of thousands of car horns, public announcements and chants over crackling loud speakers creates a thrum of humanity that can be heard for miles.
Crowd escalation
At Burning Man, the crowds build over the course of the festival until they climax at the burning of the eponymous effigy. At the Kumbh, crowds swell as the days near the main bathing days, those considered the holiest on the astrological calendar. This year it was estimated that 30 million pilgrims may have shown up at the Kumbh on Feb. 10, the most auspicious bathing day.
See our previous coverage of the Kumbh Mela: