Paris
At Les Caves Saint-Martin, a wine shop in Paris's Canal Saint-Martin neighborhood, the Beaujolais Nouveau has arrived, as usual on the third Thursday of November.
But unlike previous years, there is security at the door and access to an emergency exit.
Antoine Gueguen, the 37-year-old owner, is being especially cautious after the deadly terrorist attack in the neighborhood less than a week ago. Overall, some 129 people were killed and more than 300 were injured on Nov. 13 in attacks in various locations across Paris. The ISIL terror group claimed responsibility.
"I'm going to have a friend out front to keep an eye on things," Gueguen told Quartz ahead of the traditional celebration of the arrival of the famous red wine. "If you gain one or two seconds, you can be a step ahead."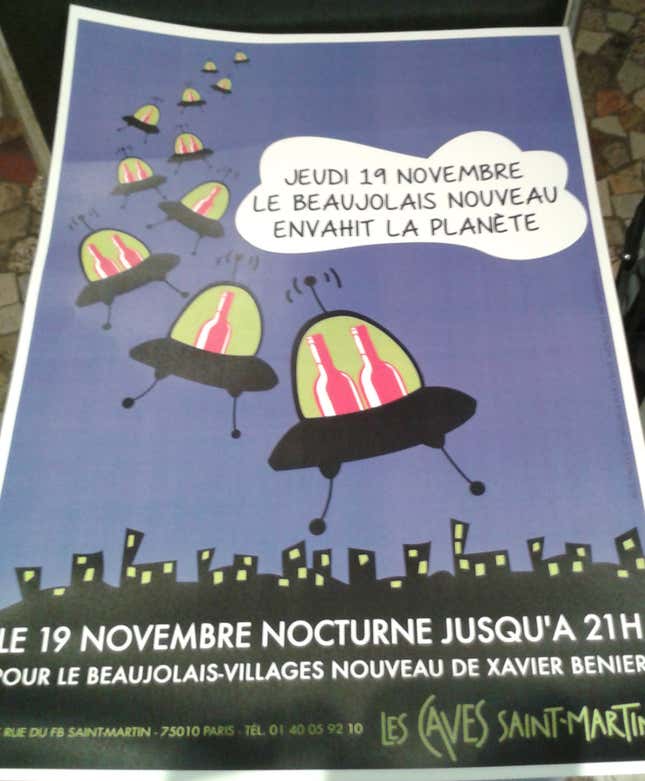 Gueguen, who in the past would send out email invitations to the first-day tasting, didn't do so this year. Instead, he is relying on the poster on the door and the loyalty of his customers to make the day a success. He opened the shop seven years ago and it's practically an institution on the noisy boulevard.
"I didn't want to make a statement by emailing everyone," he said. "And I also worried it might be interpreted like 'this guy is just thinking about making money'" after such a tragedy.
Most of his customers are regulars that he's known for years. "They know that we open a lot of bottles here," he said. "It's convivial. Sometimes we even run across the street to buy some cheese. Everything is very spontaneous. I think after all that happened, people will enjoy having a drink together."
The Beaujolais Nouveau phenomenon began in 1951 when winemakers were for the first time authorized to sell a portion of the latest harvest immediately rather than waiting years for it to age. Today, Beaujolais Nouveau represents more than half of the Beaujolais wine consumed outside of France, according to Inter Beaujolais, the association of Beaujolais winemakers. Japan, the US, and Germany are the biggest importers, data on the association's website show.
The arrival of Beaujolais Nouveau is a much-anticipated event, accompanied by tastings, parties, and even a free glass of wine in some restaurants. As part of this year's celebration, 50 winemakers will drive around Paris in vintage Citroën 2CV cars, stopping at sites including the Eiffel Tower, the Louvre, and the Place de la Concorde. There will also be tastings in 18 establishments on the Right Bank in the evening.
Melina Condy, a spokeswoman for Inter Beaujolais, said the winemakers didn't consider canceling.
"After respecting the mourning period, we wish to defend the values that are dear to our country and our values," she said. "Gastronomy, art de vivre, and culture. There was no reason to cancel."
A moment of silence for the victims of last week's attacks will be observed during the events, according to Inter Beaujolais.
Arnaud Bardou, owner of Caves Bardou wine shop in Paris' 10th arrondissement, changed his plan for Beaujolais Nouveau day compared with previous years—he added to the festivities. Instead of a one-day tasting, he's extending it to three days.
"I want to give customers more time to enjoy it," he said. "We're approaching the holidays and it's a moment of joy. We'll always be vigilant, but if you put up too much of a guard then you reinforce the fear."
Back at Les Caves Saint-Martin, Gueguen said he doesn't expect to see a drop in business, in general, following the terror attacks. He said that some people might drink more and others might drink less, so in the end, sales figures will remain the same. However, he does worry about what another terror attack might bring.
"If there's one more attack, people will say 'forget about drinking,'" he said. "Everyone will be so terrified. If this continues, the economy will come to a standstill."