The daily fantasy sports business is in trouble.
In October, Nevada banned FanDuel and DraftKings from operating in the state after ruling daily fantasy sports is gambling. New York followed suit last week, with the state attorney general calling it "a massive, multibillion-dollar scheme intended to evade the law and fleece sports fans across the country." Massachusetts just proposed regulations that would prohibit those under 21 from playing. About a dozen other states are considering legislation as well.
These have been major blows to DraftKings and FanDuel, which had largely avoided legal troubles by arguing that fantasy sports is a game of skill—not gambling. In light of recent news, the two leading players in the industry have seen huge declines in their App Store rankings and have pulled their advertising on mobile devices, according to data from app analytics firm Sensor Tower.
Over the course of a month, both companies have suffered major losses, with the rankings for their apps plummeting hundreds of places. FanDuel's iOS app saw the most dramatic decline. On Oct. 15, the day of Nevada's ruling, it ranked 150 among free iOS apps, dropping 609 spots by Nov. 19 to No. 759.
The charts below from Sensor Tower illustrate their steep tumbles on both platforms.
FanDuel's rank among free iOS and Android apps

FanDuel iOS rank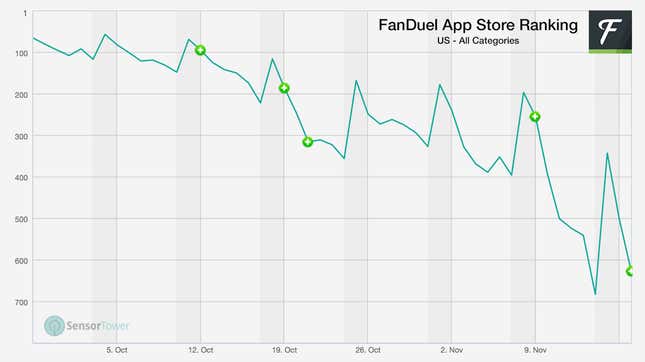 FanDuel Android rank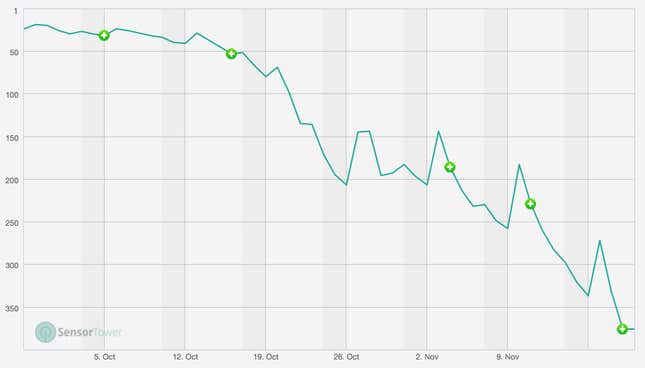 DraftKings's rank among free iOS and Android apps

DraftKings iOS rank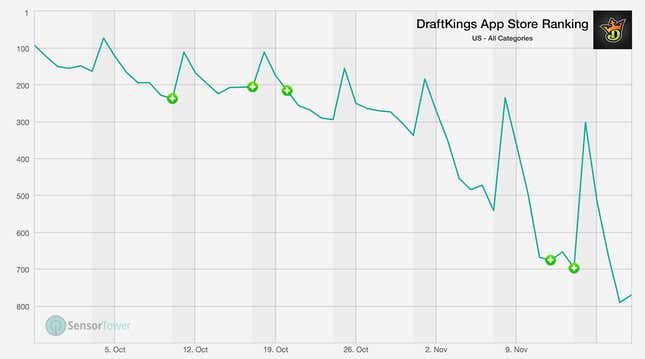 DraftKings Android rank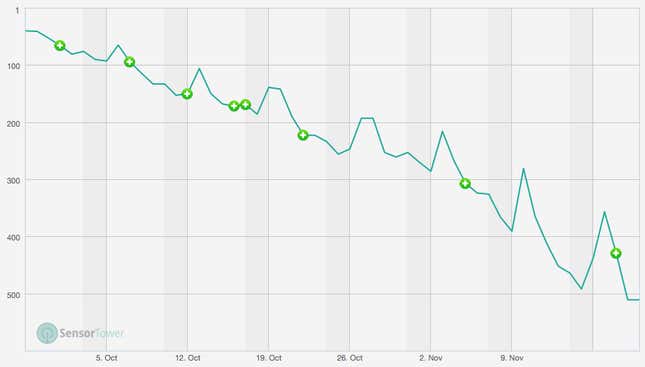 FanDuel and DraftKings—each estimated to be worth more than $1 billion—have reacted to the news by halting their ad spend on iOS (the firm doesn't have comparable data for Android). Two days after Nevada's ruling, FanDuel stopped advertising on 11 major mobile advertising networks. At one point in the month, FanDuel had accounted for about 15 out of every 100 ads shown on Instagram, according to Sensor Tower.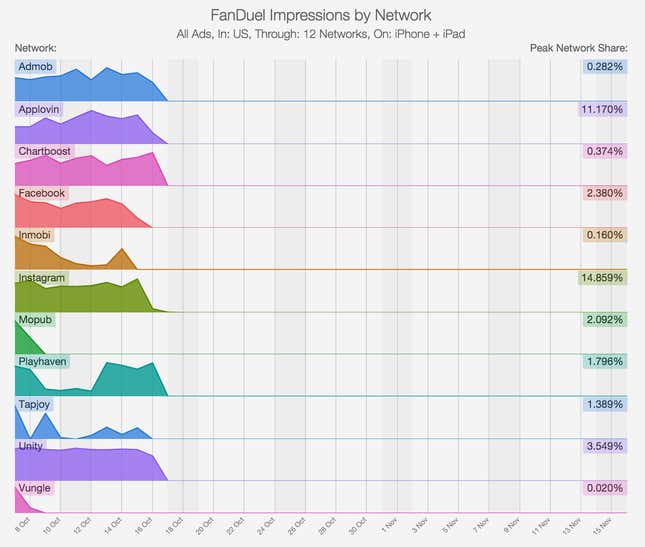 DraftKings responded a little later, pulling most of its spending in early November. It appears to still be advertising on InMobi, which Sensor Tower says "may be a legacy campaign finishing its run."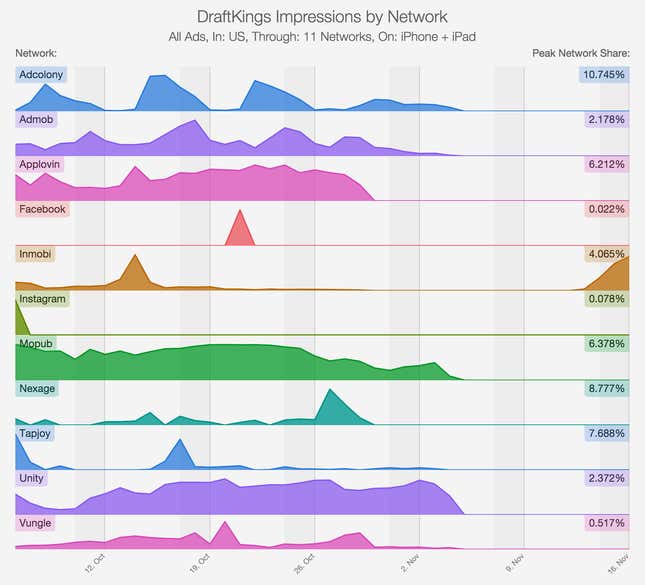 There are, of course, limitations to this data. They only reflect advertising on iPhones and iPads, and the bulk of their spending has been directed to TV. But there are signs of pullback there as well. According to the Wall Street Journal (paywall), DraftKings is also talking with TV networks to delay the airing of some of its commercials.