Anti-gay laws are worsening HIV epidemics in countries that were once British colonies, according to a new report by The Human Dignity Trust.
Homosexuality is a crime in 78 jurisdictions worldwide—and the report notes that Commonwealth member states constitute over half of those jurisdictions. Currently, 40 of the 53 Commonwealth countries criminalize homosexuality and these member states  are "among the countries which most actively enforce these laws."
The report suggests there is a "direct link" between criminalizing laws and increased rates of HIV. The report describes these anti-gay laws as a "British colonial legacy," which Commonwealth institutions have a duty to challenge and repeal. The Trust calls on British prime minister David Cameron to prioritize decriminalization ahead of the Commonwealth Heads of Government Meeting 2015 in Malta.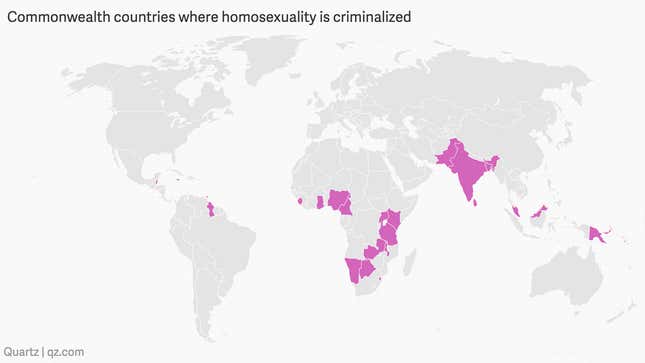 The Commonwealth accounts for approximately 30% of the world's population, but more than 60% of HIV cases worldwide.
The report outlines two main concerns on access to healthcare for LGBT people in countries that criminalize homosexuality: LGBT people are often deterred from accessing healthcare service as criminalization increases fear and hiding, and when care is provided, it's not specific to LGBT people's needs.
The report also suggests there is less awareness about HIV prevention among LGBT people in countries that criminalize homosexuality. In Zambia, for example, 73% of men who have sex with men believed that anal sex was safer than vaginal sex.  This could lead to LGBT people engaging in riskier sexual behaviors.
A spokesperson for the Home Office told The Independent: "The prime minister remains absolutely committed to promoting the rights of lesbian, gay, bisexual, and transgender people across the world" and plans on discussing the issue in the upcoming meeting in Malta.
But not everyone agrees on where the blame lies. "It is pathetic to blame this on the British colonial administrators," says Michael Kirby, a former judge of the Australian High Court and member of the Commonwealth Eminent Persons Group. "Most Commonwealth countries have been independent for 50 years and the responsibility is theirs alone. Whilst the rest of the world, in the United Nations, increasingly endorses the perception of gay rights as human rights, the Commonwealth is deadly silent."