The organizers of a Miss Earth beauty pageant in Austria have refused to allow its Taiwanese contestant on stage or to be photographed by the press, after she refused to wear a sash bearing "Chinese Taipei," according to an online post written by the contestant.
Ting Wen-yin, 22, wrote that she had brought a sash bearing "Taiwan ROC," but was handed an alternative, which read "Chinese Taipei." After several protests, she was told to wear the new one or "just leave" (link in Chinese).
"I told them 30,000 times that Taiwan is Taiwan," wrote Ting Wen-yin, 22, on her Facebook profile on Nov. 22. "I was born in Taiwan, my sash reads Taiwan, I represent Taiwan."
Instead, the organizers barred her from appearing on stage and prevented photographers from taking her picture, Ting wrote, adding: "They responded by saying Taiwan never enters competitions under the name "Taiwan," only under Taipei." Quartz has contacted the organizers of the event and will update this story if they respond.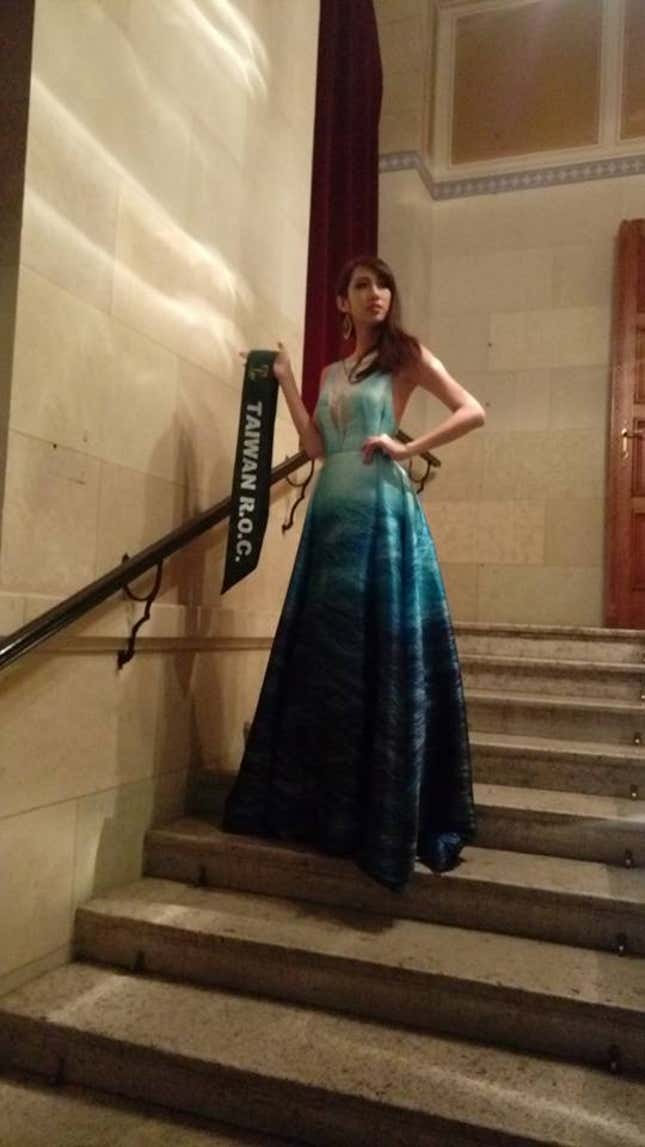 Mainland China does not recognize Taiwan as a state, and in 1979 China and Taiwan agreed that Taiwan could enter international games such as the Olympics registered as "Chinese Taipei"—Taipei being the capital of Taiwan—in order to defuse the political connotations of entering as the nation of Taiwan.
This is not the first time that the politics of mainland China and Taiwan have reared their head in international beauty pageants. Last week, Anastasia Lin, the winner of Miss Canada, said that she has not received an invitation to go to China to compete in a Miss World competition scheduled for December.
Lin has been featured in films supporting Falun Gong, a spiritual group banned in China, and has testified to the US Congress about China's abuse of its practitioners. Lin, who was born in China and whose father still lives there, says that her father has been contacted by China's security forces.
"Dad's really scared," she told the BBC. "He doesn't really dare to talk to me as he worries his phone is tapped. He doesn't speak his mind anymore."
Miss Earth is one of the "big four" global beauty pageants, alongside Miss World, Miss International, and Miss Universe. The competition highlights environmental issues, and the annual winners are expected to spend a year delivering talks to schools and other organizations as the spokesperson for the Miss Earth Foundation, the competition's humanitarian nonprofit arm. That organization has worked on projects with other well-known institutions, including Greenpeace.
But such politicking threatens to derail any positive spin Miss Earth has so far generated around its beauty pageant. It is also unclear why a beauty pageant concerned about the environment would apparently pander to mainland Chinese sensitivities concerning the definition of Taiwan.